WAKING UP WITH A BILLIONAIRE (OVERNIGHT BILLIONAIRES) BY KATIE LANE
Release Date: July 26, 2016
SYNOPSIS
He can have anything he wants...except her

Famed artist Grayson Beaumont is the most elusive of the billionaire Beaumont brothers. He has a reputation for seducing any woman with only a look, word, or sensual stroke of his brush. But now Grayson has lost all his desire to paint . . . unless he can find a muse to unlock his creative-and erotic-imagination.

Chloe knew she might have to shed her clothes when she agreed to pose for the celebrated artist, but she wasn't expecting to shed all her inhibitions as well. Under his intense scrutiny, there's nothing she can hide...including a secret from her past that, once exposed, will change how he looks at her forever.
BUY LINKS
Amazon B & N Google Play Books IBooks Kobo
REVIEW: WAKING UP WITH A BILLIONAIRE (THE OVERNIGHT BILLIONAIRES) BY KATIE LANE
Waking Up With a Billionaire by Katie Lane

My rating: 5 of 5 stars



ARC Review: Waking Up with a Billionaire (The Overnight Billionaires) by Katie Lane

Grayson's story left me heartbroken. Every series has to end but those Beaumont boys lasted long enough to steal your heart and run. Katie Lane saved the best for last with Chloe and Grayson. With the heart of an artist, the reputation of a playboy and that Beaumont charm Grayson is a heartbreaker. But he lives for his art and when he can't seem to get inspired, he feels at a lost. Enter Chloe. A tempting firecracker with a chip on her shoulder and the weight of the world on her back. Caught between a rock and a hard place the enigmatic artist and the fiery vixen set sparks flying and eyebrows raising. But there is more to this woman of mystery than a pretty face. Deep rooted insecurities and closely guarded secrets drive this couple on a rocky ride that may cost them the ultimate price, THEIR HEARTS. With The Overnight Billionaires, Ms. Lane supplied seductive stories, irresistible heroes and heroines that proved to be their perfect match but she also managed to throw in a little wisdom along the way about the importance of family. Family is more than just blood, it's a bond that is built within the heart.



View all my reviews
DON'T TEMPT ME BY LORI FOSTER
Release Date: July 26, 2016
SYNOPSIS
Love comes along when it's least wanted

Jason Guthrie has no time for entanglements—between helping out his widowed brother and teenage nephew and getting his hometown back on its feet, his days are spoken for. But his nights are another story… And when his lovely new neighbor, Honor Brown, reluctantly accepts his help in remodeling her house, Jason finds himself wishing his handyman skills could knock down the defenses she keeps building around herself.

Martial arts teacher Sullivan Dean knows real danger when he sees it—even when it takes the form of the gorgeous blonde helping her friend move in across the street. After putting his wayward past behind him to focus on teaching control to troubled kids, Sullivan has learned to avoid party girls like Lexie Perkins. But Sullivan can't seem to keep his hands off the real woman behind that flirty charm—or keep his heart from landing at her feet…
BUY LINKS
Amazon B & N Google Play Books Harlequin IBooks Kobo
REVIEW: DON'T TEMPT ME BY LORI FOSTER
Don't Tempt Me by Lori Foster

My rating: 5 of 5 stars


Lori Foster knows how to create that magic. The sense of forgetting where you are and being transferred to another place is something that I always feel when I pick up one of her stories. I received an ARC of Don't Tempt Me by Lori Foster in exchange for an honest review. This sensual novel gives a peek at two sides of the spectrum. We have Jason who has reliability written all over him. The way he looks after his family and community are a bonus in his favor but the way he looked after Honor who was wary and insecure of herself gave me heart palpitations. He was a keeper. Fast forward to Sullivan. He was somewhat of a tougher nut to crack but his hard edge did not hide his true self from the people that mattered most. Inside the pages of Don't Tempt Me there is love, hope and charm wrapped up in sensual package.



View all my reviews
TO HAVE AND TO HOLD (THE WEDDING BELLES) BY LAUREN LAYNE
Release Date: July 26, 2016
SYNOPSIS
Sex and the City meets The Wedding Planner in The Wedding Belles, her sizzling brand new contemporary romance series about three ambitious wedding planners who can make any bride's dream come true…but their own.
Discovering her fiancé is an international conman just moments before they exchange vows devastates celebrity wedding planner Brooke Burke's business—and breaks her heart. Now a pariah in Los Angeles, she seeks a fresh start in New York City and thinks she's found it with her first bridal client, a sweet, if slightly spoiled, hotel heiress. Then she meets the uptight businessman who's holding the purse springs.
Seth Tyler wishes he could write a blank check and be done with his sister's fancy-pants wedding. Unfortunately, micromanaging the event is his only chance at proving Maya's fiancé is a liar. Standing directly in his way is the stunning blonde wedding planner whose practiced smiles and sassy comebacks both irritate and arouse him. He needs Brooke's help. But can he persuade a wedding planner on a comeback mission to unplan a wedding? And more importantly, how will he convince her that the wedding she should be planning…is theirs?
BUY LINKS
Amazon | B & N | Google Play | iTunes | Kobo
REVIEW: TO HAVE AND TO HOLD (THE WEDDING BELLES) BY LAUREN LAYNE
To Have and to Hold by Lauren Layne

My rating: 4 of 5 stars


I am all for any story that encourages ways to empower one's self. Lauren Layne does inspiring, entertaining and romantic. To Have and To Hold reads like a country western song. Brooke has bitten used, confused and left with a broken heart, now she has to figure out how to rise above it all, to make a fresh start. With her reputation in tatters and her business on the verge collapse, proving herself capable and reliable is essential. In walks Seth. Arrogant, irritating and irresistible. Mixing business with pleasure would be career suicide for her pocketbook, but instrumental in mending her heart. Will she risk it all for her own happy ending? With To Have and to Hold, Ms. Layne has written a song of love that is sinful, sexy and sentimental. Tempting fun.



View all my reviews
A DUKE TO REMEMBER (SEASON FOR SCANDAL) BY KELLY BOWEN
SYNOPSIS
Love takes the stage...

Elise deVries is not what she seems. By night, the actress captivates London theatergoers with her chameleon-like ability to slip inside her characters. By day, she uses her mastery of disguise to work undercover for Chegarre & Associates, an elite agency known for its discreet handling of indelicate scandals. But when Elise is tasked with locating the missing Duke of Ashland, she finds herself center stage in a real-life drama.

Noah Ellery left the glamour of the London aristocracy to pursue a simpler life in the country. He's managed to avoid any complications or entanglements—that is, until he lays eyes on Elise and realizes there's more to this beautiful woman than meets the eye. But when Elise reveals her real identity—and her true feelings for him—the runaway duke must confront the past he left behind . . . to keep the woman he loves forever.
BUY LINKS
Amazon B & N Google Play Books IBooks Kobo
REVIEW: A DUKE TO REMEMBER (SEASON FOR SCANDAL) BY KELLY BOWEN
A Duke to Remember by Kelly Bowen

My rating: 4 of 5 stars


A woman of mystery gets caught up in a complicated masquerade. Elise has many disguises in her arsenal actress and undercover agent are just a few. The lure of A Duke to Remember for me was Elise. She has so many different identities that she loses a little bit of her own individuality with each one. What a hard way to live. In meeting Noah she starts to gain a better understanding of herself and I think the same could be said of him. I received an ARC of this novel in exchange for an honest review. Not an easy story to get into but it is an exceptional read once given a chance. By the end I was caught up in this tangled up romance.



View all my reviews
LOVE BLOOMS ON MAIN STREET (BRIAR CREEK) BY OLIVIA MILES
Release Date: July 26, 2016
SYNOPSIS
Love is always in season . . .

Florist Ivy Birch fantasizes about the day a man will surprise her with a beautiful bouquet of flowers. Especially if that man happens to be Brett Hastings. One stolen kiss at her best friend's wedding and Ivy can't get the sexy ER doctor out of her head.

In the small town of Briar Creek, you can't avoid anyone for very long. Not that Brett has been trying to avoid Ivy. He just can't afford to let anything distract him from his work-not again. So when a hospital fundraiser throws them together, love is the last thing on his mind. But with her quick wit and sweet laugh, soon the one woman he's tried to keep at arm's length is capturing his heart...
BUY LINKS
Amazon B & N Google Play Books IBooks Kobo
REVIEW: LOVE BLOOMS ON MAIN STREET (BRIAR CREEK) BY OLIVIA MILES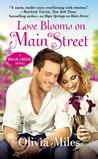 Love Blooms on Main Street by Olivia Miles

My rating: 4 of 5 stars


I'm somewhat standoffish anytime a story centers around doctors. My brain is not built for the medical jargon spewed in many such stories. Ms. Miles didn't go overboard with medical speak. Instead she created a romance that I liked a lot. The town of Briar Creek is your standard small town. Gossips, a family atmosphere and not very much drama. Perfect for an afternoon chance to unwind. Ivy is a firecracker. She speaks her mind and lives by her own rules. Brett has a fast paced career that keeps him busy and stressed. A match headed for trouble. Love Blooms On Main Street has the sweetness I look for in my small town reads.



View all my reviews

TOAST AND CHAR (BOURBON SPRINGS) BY JENNIFER BRAMSETH
Release Date: July 26, 2016
SYNOPSIS
Welcome to the Land of Bourbon and Bluegrass...Welcome to Bourbon Springs, Kentucky...

The heat still burns between them...

When Prent Oakes, former playboy and wealthy half-owner of Commonwealth Cooperage, Kentucky's oldest barrel-making business, left Dr. Miranda Chaplin at the altar over two years ago, he was sure it was over.

Except since that day Miranda had never been able to tell him to get out of her life. Undaunted and with the faintest hope, Prent pursues the fiancee he abandoned and knows he doesn't deserve.

Just as he thinks his win-her-back campaign has finally been successful, their tentative efforts to revive their love are threatened by Prent's past, problems in their professional lives, and the disapproval of family—as well as a secret Miranda has harbored since their wedding day.

There's no doubt the heat still burns between them—but will their love be resurrected from the ashes or will they both be left burned?

TOAST AND CHAR is the eighth book in the Bourbon Springs Series.
BUY LINKS
Amazon B & N Google Play Books IBooks Kobo
REVIEW: TOAST AND CHAR (BOURBON SPRINGS) BY JENNIFER BRAMSETH
Toast and Char by Jennifer Bramseth

My rating: 5 of 5 stars


Mention Bourbon Springs and I am in the front row. Ms. Bramseth brings love, loss and liquor to the table with this dramatic series. Toast and Char (Book 8) is a story centered around regret, secrets and second chances. Miranda and Prent were young and in love until an act of desperation destroyed their chance at happiness. Will they succeed at regaining everything that was lost? Jennifer Bramseth is skilled in telling true to life stories with the dedication and emotion that easily captivates her readers. With this series she holds nothing back and that is what I find so appealing.



View all my reviews


FEARLESS (RESCUE SQUAD) BY KIMBERLY KINCAID
Release Date: July 26, 2016
SYNOPSIS
The Temperature Is Rising…

Firefighter Cole Everett's life revolves around the firehouse. Committed to saving lives--and to the guys who always have his back in the most dangerous moments on the job--Cole's focus is a coveted spot on the Fairview Rescue Squad. When his captain asks him to mentor a rookie firefighter, he jumps at the chance, hoping it will help to prove his skill. But the new "guy" is none other than Savannah Nelson, a female firefighter as stubbornly determined as Cole is, and a whole lot curvier in all the right places . . .

Savannah won't let anyone extinguish her dream of fulfilling her family legacy and becoming a top notch firefighter--and she's happily surprised when strong-willed, sexy Cole is willing to give her the chance she deserves. Concentrating on the job isn't always easy when the heat between them flares higher every day, but Savannah won't give up--not even when one of Station Eight's veterans seems bent on trashing her reputation. To stop a string of possible arsons, Savannah and Cole will need to eliminate every distraction--but can they let their love go up in flames?
BUY LINKS
Amazon B & N Google Play Books IBooks Kobo
REVIEW: FEARLESS (RESCUE SQUAD) BY KIMBERLY KINCAID
Fearless by Kimberly Kincaid

My rating: 4 of 5 stars


ARC Review: Fearless (Rescue Squad) by Kimberly Kincaid

There is nothing sexier than a man in uniform. Except for a man willing to risk heart, career, friendships and danger in order to do the right thing. Cole is one such man. Upon introduction I didn't plan on liking the cocky guy with the wry sense of humor and sexual innuendos as much as I ended up doing. What changed my mind. The glimpses of the honorable man underneath. Savannah had all the odds against her. A woman in a man's world seeking to prove her skill and give her life in exchange for the respect of her peers, as well as honor a family legacy needed someone in her corner. Although he may not have started out as supportive, Cole must have saw the grit of fighter and the heart of a champion because he ultimately became her biggest cheerleader. Stories like Fearless are inspiring because the message they provide is powerful. Anything is possible to achieve, if in your heart you truly believe.



View all my reviews
FORBIDDEN FLING (WILDWOOD) BY SKYE JORDAN
Release Date: July 26, 2016
SYNOPSIS
Delaney Hart has come a long way from her wild youth, dating tattooed bikers at her father's bar, The Bad Seed. But when his death pulls her back to Wildwood, California, she must stay to renovate the dive he left her. And also face the lies and secrets that sent her running ten years before.

When Wildwood's chief building inspector, Ethan Hayes, shows up on the property, Delaney doesn't recognize him. The last thing he wants to do is save the bar where his cousin died in a brawl. But the good boy from her past is all too willing to remind her of the bad girl she used to be. And one night of passion leaves them both in a compromising position.

The last place Ethan should be is in Delaney's bed. Guilt, family pressure, and plans for a brewpub of his own make shutting down The Bad Seed his top priority…until his feelings for Delaney interfere. Because her future depends on the success of the bar's renovation and his dreams are rooted in its failure, their forbidden romance may be destined for heartbreak.
BUY LINKS
REVIEW: FORBIDDEN FLING (WILDWOOD) BY SKYE JORDAN
Forbidden Fling by Skye Jordan

My rating: 4 of 5 stars


Ethan and Delaney share a past. One tragic event has left both twisting in the wind, trying to outrun the pain and guilt of youthful mistakes they want to forget. I received an ARC of Forbidden Fling by Skye Jordan in exchange for an honest review. One place proved the catalyst within Delaney and Ethan's emotional trek down memory lane. "The Bad Seed", was like a leper. For one family, it represented violence, chaos and unimaginable loss. For Delaney it hung like a noose around her neck. One night triggered a metamorphose in two people. Forbidden Fling has the heartbreak of a Greek tragedy but from that pain beauty rises. It was a long road to forgiveness and healing but Ms. Jordan proves how strong a power love actually has. The ability to unify two broken hearts and give hope to a broken community. Inspiring.



View all my reviews


A RECKLESS PROMISE (THE LITTLE SEASON) BY KASEY MICHAELS
Release Date: July 26, 2016
SYNOPSIS
London's Little Season has never been so scandalous

It's the kind of vow often made on the battlefield. Darby Travers, Viscount Nailbourne, never imagines he'll have to honor it. Yet here she is on his doorstep—his late comrade's young daughter, and Darby's new ward. Worse, she comes with the most overprotective, mistrustful, bothersome chaperone—the child's aunt, Sadie Grace Boxer. Darby is quite sure that behind her lovely facade, the woman is guarding a secret.

Sadie Grace faced many trials working in her brother's surgery, but none prepared her for the world she's thrust into with his passing. Navigating the ton, with its endless ball gowns and parade of parties, is difficult enough, but hiding the truth about her niece while the sophisticated viscount watches her every move proves nearly impossible—particularly when his searing gaze tempts her to bare all. But when her family's past catches up with her, she'll have to trust in Darby…no matter the cost to her heart.
BUY LINKS
Amazon B & N Google Play Books Harlequin IBooks Kobo
REVIEW: A RECKLESS PROMISE (THE LITTLE SEASON) BY KASEY MICHAELS
A Reckless Promise by Kasey Michaels

My rating: 4 of 5 stars


ARC Review: A Reckless Promise (The Little Season) by Kasey Michaels

Miss Sadie Grace was smart, caring and no pushover. She had worked hard for every accomplishment she made and every skill she learned. So why is she know being drawn into a world that is governed by rules and station. Love. She loves her niece, misses her brother and is drawn to the man who is set to fulfill her brother's last wishes. A Reckless Promise is a story of sacrifice that blossoms into a love and ultimately a family. Sadie and Darby have to learn trust goes both ways and vulnerability does not a weak person make.



View all my reviews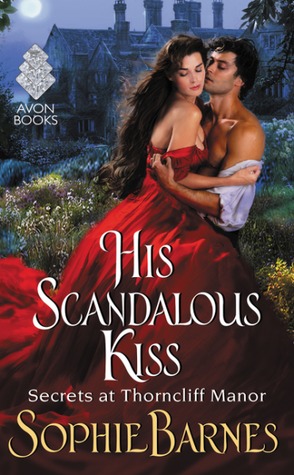 HIS SCANDALOUS KISS (SECRETS AT THORNCLIFF MANOR) BY SOPHIE BARNES
Release Date: July 26, 2016
SYNOPSIS
Thorncliff Manor is the perfect setting for a masquerade ball... where the heart's secret desires are about to be uncovered in this scintillating Regency romance from Sophie Barnes...

Richard Heartly has exiled himself from society since the war, plotting his revenge for a terrible betrayal. A masked ball at Thorncliff Manor is intended to be a brief diversion. Instead, he encounters a fascinating young woman as entranced by the music as he is. He can't reveal his identity to Lady Mary. But her siren song keeps drawing him back, and their clandestine meetings could be hazardous to his plan—and to her virtue.

Avoiding an unwanted marriage was easy when Lady Mary was ignored by the ton. Thanks to her dazzling appearance at the masquerade, she's a wallflower no longer. Eligible suitors abound, yet the only man she wants is the brooding, seductive companion who keeps his face hidden. A man who tempts her to disclose her own shocking secret, one that could divide them forever.
BUY LINKS
Amazon B & N Google Play Books IBooks Kobo
REVIEW: HIS SCANDALOUS KISS (SECRETS AT THORNCLIFF MANOR) BY SOPHIE BARNES
His Scandalous Kiss by Sophie Barnes

My rating: 4 of 5 stars


Having read as many books as I have, it's easy for me to make a decision on how I feel about a particular story and author writing style. Sophie Barnes made that harder for me with His Scandalous Kiss. Ms. Barnes is a masterful storyteller. Her imagery is so vivid that I felt like I was experiencing the story first hand. Secrets, suspense, romance and sensuality abound with this novel.


Copyright of Night Owl Reviews



View all my reviews


WHY DO DUKES FALL IN LOVE? (DUKES BEHAVING BADLY) BY MEGAN FRAMPTON
Release Date: July 26, 2016
SYNOPSIS
In Megan Frampton's captivating new Dukes Behaving Badly novel, we learn the answer to the question:
Why do dukes fall in love?
Michael, the Duke of Hadlow, has the liberty of enjoying an indiscretion . . . or several. But when it comes time for him to take a proper bride, he ultimately realizes he wants only one woman: Edwina Cheltam. He'd hired her as his secretary, only to quickly discover she was sensuous and intelligent.
They embark on a passionate affair, and when she breaks it off, he accepts her decision as the logical one . . . but only at first. Then he decides to pursue her.
Michael is brilliant, single-minded, and utterly indifferent to being the talk of the ton. It's even said his only true friend is his dog. Edwina had begged him to marry someone appropriate–—someone aristocratic . . . someone high-born . . . someone else. But the only thing more persuasive than a duke intent on seduction is one who has fallen irrevocably in love.
BUY LINKS
Amazon B & N Google Play Books IBooks Kobo
REVIEW: WHY DO DUKES FALL IN LOVE? (DUKES BEHAVING BADLY) BY MEGAN FRAMPTON
Why Do Dukes Fall in Love? by Megan Frampton

My rating: 4 of 5 stars


ARC Review: Why Do Dukes Fall In Love? (Dukes Behaving Badly) by Megan Frampton

The heart is it's own worst enemy. It wants what it wants and whether good or bad is a deciding factor in the choices one makes. Megan Frampton gives comedic insight with Why Do Dukes Fall In Love. It is so refreshing to read a story where not everything has to be a complicating mass of confusion. It didn't hurt that Michael was not afraid to show his sensitive side. Love is messy, it's not rocket science. Edwina and Michael's romance is a hotbed of sweetness sprinkled with spice.

Copyright Night Owl Reviews



View all my reviews
THE SECRETS SHE KEPT (FAIRHAM ISLAND) BY BRENDA NOVAK
Release Date: July 26, 2016
SYNOPSIS
Exciting, emotional, intense. The thrilling follow-up to New York Times bestselling author Brenda Novak's highly acclaimed The Secret Sister. The things that happen in families are always surprising and sometimes shocking!

The rich and powerful Josephine Lazarow, matriarch of Fairham Island, is dead. The police say it's suicide, but Keith, her estranged son, doesn't believe it.

Keith bears scars—both physical and emotional—from his childhood, but he's worked hard to overcome the past. After walking away from his mother and her controlling ways five years ago, he's built a new life in LA. He's also accumulated a fortune of his own. But as soon as he learns of his mother's death, he returns to Fairham. He feels he owes it to his grandfather to put the family empire together again—and he's determined to find his mother's killer.

Problem is…coming home to Fairham puts him back in contact with Nancy Dellinger, the woman he hurt so badly when he left before. And digging that deep into his mother's final days and hours entails a very real risk.

Because the person who killed her could be someone he loves…
BUY LINKS
Amazon B & N Google Play Books Harlequin IBooks Kobo
REVIEW: THE SECRETS SHE KEPT (FAIRHAM ISLAND) BY BRENDA NOVAK
The Secrets She Kept by Brenda Novak

My rating: 4 of 5 stars


It's hard to feign like for a person who has made your life a living hell. That's the dilemma Keith faces. All the money in the world could not protect him from the evil that was his mother. Now he has to find out if her death was suicide or murder. Let's face it Josephine was controlling, mean and bitter but was she desperate enough to pull the plug on her very existence to get attention or did she push someone too far? Ms. Novak blends intense mystery with heartbreaking tragedy and at times hints at unspeakable evil in her quest to create a story unlike any other. She succeeds in writing a tale that is twisted, heartbreaking and alluring in it's narrative.



View all my reviews
THE THIEF STEALS HER EARL ( CRAVEN HOUSE) BY CHRISTINA MCKNIGHT
Release Date: July 26, 2016
SYNOPSIS
Following the passing of his father and an unforgivable act by a family member ending in near ruin for his family, Simon Montgomery, the new Earl of Cartwright, is forced to return home without finishing his education. However, that doesn't stop Cart from absorbing every morsel of knowledge he can.

Unfortunately, doing so and applying his every moment to restoring his family's lost heirlooms while seeing to his sister's upbringing and attempting to wrangle his mother's frivolous spending habits has made him somewhat of a recluse, a man unsure of how to live life unless it's focused around academia, order, and routine. But what happens when Cart is faced with a woman as intelligent as he but far more cunning?

Miss Judith Pengarden has lived her entire life under her eldest sister's firm yet loving guidance. When she discovers her family is in jeopardy of losing their home, Jude decides to use her skills to help them pay off their unsettled debts. However, when Jude attempts to steal from the wrong house, she finds herself alone, locked in a dank room at the night watchman's residence, and she vows to stop thinking so spontaneously and risking her family's name to scandal. Unfortunately, there are some loose ends that need to be tied up before she can. Luckily for her, however, she may have just met the man who can help her family and also steal a piece of her heart.

When Jude meets Lord Cartwright at a London garden party, he seems the perfect man to solve all her problems—a recluse unfamiliar with London Society and studied in antiquities. A lord like none she has met, Jude soon realizes that Cart is more valuable to her than any painting, sculpture, or vase. But when she's caught in possession of Cart's long-lost family heirloom, completely unaware of what it really means, can she convince him that things are far from what they seem? That despite the deceit and subterfuge, her heart is in the right place. With her family…and with him.
BUY LINKS
Amazon B & N Google Play Books IBooks Kobo
REVIEW: THE THIEF STEALS HER EARL (CRAVEN HOUSE) BY CHRISTINA MCKNIGHT

The Thief Steals Her Earl by Christina McKnight

My rating: 5 of 5 stars


Boundaries. Such a black and white word. The limit that is not to be crossed no matter what. Although on paper it's a reasonable word when emotion becomes involved there is a different meaning entirely. In the name of love lines get blurred and that invisible wall becomes an obstacle that needs to be demolished. Jude and Cart are not all that different. Cart's a planner, Jude's a plotter. His logical mind has been both a gift and a curse. Her active imagination and out of the box thinking are about to land her in a sticky situation. One thing's for sure these two will stop at nothing to protect the people they love. With her street savvy and his book smarts they may each succeed. As I read more and more of Ms. McKnight's romances it easy to see why so many enjoy her stories. She does not stick with the traditional love stories but like her characters creates a world center around the best of their talents and works from there. The Thief Steals Her Earl has personality and I respect any author who can make a story her own.



View all my reviews
AN AFFAIR OF HONOR (REBEL HEARTS) BY HEATHER BOYD
Release Date: July 26, 2016
SYNOPSIS
Unneeded for command of a ship after surviving serious injury, disciplinarian Captain William Ford was ready to face society until he's cornered by a marriage minded miss. He makes a desperate bargain with the maid who saved his life—act the part of a besotted lover in return for financial gain to drive the woman away—only to end up in a very real marriage of convenience with the maid to avoid the scandal of his own making.

When Matilda's plans to marry another end abruptly, she reluctantly agrees to Captain Ford's marriage proposal to protect his sister's marriage prospects with his assurance of an eventual annulment and independence. She soon discovers her husband's desire to guide her with a firm hand stirs a shocking passion in her. Does she dare gift William with her secrets and heart…or admit that his desires match her own when they never intended forever?
BUY LINKS
Amazon B & N Google Play Books IBooks Kobo
REVIEW: AN AFFAIR OF HONOR (REBEL HEARTS) BY HEATHER BOYD
An Affair of Honor by Heather Boyd

My rating: 5 of 5 stars


As one door closes another opens for Captain William Ford. Forced to leave behind his life of sea-faring command, he seeks to settle into a less adventurous role of society living. Easier said then done. Thrown into a sea of scheming marriage minded women he's at a loss on how to navigate these potentially lethal waters until he meets Matilda and comes up with a plan that will help them both. Matilda seeks the security of making her own choices and not having to answer to anyone or beg for anything. William seeks protection from societies vultures seeking a man of means. A mutually beneficial marriage of convenience is just the ticket to give each what they want. Protection, an expiration date and financial security was the plan but fate had other ideas. I received an ARC of An Affair of Honor in exchange for an honest review. No matter how many I read, Heather Boyd's novels are always at the top of my historical romance lists.



View all my reviews