THE NEGOTIATOR BY AVERY FLYNN
Release Date: April 24, 2017
SYNOPSIS
Wanted: Personal Buffer
Often snarly, workaholic executive seeks "buffer" from annoying outside distractions AKA people. Free spirits with personal boundary issues, excessive quirks, or general squeamishness need not apply. Salary negotiable. Confidentiality required.
Workaholic billionaire Sawyer Carlyle may have joked he needed a "buffer" from their marriage-obsessed mom, but he didn't need a waiting room filled with "candidates" to further distract him. (Thanks, bro.) But when a sexy job applicant shooes his mom and the socialite in tow out of his office, Sawyer sees the genius of the plan. And the woman. In fact, Miss Clover Lee might just get the fastest promotion in history, from buffer to fake fiancé…
This "free-spirit" might look like hot sunshine and lickable rainbows, but she negotiates like a pitbull. Before Sawyer knows what hit him, he's agreed to give up Friday nights for reality tv, his Saturdays for flea markets (why buy junk still baffles him), his Tuesdays and Thursdays for "date nights" (aka panty-losing opportunities if he plays his cards right). And now she wants lavender bath salts and tulips delivered every Monday?
Yup, she's just screwing with him. Good thing she's got this non-negotiatable six-weeks-and-she's-gone rule or Sawyer may have just met this match…
BUY LINKS
Amazon B&N Google Play Books IBooks Kobo
REVIEW: THE NEGOTIATOR BY AVERY FLYNN
The Negotiator by Avery Flynn

My rating: 5 of 5 stars


Ms. Flynn lightens the mood while setting the atmosphere ablaze. The Negotiator is an opposites attract story, Sawyer is not above breaking a few rules, but free spirit Clover knows how to lay down the law. It is so much fun to watch the player get played. A seductive game of hard ball, that is amusing to watch unfold.



View all my reviews
LOVE ON TAP (BREWING LOVE) BY MEG BENJAMIN
Release Date: April 24, 2017
SYNOPSIS
Wyatt Montgomery knows a barrel of legendary Zoria imperial stout will help his Denver gastropub stay on top. The only problem is the brewery that made it is no longer in business. When Wyatt hears the brewmaster has only one barrel left, he won't stop until it's his. He doesn't consider what this mythical barrel might cost him. And he certainly doesn't anticipate his reaction to the heart-stoppingly beautiful brewmaster he needs to convince to sell him the beer.
When Wyatt rushes into Bec Dempsey's small-town cooperative offering to buy the last barrel of her precious Zoria, she's thrown for a loop. She's been burned by city-slickers before, and she'll be damned if she'll let it happen again. But when things start heating up between them, Bec decides to make Wyatt a counteroffer. One she hopes he won't refuse.
BUY LINKS
Amazon B&N Google Play Books IBooks Kobo
REVIEW: LOVE ON TAP (BREWING LOVE) BY MEG BENJAMIN
Love on Tap by Meg Benjamin

My rating: 4 of 5 stars


An intoxicating brew, leads to a devil's bargain. It's getting hot in here! Love On Tap displays the best sides of Meg Benjamin. Humor, heart and heat. Wyatt is desperate and Bec has the upper hand, but situations don't always work out according to plan. Wyatt and Bec wage a battle that sizzles.



View all my reviews


HIS FAMILY OF CONVENIENCE (MEDINA LEGACY) BY AMY AYERS
Release Date: April 24, 2017
SYNOPSIS
Senna Callas's one-night stand with her alpha asshole boss, Marco Medina, was supposed to mark the end of her internship and their ridiculous attraction. After being unreachable and ignoring Senna for a year, Marco sweeps back into the country and summons her to his office, revealing he knows her secret…the secret created during their explosive night together.
Marco is determined to be there for the son he's just discovered he has, but when it comes to being with Senna, his choices aren't his own. His meddling family expects him, the firstborn son, to follow through with the arranged marriage set up when he was a child. And Senna has no plans on being his mistress and still resents how her attempts to contact Marco were ignored. The only thing going right between them is the attraction that burns no matter the complicated situation they're in.
Marco would do anything to protect his family, anything except decide between the legacy he was born into and the young family he's just found…
BUY LINKS
Amazon B&N Google Play Books IBooks Kobo
REVIEW: HIS FAMILY OF CONVENIENCE (MEDINA LEGACY) BY AMY AYERS
His Family of Convenience by Amy Ayers

My rating: 4 of 5 stars


Marco is a man who takes his responsibilities to heart. Family and business are his first priority, until a one night consequence has him yearning for more. Senna made a choice that changed her life forever. One night cost her the career of her dreams, the guy of her fantasies and gained her the love of a lifetime. If she's willing to risk her heart and take a chance. Meddling families, secret engagements and a surprise baby make for DRAMA, DRAMA, DRAMA.




View all my reviews
RAMPAGE (BOUND BY CAGE) BY BRITTANY CROWLEY
Release Date: April 24, 2017
SYNOPSIS
Ashlyn
Pregnant and alone is never where I saw myself in life. Shit happens and you have to roll with it. He made his choice, and it kills me each time I see him living his new life. But what if things aren't really as they appear? What if I can still have a happily ever after?
Josh
You know that guy, the one that screws up his whole life over a stupid decision? Yeah, that's me. I had the girl and I blew it. Now I'm determined to salvage my fighting career and win her back. She doesn't know it yet, but I'm not taking no for an answer.
BUY LINKS
REVIEW: RAMPAGE (BOUND BY CAGE) BY BRITTANY CROWLEY
Rampage by Brittany Crowley

My rating: 5 of 5 stars



Rampage fits this turbulent tale of love, heartache and regret. She's the one that got away. He's the one living with regrets. Choices were made, boundaries set. What happens when the one that got away, proves not easy to forget? Rocky romances equal sizzling second chances.



View all my reviews
UNFINISHED NIGHT:THE COMPLETE DUET (CAINE & ADDISON) BY VIOLET DUKE
Release Date: April 24, 2017
SYNOPSIS
THE COMPLETE USA TODAY BESTSELLING DUET

Love, sacrifice, and the lengths one will run--and chase--when their past threatens their future. This bundled box set contains both books in Caine & Addison's bestselling duet (Bk 1: Before That Night and Bk 2: Every Night Without You).

-- BOOK 1: BEFORE THAT NIGHT--

Before that night, Addison Milan had been just a college dropout secretly raising her two young siblings in a beat-up minivan she'd bought with her first semester's tuition refund--the only money her addict mother hadn't taken off with when she'd abandoned them nearly two years ago.

Before that night, Caine Spencer had been just a rough, gruff cop sent to check out the phoned-in claims of suspected child neglect involving the same woman he'd met just months prior when she'd first served him the city's worst diner coffee...which he'd been drinking daily ever since.

Before that night, Addison would never have thought the man she'd been fighting hard not to fall for--her only friend in her new shadow of a life--would be in a position to rip her family apart.

Before that night, Caine would never have believed any woman could make him fall head over heels, let alone make him feel so damn compelled to look the other way when it came to his job.

Then that one perfect night changed everything.

-- BOOK 2: EVERY NIGHT WITHOUT YOU--

Seven years.

Seven damn years of wondering whether the woman was still alive...whether she'd spent the last two thousand five hundred fifty-five days wondering if he was still alive.

Wondering whether that night was as burned into her memory as it was his.

Seven years having his heart tethered to Addison and now she's back. With even more reasons to run than she'd had then.

Only this time, Caine isn't letting the gorgeous little flight risk out of his sight.

Regardless of how noble her reasons may be.

Note: Each of the 4 couples in the UNFINISHED LOVE series have 2 books (duets) w/ separate storylines that take place years apart. This is Caine & Addison's complete duet.
BUY LINKS
Amazon B & N Google Play Books IBooks Kobo
REVIEW: UNFINISHED NIGHT:THE COMPLETE DUET (CAINE & ADDISON) BY VIOLET DUKE

Unfinished Night: The Complete Duet by Violet Duke

My rating: 4 of 5 stars


Before That Night - Never have I read anything like Before That Night. There is no subterfuge the rawness of a life interrupted and the courageous actions of a woman at the brink of despair. Addison is a very meaty character. She leads this story like a mama bear protecting her cubs and faces unspeakable danger head on. Caine is her rock when her secrets and responsibilities become too much to bear. Caine is hardly a hero, he has his own demons to bear but for a while he becomes Addison's soft place to fall. Before That Night provides a glimpse at subjects like homelessness, alcoholism and obsession while delivering an organic story of love and hope. My one pet peeve is that I didn't get my happy ending.


Every Night Without You - Ms. Duke made some surprising reveals and gave some heartbreaking answers to the questions left unanswered in Before That Night. This time around I felt more focus being put on the mysterious stalker than the romantic liaison. With all the baggage shoveled her way, it was nice to see Addison finally get the closure and happy ending she so richly deserved.



View all my reviews
SIT...STAY...BEG (THE DOGFATHER) BY ROXANNE ST. CLAIRE
Release Date: April 24, 2017
SYNOPSIS
Garrett Kilcannon, a former dot com super-success who now devotes his life to rescuing dogs and finding them homes, prefers to keep his secrets buried as deep as a dog hides his bone. So when he learns his father has invited a journalist to Waterford Farm to write and produce an in-depth profile on him, he doesn't care that she's a childhood friend or drop dead gorgeous. He has zero tolerance for the media…until he sees a different side when she gets through the walls of a rescue dog who's refused to eat during her short stay at Waterford. Unwillingly charmed and undeniably attracted, Garrett agrees to the interview that could break down a few of his emotional walls, too.

Garrett might not want to share the story of his colorful former life, but Jessie Curtis has the skills to peel back the layers of this sexy, complicated, caring man. In the process, she not only discovers his secrets, she finds herself falling for a man who touches her heart in a way she never thought possible. Her entire career is riding on this one explosive interview, but can she bear to repay Garrett's trust by selling his secrets? Or can a woman who gave up on happiness a long time ago learn to believe that all it takes to rescue a lost heart is the love of a good man?
BUY LINKS
Amazon B & N Google Play Books IBooks Kobo
REVIEW: SIT...STAY...BEG (THE DOGFATHER) BY ROXANNE ST. CLAIRE
Sit...Stay...Beg by Roxanne St. Claire

My rating: 5 of 5 stars


Ms. St. Claire combines two of my subjects in Sit...Stay...Beg. Furry friends of the adorable persuasion and irresistible romance that has insatiable written all over it. Garrett and Jessie, should carry the label "handle with care." Garrett has a troubled soul but a caring heart. His devotion to animals in need is inspiring and sexy as hell. A mystery with a heart of gold and secrets yet to be told. Jessie is his worst nightmare. A beautiful woman with an agenda. Their history and her curiosity are conflict on interest, just waiting to be explored. Garrett, Jessie and Lola are a triad of temptation that cannot be denied. Heart, hope and redemption await.



View all my reviews
REDEEMING RYKER (BOYS OF FURY) BY KELLY COLLINS
Release Date: April 24, 2017
SYNOPSIS
Imagine finding out that everything about your life is a lie.
Imagine falling for the man who thinks he killed you.
Imagine having to remain dead so you can keep him.

Twenty-four-year-old Ana Barrett knows who she is. She's a struggling artist, a loyal friend, an orphan raised by loving grandparents. After a string of unlucky events leaves her homeless, broke, and alone, she receives a timely gift from her deceased grandmother—a house in Fury, Colorado. It's a gift guaranteed to change her life in ways she can't imagine.

Ryker Savage has always known who he is. He's a brother, a friend, an orphan, and a murderer. One decision made twenty years ago altered the future of an entire town. At twenty-eight, he's done his time, paid his dues, and wants to be left to his misery.

When Ana arrives in Fury, she changes everything he thought he knew. His light becomes dark, his dark becomes light, and his truth becomes the lie he's lived forever.

Ana's future hangs in the balance. Ryker's future is written in his past. It's when they come together they realize that sometimes, you have to go back to your past if you want the chance to create a future.
BUY LINKS
REVIEW: REDEEMING RYKER (BOYS OF FURY) BY KELLY COLLINS
Redeeming Ryker by Kelly Collins

My rating: 5 of 5 stars


A guilty conscience, a broken heart and a second chance, lead to an at times confusing but no less powerful emotion packed ride. Redeeming Ryker is truly one of the best stories I've ever read. Ryder has allowed traumatic events of the past to shape his life. In one tragic act, he was orphaned and haunted by the numerous losses from that day. Ana's life has not gone untouched by tragedy. She's suffered in ways she can't even fathom. No memories of her past, Ana lives barely getting by. When a bequest brings her to Fury, her life will never be the same. Kelly Collins brings out the waterworks in this heartbreaking tale of tragedy, hope and mystery.



View all my reviews
THE BOHEMIAN AND THE BUSINESSMAN (BLUEBERRY LANE: THE STORY SISTERS) BY KATY REGNERY
Release Date: April 28, 2017
SYNOPSIS
Priscilla Story, the self-proclaimed "wild child" of the straight-laced Story clan, has always had a knack for getting herself trouble. Except this time, her "growing problem" is going to require a Daddy sooner than later…or she can kiss her inheritance good-bye.
Shane Olson, who previously dated Priscilla's sister, Margaret, isn't opposed to a marriage of convenience for the sake of furthering his business interests, but Priscilla – with her wild ways – is just about the last woman he'd choose to marry.
In order to make the marriage look convincing, they end up having to spend more time together than they'd originally planned. When rolling stone, Priscilla, who lives by the seat of her muu-muu, and seriously-ambitious Shane, who's had his whole life planned since he was eleven, start falling for each other, it's going to take a whole lot of compromise for this Bohemian and her Businessman to find their happily ever after.
BUY LINKS
REVIEW: THE BOHEMIAN AND THE BUSINESSMAN (BLUEBERRY LANE: THE STORY SISTERS) BY KATY REGNERY
The Bohemian and the Businessman by Katy Regnery

My rating: 5 of 5 stars



Time to take a stroll down Blueberry Lane. Where the characters are a bit eccentric, the men are irresistible and the women are as breathtaking as they are headstrong. How could I help but get lost in the rhapsody of these spellbinding characters? Strength of self and a wandering spirit force Shane and Priscilla together, but the music of the heart was a melodic symphony that neither saw coming. The Bohemian and The Businessman takes readers on a magical carpet ride of inner truth, maturity and the courage to risk it all in the name of love. I get a rush whenever I sit down to read a Katy Regnery novel. Ms. Regnery not only steals the spirit, but captivates the heart while seducing the soul. A pleasurably, seductive escape.



View all my reviews
TOO HARD TO FORGET (ROMANCING THE CLARKSONS) BY TESSA BAILEY
Release Date: April 25, 2017
SYNOPSIS
The third book in New York Times bestselling author Tessa Bailey's Romancing the Clarksons series about four siblings on a cross-country road trip, perfect for fans of Gena Showalter and Julie James!
This time, she's calling the shots.
Peggy Clarkson is returning to her alma mater with one goal in mind: confront Elliott Brooks, the man who ruined her for all others, and remind him of what he's been missing. Even after three years, seeing him again is like a punch in the gut, but Peggy's determined to stick to her plan. Maybe then, once she has the upper hand, she'll finally be able to move on.
In the years since Peggy left Cincinnati, Elliott has kept his focus on football. No distractions and no complications. But when Peggy walks back onto his practice field and into his life, he knows she could unravel everything in his carefully controlled world. Because the girl who was hard to forget is now a woman impossible to resist.
BUY LINKS
Amazon Barnes & Noble Books-A-Million Google Play iBooks Indiebound Kobo
REVIEW: TOO HARD TO FORGET (ROMANCING THE CLARKSONS) BY TESSA BAILEY
Too Hard to Forget by Tessa Bailey

My rating: 5 of 5 stars


Those Clarksons are a powder keg of personality. It's hard to resist falling for these lost and lonely souls, but sometimes it's hard to decide whether to be tempted by their antics, feel sorry for their pain or lean toward giving them a stern talking to. Either way, Ms. Bailey sets the bookshelves on fire with ever Clarkson novel and Too Hard to Forget is no exception. Elliot and Peggy electrify the senses with their dramatic past. He broke her heart. What better payback than to blow his mind? Too Hard to Forget makes sure a good time will be had by all. Never has a reunion been so much fun and revenge so sexy.



View all my reviews
RIDE ROUGH (RAVEN RIDERS) BY LAURA KAYE
Release Date: April 25, 2017
SYNOPSIS
Brotherhood. Club. Family.
They live and ride by their own rules.
These are the Raven Riders...

Maverick Rylan won't apologize for who he is—the Raven Riders Motorcycle Club Vice-President, a sought-after custom bike builder, and a man dedicated to protecting those he loves. So when he learns that the only woman who has ever held his heart is in trouble, he'll move heaven and earth to save her.

Alexa Harmon thought she had it all—the security of a good job, a beautiful home, and a powerful, charming fiancé who offered the life she never had growing up. But when her dream quickly turns into a nightmare, Alexa realizes she's fallen for a façade she can't escape—until sexy, dangerous Maverick offers her a way out.

Forced together to keep Alexa safe, their powerful attraction reignites and Maverick determines to do whatever it takes to earn a second chance—one Alexa is tempted to give. But her ex-fiancé isn't going to let her go without a fight, one that will threaten everything they both hold dear.
BUY LINKS
Amazon B & N Google Play Books IBooks Kobo
REVIEW: RIDE ROUGH (RAVEN RIDERS) BY LAURA KAYE
Ride Rough by Laura Kaye

My rating: 5 of 5 stars



Love, Honor and Protect. Maverick lives his life by those three words. The blood that flows through his veins may not be blue blood but is laced with a steel that makes him a dangerous enemy. He's a man of few words and boundaries but he gives his all to everything he does. No one can write a bad boy quite like Ms. Kaye. You want to hate him, but can't help but love him. He may not be the standard do-gooder but he loves as hard as he fights. Alexa is a weakness, he can't shake and that sets him on a course for the biggest risk of all. Ride Rough gets under the skin and leaves a mark on the heart. A dirty, sexy, thrill.



View all my reviews
SEIZED BY SEDUCTION (THE PROTECTORS) BY BRENDA JACKSON
Release Date: April 25, 2017
SYNOPSIS
One glance is all it takes

From the moment his eyes meet hers across the crime-scene tape, ex-con turned bodyguard Quasar Patterson knows he has to see the mysterious Dr. Randi Fuller again. She's a renowned psychic investigator who can foresee danger for others, but not for herself. That makes Quasar doubly determined to watch over her the closer, the better as she's drawn into a dangerous gang rivalry.

Both her psychic gift and their blinding chemistry tell Randi that she and Quasar are fated to be entwined. Even as they surrender to the heat between them, there's no guarantee of a happily-ever-after now that an enemy has her in his sights. And claiming a future will take more than Quasar's strength and skill. If he can't risk the heart he's always held in check, they'll both lose for good.
BUY LINKS
Amazon B & N Google Play Books Harlequin IBooks Kobo
REVIEW: SEIZED BY SEDUCTION (THE PROTECTORS) BY BRENDA JACKSON
Seized by Seduction by Brenda Jackson

My rating: 5 of 5 stars



Fate brought them together. Will danger tear them apart? Randi is a walking contradiction. Her mission in life is to help people. However, her means of doing so has proved to be both a blessing and a curse. Her abilities cause her to stand out in a world of greed, danger and violence. The risk is great, but the reward is priceless in her eyes. Quasar is the man of her dreams (literally). Their unexplainable connection is as unique as the circumstances that have shadowed the people they've become and the decisions made along the way. When danger threatens to end the bond for eternity, the warrior in Quasar will stop at nothing to protect his soulmate. Seized by Seduction is an otherworldly experience. The attraction is electric and the shadows are all consuming but, Ms. Jackson imagined a winner with this cunning duo.




View all my reviews
THE BOYFRIEND BY MIKA JOLIE
Release Date: April 25, 2017
SYNOPSIS
According to the law of attraction, women and men can't be friends.

Contrary to this myth, my friendship with Coriander Phillips does not rest on unrequited love or un-actualized lust. We've been inseparable since the day I pulled one of her pigtails and she punched me in the gut.
She's hilarious, fun to hang out with. Together, we're like peanut butter and jelly, spaghetti and meatballs, wings and beer. A match made in heaven.
She's the bomb.
Did I mention she's smokin' hot? I've checked her out…maybe once or twice. Hey, I'm a guy.
Seriously, no awkwardness, no secret yearning for our relationship to escalate beyond the purely platonic. I'm the boy friend—the loyal shoulder she cries on, the dispenser of coffee, sympathy, hugs, advice, and affection with no expectations.
Until the invisible line between friends and lovers became blurry.
Now I want more. I want her.
All I have to do is convince her we can be more than friends.
Right?
If only it were that easy.
BUY LINKS
Amazon B & N Google Play Books IBooks Kobo
REVIEW: THE BOYFRIEND BY MIKA JOLIE
The Boy Friend by Mika Jolie

My rating: 5 of 5 stars



Adding Mika Jolie to my one click list is the best decision I've ever made. Her characters are irreplaceable, her humor is irresistible and her stories are unforgettable. Reading her stories is like becoming a part of something special. She has a way of making a reader just as central to the story as the characters. Her style allowed The Boy Friend to become more than just a friends to lovers spiel. Cori and Dean became real, not just a couple of names on a page, but an investment of heart that was as alluring, heartwarming and witty as any romantic comedy. From clueless to priceless, The Boy Friend is a treasure worth discovering.



View all my reviews
ARRANGED (MASTERS & MERCENARIES) BY LEXI BLAKE
Release Date: April 25, 2017
SYNOPSIS
Kash Kamdar is the king of a peaceful but powerful island nation. As Loa Mali's sovereign, he is always in control, the final authority. Until his mother uses an ancient law to force her son into marriage. His prospective queen is a buttoned-up intellectual, nothing like Kash's usual party girl. Still, from the moment of their forced engagement, he can't stop thinking about her.

Dayita Samar comes from one of Loa Mali's most respected families. The Cambridge-educated scientist has dedicated her life to her country's future. But under her staid and calm exterior, Day hides a few sexy secrets of her own. She is willing to marry her king, but also agrees that they can circumvent the law. Just because they're married doesn't mean they have to change their lives. It certainly doesn't mean they have to fall in love.

After one wild weekend in Dallas, Kash discovers his bride-to-be is more than she seems. Engulfed in a changing world, Kash finds exciting new possibilities for himself. Could Day help him find respite from the crushing responsibility he's carried all his life? This fairy tale could have a happy ending, if only they can escape Kash's past…
BUY LINKS
REVIEW: ARRANGED (MASTERS & MERCENARIES) BY LEXI BLAKE

Arranged by Lexi Blake

My rating: 4 of 5 stars



To find happiness, a duo of outcasts must face tragedy, fear and their own personal truths. Kash was never meant to be King but when tragedy strikes and his life is upended, he must leave his heart behind to face his responsibilities. Fast forward nine years and the heartbroken boy has become his own worst enemy. Can a forced wedding help him change his playboy ways and return him to his heart's desire? Arranged weaves it's web of seduction while delivering heartbreaking truths and providing a second chance for star-crossed lovers. Every fantastical scenario wrapped up in a temptingly small novel that stirs the blood and touches the heart.



View all my reviews
VIRGIN FOR THE TRILLIONAIRE (TAKEN BY THE TRILLIONAIRE) BY RUTH CARDELLO
Release Date: April 25, 2017
SYNOPSIS
They're at it again! Ruth Cardello, JS Scott, and Melody Anne come together for another royal novella trilogy. This is the first novella of a three novella set. Check the dates below for release dates on the second and third novella.

Escape with three new princes as only these NYT's bestselling authors could write them.

Virgin for the Trillionaire: Ruth Cardello (April 25, 2017)
Virgin for the Prince: J.S. Scott (June 6, 2017)
Virgin to Conquer: Melody Anne (July 3, 2017)

The wild ride begins with Virgin for the Trillionaire:

Prince Ballasare Stephan Demande needs a bride before his thirtieth birthday or he'll lose his crown. Unlike their barbarian twin island, Rubare Virgina's royal family is above kidnapping and murdering as a means of choosing their queens. Historically, they've cultivated their own selection, ensuring the purity and perfection of each. Prince Ballasare wants more, so he comes up with a plan. It's genius really. He invites three hundred of the most beautiful and intelligent virgins from around the world to his island under the guise of attending a conference. Those who are willing to stay and participate in a series of tests are offered a chance to win one million dollars. He can only imagine the joy that the woman he chooses will feel when she discovers he and his title are the real prize.

Jessica Quincy is at a crossroads career wise. She hadn't expected anyone to actually read her blog posts about her lonely life. She certainly hadn't expected Virgin Territory to go viral. But who can stay a virgin forever? And what does a woman do when she's no longer what she's made a career out of writing about? She takes a risk, that's what. Jessica attends a conference that promises to end with one participant winning a million dollars. Any ex-virgin could start over with that kind of money.

She makes him laugh.
He scares, infuriates, and totally turns her on.

Unfortunately, on Rubare Virgina, being chosen by a sexy prince can have deadly consequences if you haven't updated your blog.


Like the first novella trilogy, Taken by a Trillionaire, these novellas are escapism fantasy. If you are looking for a historically accurate representation of a monarchy or a serious depiction of how royals maintain their bloodlines, neither trilogies are for you. If you love larger than life characters and fun storylines that take you to exotic places with sexy alpha men, then welcome to our imaginary kingdoms. The men are insanely rich, the traditions are potentially deadly, and the sex will leave you craving a night on this dark isle.
BUY LINKS
Amazon Amazon AU Amazon CA Amazon UK B & N IBooks Kobo
REVIEW: VIRGIN FOR THE TRILLIONAIRE (TAKEN BY THE TRILLIONAIRE) BY RUTH CARDELLO
Virgin for the Trillionaire by Ruth Cardello

My rating: 5 of 5 stars



Jessica was blessed with the gift of intelligence. Her brain has afforded her lots of opportunities but shyness and insecurities have turned her into a reclusive outcast. In an overpopulated world of people, life has been a lonely journey for her. Living anything but a fairy tale, she turns her feelings into a blog that gets people thinking and brings her to the attention of arrogantly sexy, out of her league Stephan. Stephan is on a mission. Find a bride that is pure in heart and body. What happens when these two lonely hearts unwittingly make a whole? Chaos, danger and a sensually epic modernized joining of souls. Virgin for the Trillionaire proves that although complicated, love always finds a way to deliver the heart's desire. Ms. Cardello delivers her own brand of romance: dramatic, captivating and awe inspiring.



View all my reviews
REED (THE MALLOYS OF MONTANA) BY R.C. RYAN
Release Date: April 25, 2017
SYNOPSIS
A new beginning...

A fresh start. That's exactly what Ally Shaw needs and what she's found in Glacier Ridge, Montana. Creating a simpler life with her young son and reconnecting with her only remaining family-it's all part of Ally's plan to chase away the pain of her past. But when a dangerously irresistible cowboy rescues her little boy, Ally can't deny she's excited about what else the future might bring.

Reed Malloy was a wild horse who wouldn't be broken. Devoted to his work on the land at the expense of everything else, he'd never met a woman who could hold his interest... until Ally. And now, beautiful Ally and her fearless, freckled child have this cowboy wanting more. This isn't Ally's first time at the rodeo, though, and convincing her to trust him isn't easy. But there isn't anything he won't do to keep her safe... and make her his.
BUY LINKS
Amazon Barnes & Noble Books-A-Million Google Play iBooks Indiebound Kobo
REVIEW: REED (THE MALLOYS OF MONTANA) BY R.C. RYAN
Reed by R.C. Ryan

My rating: 5 of 5 stars


Reed is like a cinematic buffet. Ms. Ryan provides imagery, heart pounding action and emotion that is as complicated as the story itself. Heartbreak and a dangerously painful past, lead Ally to the rugged terrain and beautiful landscape of Montana. Beautiful scenery and family connections aren't all that Glacier Ridge has to offer a girl with a wounded soul. How about a pair of strong arms as a safe haven? Will she trust her heart to show her the way or allow fear to destroy a chance at forever? The Malloys are an edgy family with strength of character and a family bond that helps them overcome life's darkest moments. There are no victims, only survivors. The legacy of Reed and the entire Malloy family is that united they can conquer whatever comes their way. That's the definition of family.



View all my reviews


TO ME I WED (UNCONVENTIONAL BRIDES) BY K. M. JACKSON
Release Date: April 25, 2017
SYNOPSIS
Have your cake and true love too..."

"Nightmare bridesmaids dresses, tasteless fondant icing, budget-busting wedding expenses some women just aren't about it. They' ll laugh off tradition, make their own rules and find the most outrageous ways possible to flip wedding day lockstep into true love.

"She's done, finished, "had" it. Between her family's expectations and being always-a-bridesmaid, Lily Perry is fed up with being nagged to find a husband. She's happy with her life and tired of being burned by nice guys who demand she fit their dreams. So she' s going to settle the issue once and for all: by marrying herself. And celebrated chef Vincent Caro's fabulous restaurant is the perfect place for a big-time, blow-out,
not-hearing-it-any-more wedding. Lily doesn't care if everyone including Vincent thinks she's crazy. Especially when his mouth-watering talent and no-commitments style ignites one sizzling, no-strings fling, or two or more.

But no matter how hard they try to keep things light, their relationship keeps getting hotter. The more Vincent helps Lily tackle unexpected trouble, the more he finds she might be everything he s ever wanted. Can she afford to forget caution and finally let go? And can they both take a risk to discover if what they have is meant to last long after the dessert course
BUY LINKS
Amazon B & N Google Play Books IBooks Kobo
REVIEW: TO ME I WED (UNCONVENTIONAL BRIDES) BY K. M. JACKSON
To Me I Wed by K.M. Jackson

My rating: 5 of 5 stars



Fed up with the expectations and disappointments of love, Lily decides to step off the escalator and take control of her life. Sounds sane, right? The way she goes about accomplishing this task, is anything but. To Me I Wed has to be the most over the top love story that I have had the pleasure of reading, yet that is what I found so adorably intoxicating about it. When it comes to love, everyone is clueless. Love is the most frustrating, heartbreaking, irresistibly alluring emotional out there. No one understands how it works, but we all know when it feels right. K.M. Jackson scores points for originality. She created a story that is identifiable, at times certifiable, but in the end proves to an edible addiction of sweet and tempting charm.



View all my reviews
ONCE YOU'RE MINE (THE CALLAWAYS) BY BARBARA FREETHY
Release Date: April 25, 2017
SYNOPSIS
From #1 New York Times Bestselling Author Barbara Freethy comes a page-turning, poignant and thrilling romantic suspense novel about love, courage and risking it all!
Firefighter Dylan Callaway is no coward when it comes to running into burning buildings but running into love with a beautiful and seriously annoying brunette is another story.
Dylan first met Tori Hayden in high school when she was the irritating little sister of one of his best friends. Ten years later, Tori is a determined news reporter, who believes Dylan holds the key to solving a mysterious fire that may be part of a cover-up for murder.
Tori would have rather worked with anyone other than the ruggedly sexy Dylan, who had been the star of many of her teenaged fantasies, but she needs help to get to the truth and to get justice for someone she loved.
Sparks fly as Dylan and Tori put out one fire only to start another one—one that might consume them both.
ONCE YOU'RE MINE is the 4th book in the Callaway Cousins, a spin-off of the NYT Bestselling Series The Callaways. All the books in this family series are standalone novels and feature a riveting plot along with a heartwarming love story! Feel free to jump into the series with any of the books.
BUY LINKS
Amazon B & N Google Play Books IBooks Kobo
REVIEW: ONCE YOU'RE MINE (THE CALLAWAYS) BY BARBARA FREETHY
Once You're Mine by Barbara Freethy

My rating: 5 of 5 stars


Once You're Mine is proof of why Barbara Freethy is a one-click favorite in my book. With chemistry that is strong enough to fan the flames of any fire and don't blink suspense, Dylan and Tori are as seductive as they are intriguing. This duo never runs out of secrets to expose, or dangerous situations to land themselves in and still find time for love. Love, lies and murder come alive in Once You're Mine.



View all my reviews


FEELS LIKE THE FIRST TIME (DESTINY BAY) BY MARINA ADAIR
Release Date: April 25, 2017
SYNOPSIS
What's wrong with a little white lie?

There are a lot of things Ali Marshal doesn't do: pink anything, a day without chocolate, and Hawk, her sister's ex-husband. Sure, he's a sexy former NHL star who can make her pulse pound with just a wink. But he belonged to Bridget first. And no matter how long she's had a crush on him, how great he's always been to her dad, or that her sister is engaged to someone else now and Ali needs a date to their engagement party, she can't give in to temptation. Can she?

It's been years since his disastrous marriage crashed and burned, and Bradley Hawk has finally moved on. So when Bridget blows back into town with her new fiancé, throwing the engagement party of the year, he could care less . . . until Ali tells one little lie that lands him smack dab in a fake relationship. After one promise to be Ali's date and two of the hottest kisses he's ever had, Hawk can't deny how much he wants her. But what happens when this fauxmance starts to feel very, very real?
BUY LINKS
Amazon Barnes & Noble Books-A-Million Google Play iBooks Indiebound Kobo
REVIEW: FEELS LIKE THE FIRST TIME (DESTINY BAY) BY MARINA ADAIR
Feels Like the First Time by Marina Adair

My rating: 5 of 5 stars


Feels Like The First Time makes for a feel good romance with a hint of taboo thrown in for good measure. Marina Adair has a knack for writing poignant stories that can easily make a readers eyes water with laughter and/or tears. What began as a matter of prideful insecurity turns into a mouthwatering love affair. Ali and Hawk appeal to sentimental card carrying romantics everywhere. With each and every word, Ms. Adair touches the heart while resurrecting the dreamer in us all.



View all my reviews
HAPPY IS THE BRIDE BY LORI WILDE, JANET DAILEY, CAT JOHNSON AND KATE PEARCE
Release Date: April 25, 2017
SYNOPSIS
1 Wedding, 4 New York Times Bestselling Authors, 5 Happily Ever Afters!
Stirring up all the romance and excitement a bride could hope for--plus a healthy dose of unforeseen shenanigans--four of today's most dazzling bestselling authors deliver the wedding of the year, where there's something--and someone--for everyone. . .

Opposites attract when a wealthy cattleman and a penniless artist decide to get hitched at a Texas dude ranch in tornado country--and the whirlwind festivities are as filled with surprises as their love . . . especially when the guest list includes: one pretty party crasher on a mission, a sheriff known as the One Night Stand King, and a workaholic event planner who definitely did not plan to fall for a laid back cowboy. Toss in a shocking behind-the-scenes bet, a fateful power outage, and a Man of Honor and a Best Woman determined to see the worst in each other (between hot kisses), plus thrilling lessons in love at first--and second--sight, and the celebrations are going to go all night long!

Man of Honor by Lori Wilde (Shane and Meg)

Getting Saddled by Cat Johnson (Tanner and Erin)

Taming the Sheriff by Kate Pearce (Nate and Della)

The Wedding Bet by Janet Dailey (LInc and Tracy)
BUY LINKS
Amazon B & N Google Play Books IBooks Kobo
REVIEW: HAPPY IS THE BRIDE BY LORI WILDE, JANET DAILEY, CAT JOHNSON AND KATE PEARCE
Happy Is the Bride by Lori Wilde

My rating: 5 of 5 stars


Singularly this group of authors is awesome. Together they are fabulously praiseworthy. Happy is the Bride brings heartwarming, humorous and hearty stories to the party in this tempting anthology. Romantic scenarios, love - hate relationships and an all around good time awaits with this unforgettable collection of tales.



View all my reviews
SHOPPING FOR A CEO'S WIFE (SHOPPING FOR A BILLIONAIRE) BY JULIA KENT
Release Date: April 25, 2017
SYNOPSIS
Snowbound. Sounds so romantic, with visions of cuddling before a roaring fire, hot chocolate spiked with brandy, and a secret elopement.
Wait. What?
My fiancé's father won't stop trying to turn our pending wedding into a three-ring media circus so he can get free publicity for his family's Fortune 500 company. My mother has decided she's done with All Things Wedding and asks her teacup Chihuahua for mother-of-the-bride advice.
They've all gone certifiably mad.
Then the stress from the wedding puts my mother in the hospital, I scream at my future father-in-law in front of a camera crew and the video goes viral, and the romantic wedding that started with Andrew's grand Pride and Prejudice proposal looks less like Jane Austen and more like Dostoyevsky.
So what do you do when you're a fixer and you can't fix something?
You give up on it.
Not on Andrew, silly.
The wedding.

Shopping for a CEO's Wife is the 12th book in Julia Kent's New York Times bestselling Shopping series. As Shannon and Declan enjoy their newlywed bliss, Andrew's father wants to exploit Amanda and Andrew's nuptials, much to Amanda's chagrin. Can she learn to stand up to her future father-in-law and fight for what's right? But the real question is: will Spritzy the teacup Chihuahua end up being a flower girl?
BUY LINKS
Amazon B & N Google Play Books IBooks Kobo
REVIEW: SHOPPING FOR A CEO'S WIFE (SHOPPING FOR A BILLIONAIRE) BY JULIA KENT
Shopping for a CEO's Wife by Julia Kent

My rating: 5 of 5 stars


Wherever there's chaos, hilarity and a rainbow of liveliness, Amanda and Andrew can't be far behind. Ms. Kent revisits her kooky heroine and starchy hero with Shopping for a CEO's Wife, from her Shopping for a Billionaire series. I know my day is about to get a little brighter and a lot less stressful when I delve into the pages of this series. How can it not? This time around, family togetherness is reeking havoc with that young and in love glow. Can the duo that has weathered some of the most unusual and comedic obstacles to date, survive their over the top families? It may seem like you're losing your mind but in reality, you've actually lost your heart. How can a reader not love that?



View all my reviews


IT HAPPENED ON LOVE STREET (EVERLAND, GEORGIA) BY LIA RILEY
Release Date: April 25, 2017
SYNOPSIS
The most romantic place she never wanted to be . . .

Pepper Knight moved to Everland, Georgia, as step one in her plan for a successful legal career. But after this big-city gal's plans go awry, going home with her tail between her legs isn't an option. So when the town vet-and her sexy new neighbor-offers Pepper a temporary dog-walking job, she jumps at the chance. No one needs to know that man's best friend is her worst nightmare . . . or that Everland's hot animal whisperer leaves her panting.

The last thing Rhett Valentine wants is to be the center of small-town gossip. After his first love left him at the altar, he's been there, done that. These days, life is simple, just the way he likes it. But sultry southern nights get complicated once sparks fly between him and the knockout next door. When she proposes a sexy, secret fling-all the deliciousness and none of the prying neighbors-it seems too good to be true. And it is. Because Pepper's determined to leave Love Street, and when she goes, she just might take his heart with her . . .
BUY LINKS
Amazon Barnes & Noble Books-A-Million Google Play iBooks Indiebound Kobo
REVIEW: IT HAPPENED ON LOVE STREET (EVERLAND, GEORGIA) BY LIA RILEY
It Happened on Love Street by Lia Riley

My rating: 5 of 5 stars


It Happened on Love Street tickles the funny bone, while warming the heart and tempting the senses. Ms. Riley moves to the head of the class with this study in hard life lessons. Pepper's dreams lead her to make a change in her life and setup shop in Everland, Georgia. When her plans fall by the wayside and leave her pride crushed, desperation sets her on a new path. As a frustrated dog walker. Rhett, is the answer to her prayers with his understanding of the canine psyche and his tempting magnetism, that makes her inner bad girl want to break free. Can past hurts and foolish pride, have landed them in the right place, at the right time, for something wonderful?



View all my reviews

FOREVER A LITTLE WHILE (ONE STRIKE AWAY) BY MARY J. WILLIAMS
Release Date: April 27, 2017
SYNOPSIS
FIRST LOVE

Breathtaking. Intense. Everything.

UNFORGETTABLE

Blue O'Hara.

Falling in love with her best friend's brother hadn't been in Blue's plans. She had known Spencer since she was a little girl. Annoying at times, he wasn't supposed to be The One. But an unexpected kiss changed everything. For two years, their relationship bloomed. She couldn't imagine her life without him. Then the unthinkable happened. Spencer broke Blue's heart.

Spencer Kraig.

Baseball was his dream. His life. Falling for Blue was unexpected. And the most intense experience of his life. A steady girlfriend in college was one thing. But he had his sights set on being the best in the game. He wasn't ready for anything permanent.

Breaking Blue's heart—and his own—was the hardest decision Spencer ever made.

Four years later, Blue lands her dream job with the Seattle Cyclones. So what if Spencer is their star player? She's not the same starry-eyed young woman who thought the sun rose and set with Spencer Kraig. She's moved on.

One look into Blue's eyes was all Spencer needed to know he wanted a second chance. Fame and fortune were great. But unless he had someone to share his life, what was the point? Not just anyone. The only woman he had ever loved. Could love. Blue.

Blue could forgive Spencer.
Trusting him with her heart—again—wasn't going to be as easy.

Grab your copy of this intense, love conquers all, standalone novel today.
BUY LINKS
REVIEW: FOREVER A LITTLE WHILE (ONE STRIKE AWAY) BY MARY J. WILLIAMS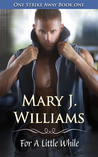 For a Little While by Mary J. Williams

My rating: 5 of 5 stars


There's an intenseness to Ms. Williams stories. She never holds anything back. From character flaws to heartache and tragedy, it's all exposed with a rawness and sincerity that is identifiable and emotional. Her gift of humanizing is what keeps me coming back and that quality is put on full display in For a Little While. Young love is a beautiful thing, but when life challenges and human imperfections creep in, it can implode really quickly. Can Blue and Spencer learn to forgive and put their hearts on the line for a second chance?



View all my reviews
BILLIONAIRE'S BARGAIN BY ELLA FINCH
Release Date: April 27, 2017
SYNOPSIS
One night of mind-blowing, unforgettable sex. Nothing more and nothing less. I was supposed to be his next conquest. He walked right into my office like he owned it. Like he owned me. And I let him.

How embarrassing; I didn't even know his name.

He wasn't my type. He was arrogant, demanding, and drop-dead gorgeous. Hell, he probably spent more time working out than he spent at work. Too bad that bad boy charm was working on me.

Between two jobs, two bosses, and college I now had to deal with another alpha male in my life. At least this one was sexy in a suit... and even sexier out of one.

Billionaire's Bargain is a full-length, smoking hot, standalone novel with a happy ever after ending and a bad boy you won't be able to forget!
BUY LINKS
REVIEW: BILLIONAIRE'S BARGAIN BY ELLA FINCH
Billionaire's Bargain by Ella Finch

My rating: 4 of 5 stars


Billionaire's Bargain is my first attempt at reading an Ella Finch novel and I have to say it was an impressive experience. Serena and Jake effectively seduced me with their first account narratives, while showing the chinks in their armor along the way. Overachiever Serena is used to success, but at what cost to her self - esteem? Jake is a walking contradiction. He makes an impression with muscle bound good looks and an overpowering alpha personality, but struggles with father - son issues. Jake and Serena have a tendency of making the wrong choices for the right reasons. He wants to be her savior. She longs to be his everything. Will they find success in making their secret dreams come true?



View all my reviews
ONE LAST RISK (OAK GROVE)BY NANCY STOPPER
Release Date: April 18, 2017
SYNOPSIS
A guilt-driven firefighter, a widowed mother, neither is ready for love, but love has other plans.

Firefighter Lucas Bennett had the carefree life he'd always wanted until a deadly blaze took the life of his company mate and best friend. Blaming himself was easy but pulling himself from the tailspin of guilt proved to be much harder. The fog of sadness and guilt pushed him down a dangerous path until he nearly died fighting the beast. Forced to stop and reevaluate his life, he decided to make a change before it was too late.

A fire took almost everything from Sarah Robinson—her husband and her home—leaving her to raise their precious daughter alone. Everywhere she looked held memories of her husband, pouring salt on her ever-present wound. Unable to live any longer around the memories of her husband, she and her daughter moved to Oak Grove, far away from the grief of the past. All Sarah needed was the chance to start a new life for her and her daughter.

A car accident on a dark, rainy night put Lucas and Sarah on a collision course neither of them expected… with questions they're not ready to answer. Can a single mother open her broken heart for a second chance at love? Will a broken firefighter risk his heart for what might be his only chance at forever? Are each of them willing to take one last risk to be together? His risk. Her reward. Together, they'll mend each other's broken hearts.

If you like small-town romance where the heroes are sexy and the women are strong, unlock One Last Risk to start your visit to Oak Grove, Pennsylvania and fall in love with Lucas and Sarah!
BUY LINKS
Amazon B & N Google Play Books IBooks Kobo
REVIEW: ONE LAST RISK (OAK GROVE)BY NANCY STOPPER
One Last Risk by Nancy Stopper

My rating: 5 of 5 stars


There is nothing that compares to small town romance. The deeper connections between the long time residents. The nosy neighbors that look out for one another. Big city heartache is a regular resident in small town love, but the abundance of heart never dwindles, Nancy Stopper, pushes all my buttons with One Last Risk. Lovable characters, beautiful surroundings and hard learned lessons are prevalent. Yet, she still manages to keep the feeling of devotion, hope and healing that I love so much. Sarah and Lucas are two ships set adrift in lonely waters. Grief has been a constant friend. Will a chance encounter between the firefighter and the single mom, give them a chance to start over again?



View all my reviews
OUT OF HER LEAGUE (LOVE & OTHER DISASTERS) BY JENNIFER DAWSON
Release Date: April 14, 2017
SYNOPSIS
Look, I get it, I'm not asking for miracles. I might be a closeted hopeless romantic, but I'm also a realist. I don't need fireworks. I'm not asking for magic. Of course, my date won't be Prince Charming. All I'm asking for is a pleasant night out on the worst single day of the year. That's not exactly shooting for the stars, now is it?

Apparently, it is.

Because not only am I stuck with the date from hell, but the fates don't think I've suffered enough, so why not seat me next to my secret crush. Trauma surgeon, Xavier Knight, is the most gorgeous man alive, and completely out of my league. An unobtainable, impossible dream that makes my heart pound whenever he gets close. Fantastic. Now he'll bear witness to my humiliation.

Ah, life, you really know how to kick a girl when she's down.
BUY LINKS
Amazon B & N Google Play Books IBooks Kobo
REVIEW: OUT OF HER LEAGUE (LOVE & OTHER DISASTERS) BY JENNIFER DAWSON
Out Of Her League by Jennifer Dawson

My rating: 4 of 5 stars


Ms. Dawson proves that a little naughty can be oh so nice. Tessa and Xavier, where a beautiful surprise. Tessa is the tender hearted good girl searching for her happily ever after. Xavier is the alpha playboy with a hidden sensitive side. Out of Her League knows how to turn it up with the sensuality, but can as easily deliver the heart to balance out the heat.



View all my reviews
A CUP OF DANGER (SEATTLE BILLIONAIRES) BY JENNIFER CONNER
Release Date: April 5, 2017
SYNOPSIS
Book One in the exciting romantic suspense series, Seattle Billionaires.

With her husband Martin's billion dollar Seattle lifestyle, Livia Kane has everything she could ever dream of: houses, cars, jewelry, and clothes. Everything, but love. In the past seventeen years, has Martin ever loved her?

When Liv runs into handsome Irish businessman Calen Kelly, Liv feels emotions she thought were long dead.

Martin is willing to do anything to keep his company, SIP, in a chase with the 85-billion-dollar coffee market. When he turns violent Liv is forced into Calen's arms for help.

Sometimes, you must give up everything to get everything you've always wanted.
BUY LINKS
REVIEW: A CUP OF DANGER (SEATTLE BILLIONAIRES) BY JENNIFER CONNER
A Cup of Danger by Jennifer Conner

My rating: 4 of 5 stars


Jennifer Conner is a very talented author. Her contemporary romances are constants on my one click list. A Cup of Danger, though not as light and humorous as my normal reads by her, definitely grabs hold of your emotions. Living a life of privilege while trapped in a world of secrets and danger is not what Livia Kane signed up for. A cold husband with violent tendencies, an emotionless marriage and an attraction she is blindsided by, may just send her over the edge. Hopefully, she can survive the fall.




View all my reviews
NO GETTING OVER YOU (7 BRIDES FOR 7 SEALS) BY CERISE DELAND
Release Date: March 31, 2017
SYNOPSIS
Viv LaClare is so over being the matron...the widow. She wants to live again, laugh, maybe even dabble in a little affair…if she can find the right guy. Enter the studly Navy SEAL designated to drive her around town on wedding errands. She's hot for his body, but when her newly healed heart gets ideas, she's not sure she can risk it on a man with one of the deadliest jobs in the world.

Britt Ackermann is done with one-night stands and women who party with a SEAL for bragging rights. He wants a lady with guts, sass, and more than a lick of sense. He has doubts a woman like that exists. So when he meets the Matron of Honor at his teammate's wedding, she hooks him at 'hello.' He wants all the nights she'll give him even if he can't promise her tomorrow.
BUY LINKS
Amazon B & N Google Play Books IBooks Kobo
REVIEW: NO GETTING OVER YOU (7 BRIDES FOR 7 SEALS) BY CERISE DELAND
No Getting Over You by Cerise DeLand

My rating: 4 of 5 stars


Viv has had her, heart broken, her world torn apart and all the pity she can stand. She's ready to live again. Have some fun. Get her groove back. Britt wants a woman that sees the man, not the job. He's looking for forever, not a one night stand. Sexy, feisty and fun loving Viv fits the bill. Will she be willing to put her heart on the line when it nearly broke her before? Ms. DeLand, packs all the turbulence of love into a sometimes over the top, but no less captivating, courageous and sizzling story of risky business.



View all my reviews


SUMMER AGAIN (ST. CAROLINE SERIES) BY JULIA GABRIEL
Release Date: March 29, 2017
SYNOPSIS
Book 1 in the St. Caroline Series

A sweet summer romance set on the shores of the Chesapeake Bay

A wealthy heir called back home by family duty ...

The town of St. Caroline had never felt like home to Sterling Matthew. Even though the Matthew family could date their residence back nearly a hundred years, Sterling had grown up in boarding schools—and promptly decamped for the ski slopes of Europe after college.

When his father falls ill, his mother calls him home to run the family business, the renowned Chesapeake Inn. What Sterling finds, though, is a business on shaky financial footing and a staff resistant to the radical changes he has to make. No matter. He'll do what needs to be done … and then leave St. Caroline for good.

A woman who's pulled herself up by the bootstraps …

For years, Lucy Wyndham wondered whether she'd ever catch another glimpse of the boy she'd crushed on at the Chesapeake Inn's summer camp for disadvantaged kids. He'd been tall and quiet. Mysterious and aloof. And the owner's son. Now he's her boss and the attraction is just as strong—but they're no more compatible today than they were as teenagers. When he informs her that the camp must be eliminated to improve the resort's bottom line, she embarks on an ambitious campaign to save it. Even if the price is her job ... and her heart.

Summer Again was previously published as Falling for the Prodigal Son.
BUY LINKS
Amazon B & N Google Play Books IBooks Kobo
REVIEW: SUMMER AGAIN (ST. CAROLINE SERIES) BY JULIA GABRIEL
Summer Again by Julia Gabriel

My rating: 5 of 5 stars


It's always an inspiring experience to revisit a novel. Especially when the story is one by author Julia Gabriel. She can take a reader on a journey to some of the most beautiful locations in the world while breaking their hearts and giving them hope along the way. Summer Again is a story of redemption and second chances that spans from a teenage crush to an adult attraction. Sterling has struggled with feelings of inadequacy his whole life. His family had money and history but seemed to lack time and heart, at least in his case. Lucy lost her heart to the brooding owner's son years ago, will she lose even more this time around? I love this author because she proves sweet can be irresistible.




View all my reviews
SCANDALOUS WALLFLOWER (LADIES AND SCOUNDRELS) BY AMANDA MARIEL
SYNOPSIS
Lady Amelia has only known the comfort of life in mid-eighteenth century English aristocracy. But when first her mother and then her father die, she finds herself alone, grief stricken and….. not of age. Her appointed guardian, an American uncle, has ordered her travel to his plantation where she must remain for at least two years when she will come of age.

With the help of Lady Grace and Lady Sarah, Lady Amelia gets her uncle to agree to give her four weeks to settle her affairs and unbeknownst to him…find an English lord to marry so she can remain in her beloved England. Despite her mourning period she endeavors to trap one of London's eligible bachelors in matrimony.

Lord Goldstone, Lady Grace's nephew is devilishly handsome, but a Scottish Duke and so entirely unacceptable as a possible husband. After all Scotland is not her beloved London and environs. He also has a nasty habit of showing up at all the wrong moments and thwarting her carefully laid plans to ensnare a suitable husband. Sparks fly as the pair find themselves at odds with each other and drawn to each other at the same time. Can they find a way to stop arguing long enough to explore their growing passion? Is it strong enough to make Lady Amelia give up her English home after all? Or will Lady Amelia find a suitable English lord and avoid social exile in America? Time is running out.
BUY LINKS
REVIEW: SCANDALOUS WALLFLOWER (LADIES AND SCOUNDRELS) BY AMANDA MARIEL
Scandalous Endeavors by Amanda Mariel

My rating: 4 of 5 stars


Scandalous Wallflower borrows from the age old art of the classics. Ms. Mariel gave just enough of the fantasy to draw me in and enough modern realism to keep me interested. Not only does the author deliver a majestic story with a positive message, she also creates characters that are as enticing as the journey itself.



View all my reviews
GOING CRAZY FOR YOU (KINDLE WORLDS: SAPPHIRE FALLS) BY ALLISON GATTA
Release Date: October 23, 2016
SYNOPSIS
In love with the nanny…

Wade Farrow hates everything about small towns--how everyone seems to know each other, how community is next to godliness, how even the smallest detail can spread around town like wildfire. So, when he was 18, he packed up his things and left Sapphire Falls never to return--until now. After his sister's sudden death, he's forced to head home to care for his only remaining relative: his seven-year-old nephew. As if that wasn't enough to deal with, Wade walks in to discover that he's not alone in caring for his nephew--his sister's estate has been keeping a live-in nanny, and she's got a whole set of rules all her own…
BUY LINKS
REVIEW: GOING CRAZY FOR YOU (KINDLE WORLDS: SAPPHIRE FALLS) BY ALLISON GATTA
Going Crazy for You by Allison Gatta

My rating: 5 of 5 stars


Some of the most outlandish scenarios can deliver the most humbling of messages. Anyone whose read Erin Nicholas and her Sapphire Falls series knows that to be true. Going Crazy for You by Allison Gatta, may not be as over the top, however it still causes butterflies in the heart with it's message. "Never take for granted the people you love", a motto that we know to be true, but neglect to take to heart until a tragedy happens almost out of the blue. Loss bring a reluctant Wade home to the one place, he hoped to forget. An adorable nephew and a pretty face, could have him hedging his bets. Any trip to Sapphire Falls is a pleasure.



View all my reviews