NEW RELEASES FOR WEEK OF AUGUST 12, 2018.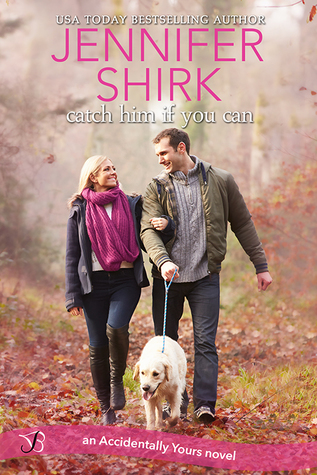 CATCH HIM IF YOU CAN (ACCIDENTALLY YOURS) BY JENNIFER SHIRK
Release Date: August 13, 2018
SYNOPSIS
Veterinarian Wade Roberts is done with love. But try convincing the elderly folk of Cape Harmony who are determined to play matchmaker. Now the young single women in town are bombarding him with baked goods and love notes, and being "taken" is the only way to stop the meddling grannies—which is why he needs a fake fiancée. Fast.

Arden Pearson loves planning weddings. Other people's weddings, that is. After her own engagement ended in disaster, she prefers to live vicariously through her work. But when she needs to persuade a big client that she's capable of planning the celebrity wedding of the year, she's willing to go as far as pretending to be engaged herself to her best friend's older brother.

Soon their ruse has everyone in town believing they make the perfect couple—including Arden. She's always been nothing more than a kid sister to Wade, and it might take a village to convince him otherwise...
BUY LINKS
Amazon B & N Google Play Books IBooks Kobo
REVIEW: CATCH HIM IF YOU CAN (ACCIDENTALLY YOURS) BY JENNIFER SHIRK
Catch Him If You Can by Jennifer Shirk

My rating: 5 of 5 stars


Chase away the clouds and let the sunshine in. Shirk lit up my day with Catch Him If You Can. When Wade and Arden decide to say goodbye to love, they end saying hello to forever. A bit of small town matchmaking full of big city personality had me losing my head and finding my heart. Hot fun in the summertime.



View all my reviews
COWBOYS NEED NOT APPLY BY ROBERT TATE MILLER
Release Date: August 13, 2018
SYNOPSIS
No, prima donna ballerina Jessica Carmichael isn't interested in the rough-and-tumble rodeo cowboy she met in physical therapy. In fact, she's actively uninterested in his cocky smile, and his go-with-the-flow attitude, and how his silly little bets make her work harder than ever to fix her knee. She'd like nothing more than to strangle him, if she wasn't so busy thinking about kissing him.

Matt Walker's best hope of getting back in the saddle is charming Jessica into teaching him ballet. He needs to get back on the bronc…even if he has to get there in tights. Only the uptight ballerina lives in a completely different world, one he wouldn't touch with a ten-foot mechanical bull. But maybe the one thing she needs more than control is to lose control for once—with him.
BUY LINKS
Amazon B & N Google Play Books IBooks Kobo
REVIEW: COWBOYS NEED NOT APPLY BY ROBERT TATE MILLER
Cowboys Need Not Apply by Robert Tate Miller

My rating: 5 of 5 stars


The cowboy and the ballerina are about to meet their match. They need each other and don't even know it. He needs someone to smooth out his rough edges and she needs someone to help her relax. Cowboys Need Not Apply is a battle of the sexes. It begins with a challenge and ends with forever. Miller brings the funny to these lovable, clueless and stubborn characters.



View all my reviews
WILD WITH YOU (THE CONNOR FAMILY) BY LAYLA HAGEN
Release Date: August 14, 2018
SYNOPSIS
Lori

Planning weddings is my dream job. As a single Mom, I live vicariously through my brides. From picking the dress to cutting the cake, I'm there every step of the way.

When I meet the best man at the latest wedding, sparks fly. Graham Frazier is more than I bargained for. The charismatic soccer club owner is disillusioned with marriage after his divorce, so it's part of my job to make sure he won't slip any sarcastic jokes in his best man's speech.
It's not part of my job to notice his washboard abs, or that he kisses like a dream. Graham's touch is sizzling.

Before I know it, he bosses me into accepting gifts and spending the night at his house (his excuse is good: I can't possibly drive after working a wedding, can I?)
I say yes to both. There are no two ways about it. I have the hots for this bossy man.

Graham

Since my divorce, weddings aren't my favorite events. But when my best friends decide to tie the knot, I promise to throw them a party they won't forget.
I was counting on sitting through long hours of preparations, but I didn't count on meeting someone like Lori Connor.

I pursue her relentlessly, wanting those long legs wrapped around me and her smooth skin under my lips.

Then I meet her son, and that boy charms me even faster than his mother did. Before I know it, he has me wrapped around his little finger.

But are Lori and I ready for our lives to intertwine in ways we haven't even imagined before?
BUY LINKS
Ebooks: Amazon Amazon AU Amazon CA Amazon DE Amazon UK B & N Google Play Books IBooks Kobo
Print: Amazon Barnes & Noble Books-a-Million
Audio: Amazon Audio Audible iTunes
REVIEW: WILD WITH YOU (THE CONNOR FAMILY) BY LAYLA HAGEN
Wild With You by Layla Hagen

My rating: 5 of 5 stars
When life doesn't go quite how we planned, it's the bumps in the road that point us in the right direction. Graham and Lori hit a few walls before they found themselves where they needed to be. Wild with You takes a look at the road less traveled. Lori had big dreams, but her dreams veered off course when she was given her greatest blessing. Her little boy. In that instant she found the courage to begin again and create a secure life for herself and her child. When Graham comes into her life, his bruises are a lot less visible, but no less traumatic. Somehow they find the strength to take a risk on an emotion that was not kind the first time around, but could be the start of something beautiful this time. Hagen firmly ensconces a place within the heart of her readers with heartwarming tales and hard to forget characters.



View all my reviews
HOLLYWOOD HEIR (WESTERLY BILLIONAIRE) BY RUTH CARDELLO
Release Date: August 14, 2018
SYNOPSIS
A billionaire silver-screen hero finds a real-life heroine in this sizzling romantic comedy from New York Times bestselling author Ruth Cardello.
Sage Revere follows her instincts, which have led to an oddball career as a plant psychologist. As a side project, she also helps strangers find happiness. Sage has a gift for knowing who needs her help, and the brooding hunk of a loner she meets in a coffee shop certainly fits the bill. She can feel it.
On-screen, Eric Westerly is the hottest superhero there is. Offscreen, he's out of rehab; incognito in London; and reevaluating his life, his career, and his broken family ties. All he wants is to be alone. Then along comes some daft plant whisperer who gets under his skin. She's also sweet, sexy, and irresistible. But what'll happen when she finds out who he is—that underneath the gray spandex, he's just a regular guy with a Batcave?
But Eric isn't the only one with a few secrets. And when the masks come off, Sage and Eric are going to have to trust each other if they want a Hollywood happy ending.
BUY LINKS
Amazon Audible B & N Paperback
REVIEW: HOLLYWOOD HEIR (WESTERLY BILLIONAIRE) BY RUTH CARDELLO
Hollywood Heir by Ruth Cardello

My rating: 5 of 5 stars


Humor and heartache are an odd combination, but Cardello makes it work. Hollywood Heir is not your average poor rich man story. Eric wears the weight of the world on his shoulders. He's haunted by abandonment issues, family problems self recrimination. All as the world watches. Self destruction has landed him in a dark place. Until fate sees fit to shine some light his way. Sage is a plant psychologist. She may seem odd, is often kooky, but has a good head on her shoulders and an even more beautiful heart. She has a gift for reading people and she can see Eric's pain. Can she help him before he completely self-destructs? A broken hero, an unlikely heroine and an empathetic ear are hard to resist when they come from the imagination of Ruth Cardello. A nice warm hug for the heart.



View all my reviews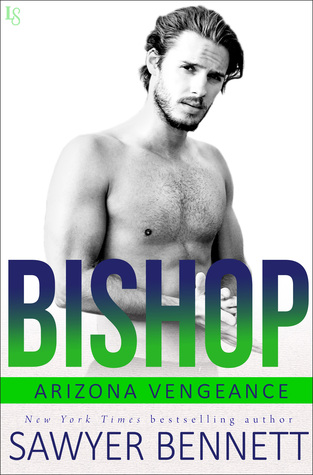 BISHOP (ARIZONA VENGEANCE) BY SAWYER BENNETT
Release Date: August 14, 2018
SYNOPSIS
Meet the Arizona Vengeance, hockey's hottest new team. They're burning up the ice—until a one-night-stand with the coach's daughter freezes one player in his skates.

Bishop Scott, co-captain. Not too shabby, huh? It's all part of my fresh start with the NHL's latest expansion team, and that means new teammates, a new coach, a new city, and a big new contract. Basically, I cannot f***ing wait to show my old squad what they're missing.

But first, I decide to check out the town before the grind begins. Turns out Arizona chicks are totally smokin', and I'm fortunate enough to meet one who's looking for the same thing I am: a night of anonymous, unforgettable, no-strings-attached sex.

Fast forward to the Vengeance arena. It's the last place I expect to see her again—let alone in her own office. Then bells go off and I finally realize who this girl is: Brooke Perron. My new coach's daughter. All of a sudden, we're picking up right where we left off, which means our hands are all over each other. That's when her dad—my boss—walks in. And before I can get a word out, Brooke's introducing me as her fiancé.

Sure, she just saved my ass. So why do I get the feeling Brooke's going to turn my world upside down? Maybe it's because this fake relationship feels way too real. . . .

The Carolina Cold Fury series from New York Times bestselling author Sawyer Bennett can be read together or separately:

ALEX
GARRETT
ZACK
RYKER
HAWKE
MAX
ROMAN
LUCAS
VAN
REED
MAREK

The Love Hurts series features sexy standalone novels:

SEX IN THE STICKS
JILTED

And the Sugar Bowl series is one treat you'll want to read in order:

SUGAR DADDY
SUGAR RUSH
SUGAR FREE

Includes an excerpt from another Loveswept title.
BUY LINKS
Amazon Audible B & N Google Play Books IBooks Kobo
REVIEW: BISHOP (ARIZONA VENGEANCE) BY SAWYER BENNETT
Bishop by Sawyer Bennett

My rating: 5 of 5 stars


For Bishop a fresh start, finds him in an awkward situation. Bennett says game on with an irresistible player and his saucy fantasy girl. Bishop is the new guy in town. His skills are legendary and so is his ego. When a night on the town puts more than his job on the line, he has to make some tough decisions. Should he listen to his head or risk his heart? Sawyer Bennett goes for the win and scores.



View all my reviews


OUTRAGEOUS (QUANTUM) BY MARIE FORCE
Release Date: August 14, 2018
SYNOPSIS
She drives him crazy… In more ways than one.

Every time Leah Holt encounters Quantum Production's chief counsel, Emmett Burke, the only thing she can think of is how much she wants to lick him. Everywhere. She's never had that kind of reaction to a man, and the fact that he's a much-older colleague makes her out-of-control attraction to him far more complicated than it should be. Every day, she brings a new legal question to Emmett, hoping to catch his attention and make him see her as a grown woman who wants him desperately. She walks a fine line in trying to remain professional as the assistant to superstar Marlowe Sloane while lusting after Marlowe's sexy attorney.

To Emmett, Leah is a fly buzzing around his head who can't be swatted away. She's always there, looking at him, asking him legal questions that have nothing to do with his specialty in entertainment law and generally driving him mad with her overt sexiness and sassy mouth. He wants to toss her over his desk and run the sass right out of her, which is hardly the way a professional who loves his job should behave in the office—especially with a young, fresh, sexy colleague. As the author of the company's policy on inter-office dating, he's painfully aware of all the reasons he should stay far, far away from her and the tantalizing temptation she represents.

Then Leah gets her chance to step up for Emmett, to help him through an unfortunate "accident" and to show him she's much more than just a smart mouth and a sexy body. When she realizes she has genuine feelings for him—and that those feelings are returned—she wonders if he will take a chance on her or continue to hold her at arm's length. Slowly but surely, she chips away at his resistance, and he begins to crave more of her. But Emmett knows if he's going to let her in, he has to let her all the way in. What will she think when he introduces her to his BDSM lifestyle? Will she still want him the way she does now or will she run away in horror? And what will he do if she runs away?

When Leah confronts a dangerous threat from her past, Emmett is forced to acknowledge that his "annoying little fly" has worked her way firmly into his heart—and his bed.

Also, join the entire Quantum team at the company's vineyard in Napa for Hayden and Addie's wedding!

Contains the full TAME edition in the back for those who want all the romance with a less scorching heat level!

The Quantum Series

Book 1: Virtuous (Flynn & Natalie, part 1)
Book 2: Valorous (Flynn & Natalie, part 2)
Book 3: Victorious (Flynn & Natalie, part 3)
Book 4: Rapturous (Hayden & Addie, stand alone)
Book 5: Ravenous (Jasper & Ellie, stand alone)
Book 6: Delirious (Kristian & Aileen, stand alone)
Book 7: Outrageous (Emmett & Leah, stand alone)
BUY LINKS
Amazon B & N Google Play Books IBooks Kobo
REVIEW: OUTRAGEOUS (QUANTUM) BY MARIE FORCE
Outrageous by Marie Force

My rating: 5 of 5 stars


They have no use for forever. Happy endings are not in the plan. What began as a fiery attraction is beginning to burn out of hand. Outrageous is a battle between seduction and emotion. Emmett and Leah are a force of nature that is hard to contain. Marie Force brings on the heat, with heart and humor coming along for the ride. Larger than life, hard to resist and ready to take the fall. Stylishly sexy with a hint of over the top. Getting caught up is easy when Force is at the wheel.



View all my reviews
WILD BY M. MALONE, NANA MALONE
Release Date:
August 14, 2018 - B & N Google Play Books IBooks Kobo
August 15, 2018 - Amazon
SYNOPSIS
Talia Hamilton has one mission. To have fun in college and for once, break out of her shell. So who does she end up dancing with on her first night clubbing? Cage Ward, the star of all her high school dirty dreams and the only man to ever break her heart.

So much for breaking free.

Cage Ward should be enjoying the single life. But all it takes is one kiss from a mystery girl on the dance floor and he wants to brand her as his. That is...until he realizes the sexy girl with lips to tempt and a body for sin, is his best friend's little sister. The same girl he just promised to keep his hands, lips, and dick off of.

So much for friendship.
BUY LINKS
Beginning 8/15: Amazon
Until 8/14: B & N Google Play Books IBooks Kobo
REVIEW: WILD BY M. MALONE, NANA MALONE
Wild by M. Malone

My rating: 5 of 5 stars


Life's a dance. The steps are forever changing, but we refuse to quit trying. Wild is Cage and Talia's two step. Their road to romance beats a rapid pace. She's pushing, he's pulling and they keep ending up in the same place. From good times, steamy encounters and broken hearts, Malone squared choreographed quite a show. Presentation is everything and these authors and characters leave their mark.





View all my reviews
REMEMBER THAT NIGHT (TAKING CHANCES) BY KATRINA MARIE
Release Date: August 14, 2018
SYNOPSIS
Darcy Quinn doesn't do sloppy seconds—even if they are her own. She has reinvented herself just in time for college and is determined to show the world she is stronger than ever so no one can hurt her again…especially Derrick Rhodes.

For as long as he can remember, Derrick's only wanted two things: to play college ball and to be Darcy's man. This all came to a crashing halt a year ago. He lost his future and his girl. Now he'll stop at nothing to make the team and win Darcy back for good.

Can the two of them find a way to overcome the past and become the people they have always wanted to be? Will Darcy take a chance on loving again?
BUY LINKS
Amazon B & N Google Play Books IBooks Kobo
REVIEW: REMEMBER THAT NIGHT (TAKING CHANCES) BY KATRINA MARIE
Remember That Night by Katrina Marie

My rating: 5 of 5 stars


For Derrick and Darcy two steps forward equals two steps back and neither one will allow themselves to be left behind. What began as young love becomes adult heartache. Learning to make one's way in the world is hard. The journey is emotional, difficult and unstoppable. Remember That Night reminds readers about life, love and finding themselves. Take a walk down memory lane with a wonderful tale that is as relatable as it is heartwarming.



View all my reviews
A CURVE IN THE ROAD BY JULIANNE MACLEAN
Release Date: August 14, 2018
SYNOPSIS
From USA Today bestselling author Julianne MacLean comes a suspenseful, emotionally charged novel that explores the secrets and hidden truths within a seemingly perfect marriage.
Abbie MacIntyre is living the dream in the picturesque Nova Scotia town she calls home. She is a successful surgeon, is married to a handsome cardiologist, and has a model teenage son who is only months away from going off to college.
But then one fateful night, everything changes. When a drunk driver hits her car, Abbie is rushed to the hospital. She survives, but the accident forces unimaginable secrets out into the open and plagues Abbie with nightmares so vivid that she starts to question her grip on reality. Her perfect life begins to crack, and those cracks threaten to shatter her world completely.
The search for answers will test her strength in every way—as a wife, a career woman, and a mother—but it may also open the door for Abbie to move forward, beyond anger and heartbreak, to find out what she is truly made of. In learning to heal and trust again, she may just find new hope in the spaces left behind.
BUY LINKS
Amazon Amazon CA Amazon UK Audible B & N Google Play Books IBooks Kobo
REVIEW: A CURVE IN THE ROAD BY JULIANNE MACLEAN
A Curve in the Road by Julianne MacLean

My rating: 4 of 5 stars


A Curve in the Road by Julianne MacLean

Life can change on a dime. It's the tests that teach us how strong we can be. A Curve in the Road is a tale of heartache that breeds courage. Abbie is a woman that has it all, until one tragic moment changes everything. Will she weather the storm and reach that hard earned rainbow? MacLean takes a moment in time and turns it into an uplifting journey of hope. The pain has a realism that is heartbreaking as well as relatable, but it's the message beyond the pain that serves to inspire.



View all my reviews
INFINITE (CAROLINA BEACH) BY CECY ROBSON
Release Date: August 15, 2018
SYNOPSIS
Hale Wilder, aka the Anaconda of Wall Street, spent his childhood fighting to be the best to win his father's love. He was the best student and the best athlete, who grew into a successful businessman and took the finance world by storm. Want to retire before you're forty-five? He's got you. Need your millions to be billions? He's your man.

Young, rich, and powerful, Hale was unstoppable, until a company scandal destroys his reputation and threatens to bring down everything he's bled for.

Becca Shields is the kickass public relations goddess spinning scandals to gold and launching has-beens into superstardom. She never expected to see Hale again—not following the humiliating night when her family caught them on the beach, barely clothed.

When Becca discovers Hale is in trouble, she can't turn her back on the boy who was once her world and the man she never forgot.

Hale never thought he'd have another shot at greatness or with Becca. Now that he has both, he won't let either go without a fight.
BUY LINKS
Amazon B & N Google Play Books IBooks Kobo
REVIEW: INFINITE (CAROLINA BEACH) BY CECY ROBSON
Infinite by Cecy Robson

My rating: 5 of 5 stars


Robson is my go to for a story with captivating characters and irresistible romance. Infinite is a reminder that perfection is not a requirement when it comes to love. Happiness is. Hale is a fighter. His life consists of making things happen for other people. Yet life seems to pass him by. He measures success by the almighty dollar and not the emotions he's locked away. When his life is touched by scandal, his past comes back to haunt him in the form of Becca Shields. Will she calm the storm or get caught up in the tempest of love? Cecy Robson has a talent for stepping outside of the classic fantasy and rebuilding the fairy-tale. Realism and connection are mighty weapons and she uses these to the fullest.



View all my reviews
UNDER HIS COMMAND (DECADENCE L.A.) BY MADDIE TAYLOR
Release Date: August 16, 2018
SYNOPSIS
Navy SEAL Commander Flynn Dalton is looking forward to the next chapter in his life. After two decades of active duty, he's home and ready to put down roots. Though his days are spent training new recruits at Coronado Island, his nights finally belong to him. And there's only one thing the commander wants to do: search for his perfect submissive. Too bad the woman he wants to claim is too young, too shy, and too damn vanilla.

Systems analyst Cassie Hardwick should have a very busy social life. After all, she works on a naval base surrounded by gorgeous men in uniform. But she's not interested in any of the potential perks of her job because she only has eyes for one man: a powerful, gritty, and unbelievably sexy officer. Unfortunately, Flynn sees her as nothing more than a sweet kid.

When her best friend suggests a masquerade party at an exclusive out of town club, Cassie doesn't expect to run into any of her co-workers, let alone the one she's gone there to forget. When the masks come off at midnight, Flynn is more than surprised to discover what he's been searching for-- is definitely not too young or too vanilla--and has been right in front of him all along.

This is book two in the Decadence L.A. series but can be enjoyed as a standalone.

Publisher's Note: This steamy, adult only romance contains elements of power exchange and sensual scenes. If any of these offend you, please do not purchase.
BUY LINKS
Amazon Amazon AU Amazon CA Amazon UK B & N Google Play Books IBooks Kobo
REVIEW: UNDER HIS COMMAND (DECADENCE L.A.) BY MADDIE TAYLOR
Under His Command by Maddie Taylor

My rating: 4 of 5 stars


Taylor thrives on alphas. Under His Command is prime real estate for the ultimate alpha. Flynn is used to being in control. So when that control is taken out of his hands, his emotions amp up to overload. Cassie is at a crossroads. Her heart belongs to a Navy Seal, but her emotions are all over the place. Can she come out of her head long enough to follow her heart? Under His Command is a wickedly enchanting tango of temptation and romance.



View all my reviews
THE CHARM OF YOU BY JENNIFER PROBST
Release Date: August 17, 2018
SYNOPSIS
It Takes Three Simple Steps To Make a Guy Fall in Love with you…

Determination.
Seduction.
Charm.

Let the game begin...

Presley Cabot has come a long way from the overweight, awkward college student who fell hard for the gorgeous track star, Nolan Banks, only to be humiliated after their one night together. Now, she's one of the billionaire badass owners of LWW Enterprises and has everything she'd ever wanted in life, leaving her past behind.
But when Nolan comes back into town, and doesn't even recognize the girl he once destroyed, she decides to invoke her own personal revenge. The plan is simple—make him fall hard for her, then dump him. She transforms herself into his perfect woman using three simple steps to spin her web.
But she never planned on getting caught up in old feelings…and new promises…

Nolan Banks leaves Wall Street behind to open up a brewery in his small college town. Finally ready to carve out his life away from the dreams of his family, he never expected to find an immediate attraction to the sexy corporate mogul who challenges him at every step. He falls hard and fast, determined to show her they're meant for each other, until the truth of their shared past shatters their fragile foundation. But Nolan is playing for higher stakes, and he's not about to let Presley walk away without a fight. Can he convince her his feelings have nothing to do with the game rules, and everything to do with the woman she is?
BUY LINKS
Amazon B & N Google Play Books IBooks Kobo
REVIEW: THE CHARM OF YOU BY JENNIFER PROBST
The Charm of You by Jennifer Probst

My rating: 5 of 5 stars


Regret with a side of revenge. Probst brings sexy back with a hint of sentimental in a charming tale of heartache, humor and second chances. Presley Cabot is living the dream until the pain of her past comes back to haunt her. Once the girl nobody noticed, she's become the woman everyone respects. When Nolan Banks returns, the confident woman she's become revisits the heartbreak she wants to forget. Nolan is the guy that stole her heart, then threw it away. Can the woman she's become forgive the man that he's trying to be?



View all my reviews