A Sexy FAKE RELATIONSHIP rom com standalone written by a duo of two USA Bestselling Authors
Luca Bianco is a jerk.
There I said it.
He thinks he's so suave and sexy, walking around in his paramedic uniform stretched out by all his hard muscles and saving lives every day. I swear he thinks every woman in the world would kill for a chance to be with him.
Men like Luca are good for one thing only—a one-night stand—not commitment. I don't care if my friend did pay good money at a charity bachelor auction for me to go on a date with him, I refuse to do it.
That is until Luca offers me a deal I can't refuse, and I agree to be his pretend fiancé.
The heat that's simmered between us for a decade ignites and I'm not sure even Luca will be able to kickstart my heart after I call code blue.
What's that saying? Love is blind?
Not true. I can see this head-on collision coming a mile away.
AVAILABLE NOW
REVIEW: ENGAGED TO THE EMT (BLUE COLLAR BROTHERS) BY PIPER RAYNE
Engaged to the EMT by Piper Rayne

My rating: 5 of 5 stars


I was all prepared not to like Luca. He's the charmer of the Bianco brothers, that's for sure, but people tend to underestimate his heart. There's a depth there that is well hidden, but a treasure when exposed. For that reason Luca turned out to be my favorite of the brothers. He and Lauren bring out the best and worst in each other, all it takes is a little love and understanding to give them the heart to balance their emotions.



View all my reviews

The light from the street reflects the humor shining in his eyes. "I'm just sick of the fighting."
"Fighting is what we do best. It's basically how we communicate." Then all the puzzle pieces join together in my head. I'm so stupid. "You want something."
We pull up in front of my house just as I realize what a fucking moron I am.
"Nope." He takes the keys, grabs the bag of food and gets out of the car.
He's totally playing me. I might not be a psychologist who can quickly spot a liar, but Luca, I know too well. Not well, but when it comes to our interactions—I know him. And this nice Luca, taking me to a Hawks game, buying me dinner, wanting to eat with me…this isn't the Luca Bianco I know.
I climb out of his car, the slam of the door echoing down the dark residential street. "Tell me what it is you want."
His lips remain straight, not even a hint of a smile or smirk.
Another clear sign that this isn't the Luca I know.
"Come on. Let's eat." He nods in the direction of my house.
"By prolonging whatever it is, you're just pissing me off, which means if you need something, I'm more than likely going to say no. Or we could play a little game…"
"How about we eat?" He waits patiently as I insert the key into my door, disengage the alarm that Cristian, Luca's brother insisted we get installed.
Police officers. Jeez.
We step inside and he's the one to shut the door and flick the lock.
"Planning to have your way with me?" I'm not serious as I walk into the kitchen to grab us some drinks, utensils, and napkins.
The sound of the television blaring drifts into the kitchen seconds later.
With my hands full, I head back into the living room. "Feel free to make yourself at home," I deadpan, handing Luca a Vitamin Water and a napkin.
"Thanks." He lifts the napkin and drink. "And thanks."
We sit on the couch because although our house is nice and newly redecorated thanks to Maddie's mad skills, the family room area is small and the best place to see the television is the couch. No worries though, there's still a cushion between us.
I open up my box of food, a little bit of steam hitting my face. "I can't just sit here and watch soccer with you and not know what you want."
I hate that I've had to resort to being sincere in my request.
He opens up his own box and I'm a tad jealous I didn't get the burger. It smells and looks delicious.
Luca doesn't respond, just stands and heads into the kitchen.
He knows our house way too well thanks to his brothers always suggesting we meet here when we go out.
I pop a cauliflower floret into my mouth, tasting the Korean flavor makes my mouth water. Opening up my Vitamin Water to cool my tongue, I ignore Luca's return, instead, fixating on the television as he rounds the coffee table in front of me. The couch dips with the weight of his body which is now closer than before.
I've never been alone with Luca, much less this close. I feel a shift in our volatile relationship like the stillness before a storm. It's too quiet. It's too calm. Too…enjoyable.
"Here." My gaze shifts from the television, although I couldn't tell you the score of the game and I see he's holding half his burger out to me.
"What's this?" I ask, loading my mouth with another califloret.
Man, it's hot.
"I think you had a little bit of drool dripping from your mouth when I opened the container. How about we share?"
He smiles. A smile I've only ever seen on his face with his friends, or his brothers, and especially his mom. He doesn't even wear this smile when he's with girls. At least not that I've ever seen. That fact runs around my stomach stirring up the butterflies to max flight.
I don't like this.
It's too damn calm.
Where are the eighty mile per hour winds?
"Luca, if you don't tell me what you want, I'm going to kick you out of my house." I take half the burger and slide my cauliflower and fries closer to him as an offering.
"You can't just wait?" he asks, seeming disappointed.
"HA!" I point to him with a greasy finger. "You do want something from me. Tell me what it is."
"You're ridiculous you know that, right? A normal person would wait."
I shake my head. "No, they wouldn't."
See, this feels good. This feels right.
"LUCA!" I scream.
He blows out a breath. "Fine. I need a favor from you."
Everyone knows that if you play with fire you'll end up getting burned…
What happens when you attend a first responder's bachelor auction with your best friends? Well, if your name is Madison Kelly like me, your friends end up bidding on a date for you with your high school crush.
That's right. Even back when I was 'Fatty Maddie' to all my classmates, I had eyes for the quarterback of our football team. Not like I was the only one.
Mauro Bianco may fight fires for a living, but he still sets my heart ablaze. One look at the rugged, muscular man he's turned into and I want to slide down his pole.
One date. That's all I'm committed to. A few hours and I can tuck him back into that tattered old shoebox in my closet.
As always, the universe has other plans. I never would've predicted that in a matter of days he'd turn from my dream guy into my enemy.
REVIEW: FLIRTING WITH FIRE (BLUE COLLAR BROTHERS) BY PIPER RAYNE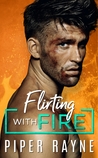 Flirting with Fire by Piper Rayne

My rating: 5 of 5 stars


He was her first love and her worst heartache. Piper Rayne proves that fate has a sense of humor. Flirting with Fire is full of irony. Maddie was the girl that nobody noticed. As a teen being awkward was the least of her problems. She gave her heart to the most popular guy in school, but neglected to get it back. Fast forward a few years and the ugly duckling has blossomed into a swan. Just when she thought she'd let go of the past, the feelings come back to haunt her. Her worst heartbreak is set on becoming the best mistake she ever made. Maddie and Mauro are proof that if it's meant to be, love will find a way. I laughed, cried and loved



View all my reviews
Cristian Bianco has two things against him—he's a police officer and he's a police officer in the 18th District…meaning my dad is his boss.
Growing up as the Commander's daughter and having his magnifying glass focused on everything I did was more than I could handle.
Now, I'm out on my own, living by my own rules. Well, mostly. The 'job' I created for myself has me in some hot water and my exit strategy isn't exactly working out how I'd hoped.
Which is why when my best friend bids on Cristian for me at a charity bachelor auction, I'm not having it. A man in blue is only going to be one thing for me—a problem.
Except after his brother starts dating my best friend he becomes harder to ignore. The eight-pack abs. The sense of style only a girl like me can appreciate. The way he puts his family first. It all adds up to make him one irresistible prospect and has me wondering if he knows how to use those handcuffs the right way—by locking my wrists to his headboard.
REVIEW: CRUSHING ON THE COP (BLUE COLLAR BROTHERS) BY PIPER RAYNE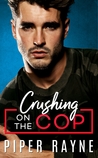 Crushing on the Cop by Piper Rayne

My rating: 5 of 5 stars


Gloria Estefan gave the perfect description of love's intricacies when she compared it to a knife. Love cuts both ways. No relationship is perfect, but do the intense emotions outweigh the risk of heartbreak? Cristian and Vanessa are playing a dangerous game. What started as a battle of wills has become a complication neither is ready for. Will their hearts survive without becoming collateral damage? With enchantingly, empathetic characters, Piper Rayne makes it hard not to fall for her stories.



View all my reviews
Piper Rayne, or Piper and Rayne, whichever you prefer because we're not one author, we're two. Yep, you get two USA Today Bestselling authors for the price of one. Our goal is to bring you romance stories that have "Heartwarming Humor With a Side of Sizzle" (okay...you caught us, that's our tagline). A little about us... We both have kindle's full of one-clickable books. We're both married to husbands who drive us to drink. We're both chauffeurs to our kids. Most of all, we love hot heroes and quirky heroines that make us laugh, and we hope you do, too.
Goodreads | Facebook | Instagram | Pinterest | Bookbub | Website
Join our newsletter and get 2 FREE BOOKS!