SALE
The first book in the dangerously sexy Naked Trilogy by New York Times bestselling author Lisa Renee Jones is on SALE for only $.99!
"Jones keeps hearts racing and hormones raging with an intensity that's all her own. Dangerous hearts make for captivating romance." (Isha C. Goodreads reviewer)
One man can change everything. That man can touch you and you tremble all over. That man can wake you up and allow you to breathe when life leaves you unable to catch your breath. For me that ONE MAN is Jax North. He's handsome, brutally so, and wealthy, money and power easily at his fingertips. He's dark, and yet, he can make me smile with a single look or word. He's a force when he walks into a room.
Our first encounter is intense, overwhelmingly intense. I go with it. I go with him and how can I not? He's that ONE MAN for me and what a ride it is. But there are things about me that he doesn't know, he can't know, so I say goodbye. Only you don't say goodbye to a man like Jax if he doesn't want you to. I've challenged him without trying. He wants me. I don't want to want him, and yet, I crave him. He tears me down, my resistance, my walls. But those walls protect me. They seal my secrets inside. And I forget that being alone is safe. I forget that there are reasons I can't be with Jax North. I forget that once he knows, everything will change.
Because I need him.
​Because he's my ONE MAN.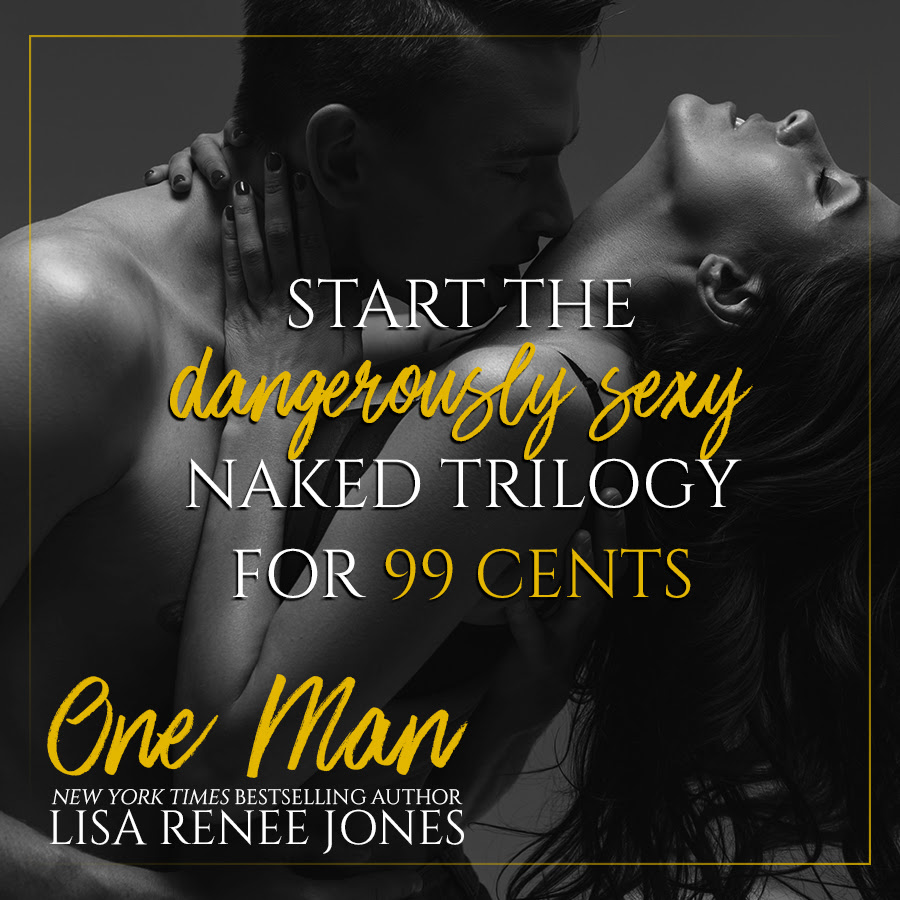 Start the Naked Trilogy Today!
ONE MAN (book one) - Available Now
Apple → https://apple.co/2BSa2MZ
Amazon Universal → http://mybook.to/OneMan
Nook → http://bit.ly/2XYQwsb
Kobo → http://bit.ly/2CkxRhj
REVIEW

: ONE MAN (NAKED TRILOGY) BY LISA RENEE JONES
One Man
by
Lisa Renee Jones
My rating:
4 of 5 stars
Love spells danger for two people who never should have met. Jax and Emma find themselves living on borrowed time. The secrets they keep could be what gets them both killed. Can they survive the unknown or will they evil that surrounds them, swallow them whole? Falling in love is risky business. The one person that you trust, could be more dangerous than you ever thought possible.
One
Man
proves that looks can be deceiving and a heart can be the most dangerous ally of all. An intriguing, nail biter with high velocity, intensity.
View all my reviews
ONE WOMAN (book two) - Available Now
Apple → https://apple.co/2JTwgTc
Amazon Universal → http://mybook.to/OneWoman
Nook → http://bit.ly/2Zb1uKK
Kobo → http://bit.ly/2wMXmEx
REVIEW: ONE WOMAN (NAKED TRILOGY) BY LISA RENEE JONES
One Woman by Lisa Renee Jones

My rating: 5 of 5 stars


The man she thought she knew turns out to be more than she ever dreamed. One Man could be her saving grace or her eternal downfall. Jax and Emma continue to stir up trouble and step into danger. She's the One Woman he can't forget. He's the One Man that who holds more than her heart in the palm of his hands. Can life on the run lead to a love that neither can live without? Jones keeps hearts racing and hormones raging with an intensity that's all her own. Dangerous hearts make for captivating romance.



View all my reviews
TWO TOGETHER (book three) - November 19th
Apple → https://apple.co/34mclUM
Amazon Universal → http://mybook.to/TwoTogether
Nook → http://bit.ly/2I43qPv
Kobo → http://bit.ly/2K6pdZe
#LisaReneeJones #sale #oneman #nakedtrilogy #needtoreadit #trueromance #romance #romanticsuspense #lovestory #booksarelife #bookpassion #readyourheartout #bookoftheday #romancenovel #romancebook #wildfiremarketingsolutions