A MAN OF HONOR (KINGSTON FAMILY) BY MIRANDA LIASSON
Release Date: June 20, 2016
SYNOPSIS
Former Army Captain and venture capitalist Preston Guthrie has always had a thing for Cat Kingston, but he never felt like he could date his best friend's sister. Plus, he's a wrong-side-of-the-tracks guy and she's a white-picket-fence kind of woman. Yet when they met again just before he was deployed, sparks flew. A fire ignited. And the heat was hot. For the first time, he thought a relationship with her might be possible…until an injury in the war changed everything…

Journalist Cat Kingston had a rough couple of years, surviving a broken engagement and the loss of her job. But connecting with Preston last fall seemed right. They shared steamy Skype sessions while he was overseas—until he was wounded, and cut her off without explanation. Now he's back in town to be the Best Man for her sister's wedding…and she wants answers.

Preston's struggling with a leg wound, but the war scarred him on the inside, too. When Cat pays him a surprise visit and her brother catches them in a compromising position, Preston tells him they're dating. He's not sure how he can spend the entire wedding week fake-dating her when the chemistry between them feels anything but…
BUY LINKS
Amazon B & N Google Play Books IBooks Kobo
REVIEW: A MAN OF HONOR (KINGSTON FAMILY) BY MIRANDA LIASSON
A Man of Honor by Miranda Liasson

My rating: 4 of 5 stars




Using humor to address a serious subject is rapidly becoming the perfect antidote for emotional stories. Miranda Liasson does so in such a way that I forgot I was reading and became involved in Preston and Cat's romance. That's the greatest compliment an author can ever receive in my point of view. A Man of Honor tackles adjusting after life changing circumstances force change to come about. A wounded soldier struggling with injury and scars mentally and physically has to learn it's okay to be vulnerable again and let light into your soul. A woman seeking closure on a whirlwind relationship proves be a wonderful healing tonic on his road to recovery.



View all my reviews
THE PRINCE'S BRIDE (MODERN FAIRYTALES) BY DIANE ALBERTS
Release Date: June 20, 2016
SYNOPSIS
Alicia Forkes went to a trendy club looking for a way to forget her troubles, and she found that in the arms of the gorgeous man who swept her off of her feet…and into one of the hottest encounters she'd ever had in her life. Awesome sex with a stranger is now something she can check off her bucket list.

Except he isn't exactly a stranger. He's the guy who broke her heart when they were teens, an experience she doesn't plan on repeating.

Prince Leo can't believe he's finally found the woman he's loved for years, and she wants nothing to do with him. When she shows up at his office, she looks anything but princess-like. In fact, she's cursing him to hell and back. She may not be Cinderella, but he's determined to prove he's the prince for her––even if it means letting her go.
BUY LINKS
Amazon B & N Google Play Books IBooks Kobo
REVIEW: THE PRINCE'S BRIDE (MODERN FAIRYTALES) BY DIANE ALBERTS
The Prince's Bride by Diane Alberts

My rating: 4 of 5 stars


A great blend of fantasy, reality and romance. True soap opera material. Alicia has had so many let downs and emotional upheavals in her life she needs a change. Too bad her biggest heartache is about to have a miraculous resurrection. I enjoy reading stories where you get the escape you want, the heat you crave and the twists you don't expect. The Prince's Bride by Diane Alberts has all these plus more. A woman's fantasy come to life.



View all my reviews
A FALSE PROPOSAL BY PAMELA MINGLE
Release Date: June 20, 2016
SYNOPSIS
London 1812

War hero Adam Grey returns home with a burning ambition to run for Parliament. But he needs the support of the local baronet, who controls the seat. Adam's plans are thwarted by his dissolute father, who has promised him to the baronet's daughter in return for forgiveness of his debts. Adam wants nothing to do with marriage or his father's problems, so he fakes an engagement to Cass Linford—his best friend's sister.

Cass has been through hell since she last saw Adam. Her betrothed committed suicide, forcing her to withdraw from London society. Heartbroken, she's given up on marriage. So when Adam suggests a temporary engagement, she agrees. He needs help with his campaign, and Cass can't resist his charm or the chance to be involved in politics. It all seems so easy, until she finds herself falling in love with her fake fiancé.
BUY LINKS
Amazon B & N Google Play Books IBooks Kobo
REVIEW: A FALSE PROPOSAL BY PAMELA MINGLE

A False Proposal by Pamela Mingle

My rating: 4 of 5 stars


Politics, conspiracy and romance make for a lethal combination. I was so sure that this was another suspense romance. Arranged engagements and intriguing alliances. In need of a break from those I hoped for the best when I turned the first page of Pamela Mingles's romantic read. Ms. Mingle won me over the minute I met Cass. She has every reason to close herself off from emotional connections. Love has left her heart in shambles and with a fear of every opening herself to more pain in the future. I expected her to be a overly sensitive but that was not her. She was fighter and I enjoyed that part of her personality. She was in constant conflict with herself because despite what her head told her, her heart wanted the opposite. The strength of her characters and the amount of heart that went into A False Proposal is what I found exceptional.



View all my reviews
DIRTY SEXY CUFFED (DIRTY SEXY # 3) BY CARLY PHILLIPS & ERIKA WILDE
Release Date: June 21, 2016
SYNOPSIS
New York Times bestselling authors Carly Phillips and Erika Wilde bring you a dirty, sexy, smoking hot SERIES featuring three bad boy brothers bonded by shocking secrets and their damaged past. Sinful, addicting, and unapologetically alpha, these men are every woman's erotic daydream ... And your ultimate dirty fantasy.
ARE YOU READY TO GET CUFFED?

As a cop, Levi Kincaid is all about discipline and control . . .in the bedroom, and out of it, and he's always been very careful about choosing women who abide by his rules. Hot sex and intense pleasure? No problem. Emotional commitment and forever promises? No way. But he never anticipates falling for a blue eyed angel who makes him want to cuff her to his bed and do dirty, sexy things to her. And that control of his? It doesn't stand a chance against Sarah Robins, the one woman he can't resist . . .
BUY LINKS
Amazon B & N Google Play Books IBooks Kobo
REVIEW: DIRTY SEXY CUFFED (DIRTY SEXY # 3) BY CARLY PHILLIPS & ERIKA WILDE
Dirty Sexy Cuffed by Carly Phillips

My rating: 4 of 5 stars


There are many things to love about Erika Wilde and Carly Phillips Dirty Sexy series. The level of intensity is high, the sensuality is wicked and the guys are to die for. One subject that is not up for debate is that these men may have learned some hard lessons but they love hard and instantaneously. It takes a strong woman to tame a Kincaid brother. Dirty Sexy Cuffed is Levi's turn up to the plate. His family is his anchor. His job is his proudest achievement and his responsibilities are not ones to be taken lightly. His secret desires are what leads him to Sarah. Sarah is not what she seems and the twists that kept leading them together are also the ones that could tear them apart. Levi's story was not as clear as Clay and Mason's. There were links that I never saw coming in this story of sex, secrets and mystery. Kept me guessing. The most explosive reveal was saved for last. I received an ARC of Dirty Sexy Cuffed in exchange for an honest review. More on the suspense side than the previous two but nobody can do seduction like these two authors.



View all my reviews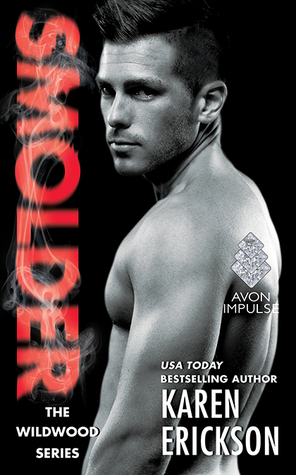 SMOLDER (WILDWOOD) BY KAREN ERICKSON
Release Date: June 21, 2016
SYNOPSIS
Lane Gallagher wants Delilah Moore - bad.

He's imagined the sexy brunette in his bed more times than he can count.

She's everything he's ever wanted, but the only problem is…

She's his brother's ex.

For years, the stoic sheriff's deputy has fantasized about the sweet, bubbly dance teacher who stirs his deepest desires. But Lane's too loyal to ever move in on forbidden territory and he knows that while he can look, he definitely can't touch. Fighting his attraction to Delilah is nearly impossible, but the infuriating-and incredibly sexy-woman seems determined to drive him crazy.

And she's bringing him to his knees. One smoldering kiss at a time.
BUY LINKS
Amazon B & N Google Play Books IBooks Kobo
REVIEW: SMOLDER (WILDWOOD) BY KAREN ERICKSON
THE TYCOON'S VACATION: BILLIONAIRE OBSESSION (TYCOON ROMANCE) BY JULIE FARRELL
Release Date: June 21, 2016
SYNOPSIS
She's an assassin with a mission.
He's her main target.

Boarding a plane to Italy, handsome and brooding Michael Romano has no idea how much one flight will change the course of his life. Teetering on the edge of leaving the priesthood, as well as the celibacy he's shackled to, Michael can't deny the attraction he feels for the beautiful woman sitting next to him.

Determined to get one job out of the way, Daisy Daniels is ready for her first kill as a hired assassin. Taking out the sexy priest will finally get her out of poverty, escaping the abusive husband who controls her. But when she meets her irresistible target, Daisy knows she can't fulfil her mission. But with their fatal attraction turning to pure lust and desire, can they find out who wants Michael dead--and why?
BUY LINKS
REVIEW: THE TYCOON'S VACATION (TYCOON ROMANCE) BY JULIE FARRELL
The Tycoon's Vacation: Billionaire Obsession by Julie Farrell

My rating: 3 of 5 stars


Entering into Daisy and Michael's story felt like waiting for a bomb to go off. I expected a different story completely than I ended up getting. On the plus side she brought the suspense like never before. Ms. Farrell is known for her exciting stories that pack a heated punch and she delivered that yet again. My worry is that it may have been a little too much a thrill. I was so turned around trying to figure out who would come out ahead in this game of cat and mouse, it was hard to keep the story straight.



View all my reviews
BAD BOYS AFTER DARK: MICK BY MELISSA FOSTER
Release Date: June 22, 2016
SYNOPSIS
Everything's naughtier after dark...

Amanda Jenner is done being a boring-man magnet and has finally taken control of her love life. As any smart paralegal would, she's researched the hell out of how to seduce a man. She's waxed, primped, and ready to put her newfound skills into action—and a masquerade bar crawl is the perfect venue for her solo coming-out party.
Entertainment attorney Mick Bad lives by two hard and fast rules. He never mixes business with pleasure, and he doesn't do relationships, which makes the anonymity of a masquerade bar crawl the perfect place for a onetime hookup.

Amanda thinks she's hit the jackpot when she bags a tall, dark, and sinfully delicious masked man—until she discovers the man she's made out with is her off-limits boss. Mick's already crossed a line he can never uncross, and one taste of sweet and sexy Amanda has only whet his appetite. When Mick offers to give Amanda a lesson in seduction—no strings, no regrets, and for goodness' sake, come Monday, no quitting—the tables turn, and Mick's totally unprepared for the lessons this sweet temptress provides.

The Bad Boys are a series of stand-alone romances that may also be enjoyed as part of the larger Love in Bloom series.

**CONTENT WARNING: Due to mature content, recommended for readers aged 18+**
BUY LINKS
Amazon.com Amazon.co.uk Barnes and Noble KOBO iBooks