READ AND REVIEW
THE DUKE OF DARING (THE UNTOUCHABLES) BY DARCY BURKE
Release Date: July 5, 2016
SYNOPSIS
Miss Lucinda Parnell is out of money, a dismal failure at the Marriage Mart, and she'd just as soon leave Society far behind. Desperate to earn funds to retire with her grandmother to the country, Lucy disguises herself as a man to gamble in London's hells. But the Earl of Dartford, an Untouchable she never imagined speaking to let alone spending time with, is onto her in a trice. When he insists on joining her, Lucy fears her desire to remain an independent woman is destined to go up on flames.

As a boy, Andrew Wentworth, Earl of Dartford lost his family to illness, leaving him a hollow shell. Obsessed with conquering one adventure after another to fill the bitter holes inside of him, Andrew has set his sights on parachuting. Nothing will stop him from trying to achieve his goal—not the hazard of death and certainly not a woman who's gotten far too close. Love is the one risk he doesn't have the heart to dare.
BUY LINKS
Amazon B & N Google Play Books IBooks Kobo
REVIEW: THE DUKE OF DARING (THE UNTOUCHABLES) BY DARCY BURKE
The Duke of Daring by Darcy Burke

My rating: 5 of 5 stars


Another fabulous read from the ever creative mind of Darcy Burke. I received an ARC of The Duke of Daring in exchange for an honest review. Emotion guided Lucinda. Ms. Burke broke the mold for strong female heroines with Lucinda. Heart was the driving force behind every move she made. Despite numerous disappointments and loads of weighty responsibilities she never just let life happen to her. Sure she experienced hard knocks but she picked herself up and made the best of the circumstances. Her sense of adventure landed her in sticky situations but it also showed how dedicated she was to her family and how far she was willing to go to succeed in taking care of the people she loved.

Andrew was the opposite. Heartache drove him to take risks. Death, loneliness and despair had beaten this man down to the point where he had no heart left. These two total opposites may not have much in common but did have lessons to teach each other. The Duke of Daring is a story of healing, strength and emotional self discovery that culminates into a romance filled with deep meaning and well crafted imagination.



View all my reviews
THE VIRGIN AND THE VISCOUNT (BACHELOR LORDS OF LONDON) BY CHARIS MICHAELS
Release Date: July 5, 2016
SYNOPSIS
The Virgin

Lady Elisabeth Hamilton-Baythes has a painful secret. At fifteen, she was abducted by highwaymen and sold to a brothel. But two days later, she was rescued by a young lord, a man she's never forgotten. Now, she's devoted herself to save other innocents from a similar fate.

The Viscount

Bryson Courtland, Viscount Rainsleigh, never breaks the rules. Well, once, but that was a long time ago. He's finally escaped his unhappy past to become one of the wealthiest noblemen in Britain. The last thing he needs to complete his ideal life? A perfectly proper wife.

The Unraveling

When Bryson and Elisabeth meet, he sees only a flawless candidate for his future wife. But a distant memory calls to him every time he's with her. Elisabeth knows she's not the wife Bryson needs, and he is the only person who has the power to reveal her secret. But neither can resist the devastating pull of attraction, and as the truth comes to light, they must discover that an improper love is the truest of all.
BUY LINKS
Amazon B & N Google Play Books IBooks Kobo
REVIEW: THE VIRGIN AND THE VISCOUNT (BACHELOR LORDS OF LONDON) BY CHARIS MICHAELS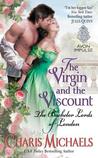 The Virgin and the Viscount by Charis Michaels

My rating: 5 of 5 stars


LOVE, LOVE, LOVE, LOVE. Charis Michaels uses an act of bravery and kindness to tell the story of A union written in the stars. The Virgin and The Viscount is the first story that I have read by Ms. Michaels. It tells the story of Lady Elisabeth. As a child Elisabeth was kidnapped, sold and surprisingly rescued in an act that has haunted and shaped her into a furious warrior. She uses her station to protect the innocent from experiences like her own. Her ministrations bring her to the attention of Bryson Courtland, a Viscount searching for a woman who will make him the perfect wife. Bryson and Elisabeth have a connection that neither understand and an attraction that grows stronger with each passing day. Is that love strong enough to survive a surprising secret? I received an ARC of The Virgin and the Viscount in exchange for an honest review. The main reason I fell so hard for this novel is because for all the hardship each endured alone, as a couple they came full circle and ended up right where they were meant to be. SHE HAD ME AT HELLO!



View all my reviews
LICENSE TO WED (REBELLIOUS BRIDES) BY DIANA QUINCY
Release Date: July 5, 2016
SYNOPSIS
Perfect for readers of Madeline Hunter, Lisa Kleypas, and Sabrina Jeffries, the Rebellious Brides series continues with a sizzling tale of forbidden love between a socialite and a scholar—who might just be an infamous spy.

Lady Elinor Dunsmore made the mistake of falling for her older brother's best friend, who vanished after a night of unbridled passion. Six years and a lifetime later, their eyes meet across a Paris salon. Her friends and family believe she's dead, but Elle is very much alive. She's now associated with a ruthless general, who wants her to seduce the man who broke her heart in order to learn his deepest secrets. Is Will a mild-mannered scholar—or the notorious agent they call The Razor?


The bastard son of an earl and an actress, Will Naismith always knew he was an unsuitable match for Elle Dunsmore, no matter how powerfully he ached for her. And yet he almost allowed his desires to spoil her glittering future. After the agony caused by Elle's supposed death, Will has devoted himself to the Crown, but his entire life has been leading up to this unexpected reunion. As much as he still wants her, though, he must not succumb to lust once again. For his mission is delicate—and Elle is delectably dangerous.
BUY LINKS
Amazon B & N Google Play Books IBooks Kobo
REVIEW: LICENSE TO WED (REBELLIOUS BRIDES) BY DIANA QUINCY
A License to Wed: Rebellious Brides by Diana Quincy

My rating: 4 of 5 stars


Diana Quincy knows how to write a story. Will and Elle's reunion is darkly sensual. A dance of temptation lends these lovers into dangerous territory. License to Wed packs on the intrigue but delivers lots of seduction. I received an ARC of License to Wed in exchange for an honest review. I've found with Ms. Quincy one taste is never enough.



View all my reviews


IF THE EARL ONLY KNEW (THE DARING MARRIAGES) BY AMANDA FORESTER
Release Date: July 5, 2016
SYNOPSIS
The chase is on in award-winning author Amanda Forester's brand-new Regency romance series!

A sizzling scandal just waiting to happen…

Orphaned at a young age, Lady Katherine Ashton and her brother have spent most of their lives on the high seas, seeking to restore their family fortune through somewhat dubious means. After that kind of adventure, Kate knows she won't ever be accepted as a proper society lady.

To the annoyingly clever, temptingly handsome, and altogether troublesome Earl of Wynbrook, society ladies are a dead bore. Kate, on the other hand, is scandalous, alluring, and altogether fascinating. And Kate can't decide which she relishes more, the thrill of chasing fearsome pirates, or having Wynbrook chase after her...
BUY LINKS
Amazon B & N Google Play Books IBooks Indiebound
REVIEW: IF THE EARL ONLY KNEW (THE DARING MARRIAGES) BY AMANDA FORESTER
If the Earl Only Knew by Amanda Forester

My rating: 4 of 5 stars


Kate was a departure from your average, lady of means, coquettish character that leads most historical romance. She had a past that was provocative and a spirit that could not be tamed. I love these type of leading women because they are more than a pretty face. More depth is hiding behind the exterior. If the Earl Only Knew blended adventurous spirit with action packed storylines and seductive plot twists and intriguing mystery. Was sad to see it end.



View all my reviews
ONCE UPON A MOONLIT NIGHT (MAIDEN LANE) BY ELIZABETH HOYT
Release Date: July 5, 2016
SYNOPSIS
From New York Times bestselling author Elizabeth Hoyt comes a delightful Maiden Lane novella that begins once upon a moonlit night—and ends wickedly, wonderfully ever after...

Hippolyta Royle is running for her life. Pursued by hounds on a cold rainy night, the heiress flags down a passing carriage and throws herself at the mercy of the coach's occupant. Whoever this handsome traveler may be, he is her only hope to escape a terrible fate. But should he agree to escort her to safety, he's in for much more than he bargained for.

At first Matthew Mortimer doesn't believe Hippolyta's story, that she's a fabulously wealthy heiress who's been kidnapped. He assumes she's a beggar, an actress, or worse. But once his new travel companion washes the mud from her surprisingly lovely face, and they share a breathtaking kiss, there is no turning back.
BUY LINKS
Amazon B & N Google Play Books IBooks Kobo
REVIEW: ONCE UPON A MOONLIT NIGHT (MAIDEN LANE) BY ELIZABETH HOYT
Once Upon a Moonlit Night by Elizabeth Hoyt

My rating: 3 of 5 stars


Nothing is as it seems in this story and that leaves many unanswered questions. Once Upon a Moonlight Night is Hippolyta (what a mouthful) and Matthew's adventurous, mysterious and all out confusing romance. Ms. Hoyt does a fabulous job of drawing her readers into this chaotic union but the story move so fast I found it hard to keep up. The benefit of approaching a read like this one is that it kept me alert and I always discovered something new. I received an ARC of this story in exchange for an honest review, though not a favorite, Once Upon a Moonlight Night is as wicked as it is puzzling but is full of surprising twists.




View all my reviews