READ AND REVIEW
SUMMER RAIN (LIGHTNING STRIKES) BY BARBARA FREETHY
Release Date: August 1, 2016
SYNOPSIS
From #1 NYT Bestselling Author Barbara Freethy comes the third and final book in the Lightning Strikes Romantic Suspense Trilogy. Action, suspense, romance and family secrets lead to an explosive conclusion!

Danielle Monroe is determined to use her new job in DC as a stepping-stone to a high-powered political career. But the secrets surrounding her father's death continue to overshadow her goals. Her family thinks she holds the final piece of the puzzle, but she doesn't even know what the puzzle is until an attractive and possibly dangerous stranger shows up in her life.

Patrick Kane is searching for answers about his own dark tragedy, not realizing that the beautiful Danielle may not just hold the key to his mystery but also his heart. They have to stay alive long enough to find out.
BUY LINKS
Amazon B & N Google Play Books IBooks Kobo
REVIEW: SUMMER RAIN (LIGHTNING STRIKES) BY BARBARA FREETHY
Summer Rain by Barbara Freethy

My rating: 3.5 of 5 stars




Just like me to come in on the tail end of a series. Summer Rain has a touch of mystical mystery blended with a hint of romance. I received an ARC of Summer Rain in exchange for an honest review. The high stakes world of Washington D.C. is a great location for a story about corruption, murder and secrets. Dani lands herself right in the center of a paradox. Secret agendas. mysterious deaths and attempted murders follow Patrick and Dani in their quest for long awaited answers. Barbara Freethy has an intriguing mind. Her stories are the perfect playground for adrenaline junkies who thrive on cryptic suspense and breath catching reveals. 3.5 stars



View all my reviews
BAREFOOT AT MOONRISE (BAREFOOT BAY TIMELESS) BY ROXANNE ST. CLAIRE
SYNOPSIS
Captain Ken Cavanaugh is a forty-three year old firefighter whose been burned by love, but one heated encounter with his high school crush changes everything. Now this man who takes risks for a living puts everything at stake to have the family he's always wanted.
BUY LINKS
Amazon B & N Google Play Books IBooks Kobo
REVIEW: BAREFOOT AT MOONRISE (BAREFOOT BAY TIMELESS) BY ROXANNE ST. CLAIRE
Barefoot at Moonrise by Roxanne St. Claire

My rating: 5 of 5 stars


Thanks to youthful immaturity we all have that one moment of regret that follows us into adulthood. Wishing we could right a wrong from our past. A high school reunion, a long overdue apology and one shocking event leaves Ken Cavanaugh and Beth Endicott in a place neither expected to be. On the brink of a second chance. Ms. St. Claire is in no way stingy with the romance. The only difference I see between her Barefoot Bay Timeless and her other Barefoot Bay novels is that the connections are deeper and the ability to forgive and admit mistakes is more readily followed through on. Of course there are still lessons to be learned at any age but the ability to accept one's own faults becomes a little easier with maturity. Whether 20 or older love is never easy. Age is irrelevant. Barefoot Bay at Moonrise is a wonderful footprint for love at any age.
WELCOMING THE BAD BOY (HERO'S WELCOME) BY ANNIE RAINS
Release Date: August 2, 2016
SYNOPSIS
From the bestselling author of Welcome to Forever ("Full of heart and emotion!"—Lori Wilde) comes a sweet, sexy novel about breaking all the rules. In Seaside, North Carolina, the boys on the base are heroes—but that doesn't mean they're always well-behaved.
As a preacher's daughter, Valerie Hunt only dates the very respectable, very boring men who meet her father's strict standards. In private, however, she leads a double life as a romance writer of steamy stories about the least respectable sorts of men. Valerie has always kept her hottest fantasies separate from her real life, but when she nearly runs a hot-blooded biker off the road, the lines begin to blur.
Even though Valerie almost killed him, Griffin Black can't be angry after he learns the reason for her distracted driving: an unruly puppy belonging to her ailing friend. As a member of the military police K-9 unit, Griffin insists on training the dog himself. But he soon wonders how he's ever going to stay disciplined around the most alluring, down-to-earth, and totally unattainable woman he's ever met. Valerie is the ultimate good girl. And Griffin is going to need all his old tricks to unleash her wild side.
BUY LINKS
Amazon | B & N | Google | iTunes | Kobo
REVIEW: WELCOMING THE BAD BOY (HERO'S WELCOME) BY ANNIE RAINS
Welcoming the Bad Boy by Annie Rains

My rating: 5 of 5 stars


Sweet, down to earth girl seeks to unleash her wild side in Annie Rains' Welcoming the Bad Boy. Valerie is not what she seems. On the surface she is the incorruptible preacher's daughter who follows rules and never puts a foot wrong. Underneath it all is the heart of a rebel. She pens sexy romances about sinfully bad boys she can only dream of meeting. Her every wicked fantasy materializes within her initial meeting of Griffin. Bad boy hottie with a sense of humor and edge that speaks to the bad girl in her soul. Now she has to decide if she's strong enough to unleash all her secrets and finally be true to her heart. A sizzling romance with amusing characters and a great message makes for an awesome read.



View all my reviews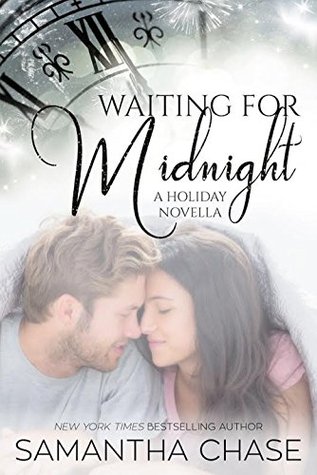 WAITING FOR MIDNIGHT BY SAMANTHA CHASE
Release Date: August 3, 2016
SYNOPSIS

Maddie's hoping for a little holiday magic with her sexy neighbor Noah...
For the last year, Maddie's been trying to get Noah's attention, but to no avail. Until a busted light bulb, a broken ladder and a concussion lend a hand. Now with the holidays right around the corner, she's hopeful that she'll finally get her wish to kiss her sexy neighbor as way to kick off the new year.
BUY LINKS
Amazon B & N Google Play Books IBooks Kobo
REVIEW: WAITING FOR MIDNIGHT BY SAMANTHA CHASE
Waiting for Midnight by Samantha Chase

My rating: 5 of 5 stars


A sprinkle of that magic to be carried all year round. Waiting For Midnight
brings the romance, sentiment and heart in a short story that blends hope, dreams and fairy tale wishes to create a little piece of heaven. I had the pleasure of reading Ms. Chase's edition to the Christmas in the City anthology back in December. I loved it then, just as much as I do now.



View all my reviews
MAY THE BEST MAN WIN (BEST MEN) BY MIRA LYN KELLY
Release Date: August 2, 2016
SYNOPSIS
Four friends
Each a Best Man at a wedding
One chance to get it right

Jase Foster can't believe his bad luck. He's been paired with the she-devil herself for his best friend's wedding: Emily Klein of the miles-long legs and killer smile. She may be sin in a bridesmaid dress, but there's no way he's falling for her again.

They can barely stand each other, but given how many of their friends are getting married, they'll just have to play nice-at least when they're in company. Once they're alone, more than just gloves come off as Jase and Emily discover their chemistry is combustible, and there may be something to this enemies to lovers thing after all...
BUY LINKS
Amazon B & N Google Play Books IBooks Kobo
REVIEW: MAY THE BEST MAN WIN (BEST MEN) BY MIRA LYN KELLY
May the Best Man Win by Mira Lyn Kelly

My rating: 5 of 5 stars


ARC Review: May The Best Man Win (Best Men) Mira Lyn Kelly

Romance is a small genre and Ms. Kelly knows how to spread the magic of love. From her addictive Harlequin reads to her swoon worthy Loveswept novels and her enchanting Sourcebooks titles she knows how to keep the fires burning. Her romantic soul shines through in every paragraph she writes and every adorable character she creates. What I love most about May The Best Man Win is that it combines the best of her traits to create a story that is light, amusing and hard to put down. Am looking forward to the rest of the Best Men series.




View all my reviews
HITCHED (IMPERFECT LOVE #3) BY KENDALL RYAN
Release Date: August 2, 2016
SYNOPSIS
On the heels of her smash hit and New York Times bestselling SCREWED series, Kendall Ryan brings you HITCHED, a romantic comedy that delivers heart and heat. A NYC playboy turned business mogul has ninety days to win over the woman he's always desired in order to save his father's company. One tiny problem: She hates his guts. This is the third and final volume in the story.
BUY LINKS
Amazon B & N Google Play Books IBooks Kobo
REVIEW: HITCHED (IMPERFECT LOVE #3) BY KENDALL RYAN
Hitched: Volume Three by Kendall Ryan

My rating: 5 of 5 stars


ARC Review: Hitched Imperfect Love #3) by Kendall Ryan

Amazing. I have followed the Imperfect Love series from volume 1. Have seen the good, bad and frustrating aspects of Olivia and Noah's relationship. Have watched each grow individually and seen the cracks in the walls each has erected. Finally I realize what was staring me in the face all along. The business was an important part of their lives both personally and professionally BUT, the lesson their fathers were trying to teach them is that life is more essential. Although it was a crazy way to get their attention. It served the purpose. Success is measured by more than accomplishments. It's the people left behind, the wisdom gained and the ability to live, not leaving any regrets at the end. Kendall Ryan has written a insightful romance that is sexy, funny and complex. The shortest in the series but the most profound.



View all my reviews
YOUR FOREVER LOVE (THE BENNETT FAMILY) BY LAYLA HAGEN
Release Date: August 2, 2016
SYNOPSIS
Eric Callahan is a powerful man, and his sharp business sense has earned him the nickname Shark. Yet under the strict façade is a man who loves his daughter and would do anything for her. When he and his daughter move to San Francisco for three months, he has one thing in mind: expanding his business on the West Coast. As a widower, Eric is not looking for love. He focuses on his company, and his daughter.
Until he meets Pippa Bennett. She captivates him from the moment he sets eyes on her, and what starts as unintentional flirting soon spirals into something neither of them can control.
Pippa Bennett knows she should stay away from Eric Callahan. After going through a rough divorce, she doesn't trust men anymore. But there's something about Eric that just draws her in. He has a body made for sin, and a sense of humor that matches hers. Not to mention that seeing how adorable he is with his daughter melts Pippa's walls one by one.
The chemistry between them is undeniable, but it's the connection that grows deeper every day that has both of them wonder if love might be within their reach.
When it's time for Eric and his daughter to head back home, will he give up on the woman who has captured his heart or will he do everything in his power to remain by her side?
BUY LINKS
Amazon B & N Google Play Books IBooks Kobo
REVIEW: YOUR FOREVER LOVE (THE BENNETT FAMILY) BY LAYLA HAGEN
Your Forever Love by Layla Hagen

My rating: 5 of 5 stars


The Bennett family are a symbol of what every family should aspire to be. United in life, bonded in heart and a force to be reckoned with. I received an ARC of Your Forever Love in exchange for an honest review. Pippa has been a favorite character of mine since meeting her in Your Irresistible Love. Her heart is large enough to include not just her family, but co-workers and anyone in need of TLC. Her vulnerability also made her an easy target and in the process left a bruised soul. Eric knows about pain and loss. His experience has left him a protective single father with a good head for business but no time for love. What I enjoy about Layla Hagen is her knack for turning darkness into sunshine. Her emotional stories are full of wonderful characters and give hope and happiness in times of hardship. Food for the soul.



View all my review
JONQUILS FOR JAX (BLUEBERRY LANE - THE ROUSSEAUS) BY KATY REGNERY
Release Date: August 5, 2016
SYNOPSIS
Did you fall in love with The English Brothers? Were you hot for the Winslows?

Katy Regnery's Blueberry Lane series continues with The Rousseau siblings!

Jacqueline "Jax" Rousseau is vivacious, rich, smart and beautiful…but that doesn't mean she's lucky in love: she's dated doctors, lawyers, actors and politicians who've all managed to end up disappointing her. In fact, she's on a self-imposed hiatus from love when she has an unpleasant run-in with her neighbor's gorgeous new landscaper, Gardener Lenox. Jax is not accustomed to gruff, ill-mannered men that can't be charmed, but something about Gard intrigues her, and if she can find her way through the armor that surrounds his heart, she also might find a love that won't let her down.
BUY LINKS
Amazon B & N Google Play Books IBooks Kobo
REVIEW: JONQUILS FOR JAX (BLUEBERRY LANE - THE ROUSSEAUS) BY KATY REGNERY
Jonquils for Jax by Katy Regnery

My rating: 5 of 5 stars


ARC Review: Jonquils for Jax (Blueberry Lane - The Rousseaus) by Katy Regnery

With any story whether horror, drama, romance, etc. there is always one scene that triggers the imagination and is hard to let go of over time. For me that was the moonlight garden scene the night Gardner and Jax met. What a first impression. The glowing flowers, the beautiful surroundings, an air of mystery mixed with the magic of simmering attraction. That one scene set the tone for the rest of the story. Gard is a paradox. He enjoys and creates beauty with an artists touch but knows that ugliness can be wrapped in beautiful trappings. Jax has a curiosity for the unknown. It tends to get her into troubling situations but her scars are hidden below her cultured upbringing and have made her wary and determined. Jonquils for Jax is just another reason why Ms. Regnery is a favorite author of mine. She uses a pen like an artist uses a brush. Her story are born from her love of beauty and becomes more obvious every stroke.



View all my reviews