READ AND REVIEW
SO WICKED (BAD BEHAVIOR) BY MELISSA MARINO
Release Date: May 7, 2017
SYNOPSIS
Fate has a wicked sense of humor.

Alexis's new life was made up of two things: baking and hiding the details of her old life in Chicago. The first allowed her to finally find some happiness. And the second is about to be destroyed by a man who knows all her secrets.

Marshall Rawlins was prepared to do anything when he moved cross-country to launch an upscale cocktail bar---anything except work with Alexis, his best friend and business partner's ex-wife. Adding Alexis's boozy-baked goods to his menu would be a major feat for his bar. But striking a deal means getting in bed with the enemy.

Battling between distrust and desire, Alexis and Marshall give in to a passionate, forbidden affair. They know if they're discovered the consequences would be bad---it's just hard to remember that when being together feels so, so good.
BUY LINKS
Amazon B & N Google Play Books IBooks Kobo
REVIEW: SO WICKED (BAD BEHAVIOR) BY MELISSA MARINO
So Wicked by Melissa Marino

My rating: 5 of 5 stars


So Wicked is a tale that begins in irony and ends with forgiveness. Alexis and Aaron share a common thread. Alexis' ex is Aaron's best friend. Alexis is far from perfect. Her past is littered with the ghosts of her mistakes, but despite actions to the contrary, everyone deserves a second chance. She's still trying to earn hers. Aaron represents her worst fears and her greatest temptation. He's seen her at her worst. Judging and hating Lexie, doesn't stop him from, wanting her. Can he forgive her past, so that they can build a future?

Ms. Marino accomplished an epic feat. She took a character that was beyond redemption and reinvented her into a woman of strength. Her flaws were great, but her determination to become a better person made for a courageous, rocky and taboo filled road. So Wicked shows the bravery of two strong women. Gifted author, Melissa Marino for triumphantly winning over a skeptic like me. Lastly, Alexis for facing he demons and healing her soul.



View all my reviews
CONFESSIONS OF A FORMER PUCK BUNNY (TAKING SHOTS) BY CINDI MADSEN
Release Date: May 8, 2017
SYNOPSIS
Confession #1: I used to be a puck bunny, but after a hockey player broke my heart, I gave up all things hockey. Now I'm just focused on finding a way to pass my math class so I can graduate college.

Confession #2: Ryder "Ox" Maddox's deep, sexy voice sends fuzzy tingles through my entire body, and I'm powerless to stop it. Which is a big problem since the hot, surprisingly funny hockey player is my new math tutor.

Confession #3: I can't stop thinking about how ripped Ryder is from all his hockey training, and how fun it'd be to cross lines with him.

Confession #4: I kissed a hockey player and I liked it.

Confession #5: If I'm not careful, I might relapse and fall for Ryder, and then I'll be totally pucked.
BUY LINKS
Amazon B & N Google Play Books IBooks Kobo
REVIEW: CONFESSIONS OF A FORMER PUCK BUNNY (TAKING SHOTS) BY CINDI MADSEN
Confessions of a Former Puck Bunny by Cindi Madsen

My rating: 5 of 5 stars


With spot on comedic timing, the perfect amount of youthful angst and delectably adorable first person delivery, Ms. Madsen did what she set out to do. Touch the heart with her humorous yet optimistic and highly addictive romance. Lindsay was looking for love in all the wrong places. Her penchant for excess led her into the arms of many a hockey player but left her feeling broken and empty at the end of the game. Seeking to break a bad habit, Lindsey swears off hockey players and their humongous egos. And men. Until a smart, funny and sexy guy crosses her path. Ryder is the man of her dreams, but can she break her own rules and open her heart to the one type of man, she's sworn off?



View all my reviews
BETTING THE BAD BOY (BEHIND THE BAR) BY STEFANIE LONDON
Release Date: May 8, 2017
SYNOPSIS
Self-confessed perfectionist Paige Thomas isn't used to failing. But when a critical error in romantic judgment sends all her big city career dreams crashing down, she scrambles to find a job—any job—to make ends meet.
Noah Reid may as well have "trust issues" tattooed on his forehead. Being raised in the foster system didn't give him a positive outlook on relationships, but now he's looking after his best friend's bar for one month, and he can't do it alone.
Things get steamy when Noah hires Paige, but she's determined not to repeat her mistakes and she bets Noah that she can keep her hands to herself while they're working together. Too bad for her, Noah is an expert at breaking the rules…
BUY LINKS
Amazon B & N Google Play Books IBooks Kobo
REVIEW: BETTING THE BAD BOY (BEHIND THE BAR) BY STEFANIE LONDON
Betting the Bad Boy by Stefanie London

My rating: 4 of 5 stars


Betting the Bad Boy is the best of Stefanie London. Full of fun, lots of heart and a comedic gold mine. Noah and Paige have enough electricity to short out the power within a five mile radius. However, courage is in short supply. Past heartbreaks have given love a bad name that continues to leave it's mark. Will this highly magnetic duo, be able to step out of their heads and chime into their hearts? Laughs, love and life lessons is a sweet and salty combination.




View all my reviews
ONE LITTLE KISS (SMART CUPID) BY MAGGIE KELLEY
Release Date: May 8, 2017
SYNOPSIS
Love blogger Kate Bell is finished with men—especially the hot ones. Of course her only chance to save her career requires snagging an interview with the man who literally wrote the book on love, reclusive and super-sexy relationship expert Jake Wright. Who happens to be her boss's brother.

The last thing Jake Wright wants is to be dragged back into the spotlight as a bachelor for his sister's dating website. But when a sweet and sexy blogger crashes onto his island in the middle of a storm worse than his love life, keeping his hands off proves to be a challenge—especially when they're stuck sharing the same bungalow.
BUY LINKS
Amazon B & N Google Play Books IBooks Kobo
REVIEW: ONE LITTLE KISS (SMART CUPID) BY MAGGIE KELLEY
One Little Kiss by Maggie Kelley

My rating: 5 of 5 stars


One Little Kiss has romantic comedy written all over it. Move over My Best Friend's Wedding, because Maggie Kelley is gunning for you. Full of precious moments of humor and heart. This story screamed winner right from the very start. Kate's red hot love life is singing the blues. Jake has all the answers while doling out relationship advice, but clueless is his middle name when it comes to his own love life. A deserted island, a freak storm and lots of sexual tension could end up putting this clueless duo in a perfectly awkward position. Perfect movie material.



View all my reviews
CRAZY FOR YOU (CRUSH ON YOU) BY RINA GRAY
Release Date: May 8, 2017
SYNOPSIS
Baseball hotshot Jake Ross isn't looking for love, only a good woman to come to his rescue. His bad boy rep lands him on the covers of gossip rags instead of sports magazines and could cost him a multi-million-dollar sponsorship deal.

Enter Charlotte Jones. The shy media coordinator is determined to lose weight and avoid the health concerns that run in her family, but after months of middling results, she needs someone to talk her out of throwing in the towel.

If Charlotte pretends to be Jake's girlfriend, he'll coach her on how to hit her numbers on the scales. It's a home run of an idea … until sparks begin to fly. But has Jake really forsaken his playboy ways?
BUY LINKS
Amazon B & N Google Play Books IBooks Kobo
REVIEW: CRAZY FOR YOU (CRUSH ON YOU) BY RINA GRAY
Crazy for You by Rina Gray

My rating: 4 of 5 stars


There is a fine line between being overly preachy and informative. With Crazy for You, Ms. Gray expertly toes that line with issues and characters that are easy to relate to and fall for. Characters like Charlotte are created to inspire, entertain and deliver a message. Happiness resides in loving and accepting the things in ourselves, that can not be changed. Jake was a temptation, but the way he motivated Charlotte and encouraged her to accept herself, made him a winner in my eyes. Rina Gray floats just below the radar in order to raise the bar a tad higher with every story she writes.



View all my reviews
GOING IN DEEP (BILLIONAIRE BAD BOYS) BY CARLY PHILLIPS
Release Date: May 9, 2017
SYNOPSIS
He isn't Mr. Nice Guy…

Julian Dane thought he'd hit rock bottom — until he met a woman (isn't that what they all say?). He used her and broke her heart. Now he wants to turn things around but the damage he dealt stands in his way.

Kendall Parker's unique issues have made it hard to live a normal life. Very few people understand her and she trusts even less … but she believed in Julian once, and he only betrayed her.

Now Julian is back — a new man — and determined to win Kendall's heart. But this reformed bad boy just might find that Going in Deep is harder than it looks.

Billionaire Bad Boys: Rich, Powerful and Sexy as hell.
All Billionaire Bad Boys Novels stand alone!
BUY LINKS
Amazon (Kindle) B&N Nook Kobo iBooks Google Play Amazon (Print)
REVIEW: GOING IN DEEP (BILLIONAIRE BAD BOYS) BY CARLY PHILLIPS
Going In Deep by Carly Phillips

My rating: 5 of 5 stars


Bruised by life and their own bad choices they needed a wake up call. Instead they found each other. Ms. Phillips certainly knows how to put the moves on a heart. She informs, entertains and doesn't pull any punches in this story of second chances. Kendall and Julian found each other at their darkest moments. Lies, manipulation and heartbreak ensued. After years of darkness, that one moment forced them into the light and changed two broken people in a positive way. Can time, distance and positivity, give them a chance at happiness? Going In Deep, is a triumphant testament of what the power of love can do. In the most tragic of circumstances it has the power to heal. Kendall and Julian are my favorite Billionaire romance to date.



View all my reviews
BAYSIDE DESIRES (LOVE IN BLOOM: BAYSIDE SUMMERS) BY MELISSA FOSTER
Release Date: May 9, 2017
SYNOPSIS
Fall in love at Bayside, where sandy beaches, good friends, and true love come together in the sweet small towns of Cape Cod.

In Bayside Desires…

As the co-owner of Bayside Resorts, Rick Savage has a fabulous job working with his best friends and brother, and a thriving business in Washington, DC, which he'll be returning to at the end of the summer. Spending time with his family is great, but being back on Cape Cod has unearthed painful memories. When sweet, smart, and overly cautious Desiree Cleary moves in next door, Rick is drawn to the sexy preschool teacher, and she just might prove to be the perfect distraction.

Running an art gallery was not in preschool teacher Desiree Cleary's plans, but after being tricked into coming to her impetuous, unreliable mother's aid, she's stuck spending the summer with the badass half sister she barely knows and a misbehaving dog. If that's not frustrating enough, she can't escape the sparks igniting with her strikingly handsome and pushy neighbor, Rick, who makes all her warning bells go off.

Passion ignites as Desiree and Rick spend long summer nights sharing heartfelt confessions and steamy kisses. For the first time in years Rick is enjoying life again instead of hiding behind mounds of work miles away from his family. Desiree has touched him in a way that makes him want to slow down. Only slowing down means dealing with his demons, and he isn't sure who he'll be when he comes out the other side.
BUY LINKS
Amazon.com Amazon.co.uk Barnes and Noble KOBO iBooks GPlay Paperback
REVIEW: BAYSIDE DESIRES (LOVE IN BLOOM: BAYSIDE SUMMERS) BY MELISSA FOSTER
Bayside Desires by Melissa Foster

My rating: 5 of 5 stars


Rick Savage proves that you can have it all, yet still feel empty inside. Between crossover characters, light hearted banter, meaty storytelling and new characters, I get to know and love, Ms. Foster is on the right tract with the Bayside Summers series. Bayside Desires is the first book in the series and it marks the beginning of something special. Rick and Desiree have had their fair share of painful moments. Abandonment issues, disappointment and loneliness have left Desiree with a heavy heart. For Rick, a tragic loss has left him with a bruised soul and a battered heart. There are moments where the Kleenex will prove to be a readers best friend and there are also instances where humor flows freely again. All these little pieces merge into a challenging and rewarding work of art.



View all my reviews


THE MAGNATE'S MARRIAGE MERGER (THE MCNEILL MAGNATES) BY JOANNE ROCK
Release Date: May 9, 2017
SYNOPSIS
The matchmaker meets her match...in one very persistent tycoon!

Secretive matchmaker to the rich and famous, Lydia Whitney prefers to stay behind the scenes. But after one mistake, rich resort developer Ian McNeill is hot on her trail, and he's more attractive--and persistent--than ever before.

Ian can't believe it when he figures out who's messing with his family: a woman who has deceived--and seduced--him before. What's her agenda? And why can't he resist her? He'll get the answers to all his questions, if Lydia agrees to his convenient marriage proposal. But once she's in his arms again, will he let her go?

The Magnate's Marriage Merger is part of The McNeill Magnates trilogy.
BUY LINKS
Amazon B & N Google Play Books Harlequin IBooks Kobo
REVIEW: THE MAGNATE'S MARRIAGE MERGER (THE MCNEILL MAGNATES) BY JOANNE ROCK
The Magnate's Marriage Merger by Joanne Rock

My rating: 5 of 5 stars


Lydia and Ian had a love written in the stars. Until real life got in the way. Now fate has given them a second chance. Will the heartache be worth the wait? The McNeill men exude power, presence and personality, but when faced with matters of the heart, they have a hard time facing reality. Ian loves to be in control. Lydia is the one woman, he never expected, could not forget and had no control over. Lydia offered her heart to the one man who managed to break her spirit. Now he's back and ready to expose her secrets and desires. Amid the heartache, blackmail, secrets and betrayals lie misunderstandings, pride and an everlasting love. Will these two shattered hearts be able to piece their love together again? Ms. Rock has a way with words. The Magnate's Marriage Merger appeals to the emotional, hormonal and dream lover in every romantic soul.



View all my reviews
SCORE (SAN FRANCISCO THUNDER) BY VICTORIA DENAULT
Release Date: May 9, 2017
SYNOPSIS
He's used to winning, but now he's playing with his heart.
Jude Braddock. Hockey god. That's how everyone sees him now. But when they were teenagers, Zoey knew him as the kid who didn't have enough nerve to make a move on their one and only disastrous date. Seems he doesn't have that problem anymore, though. According to the rumors, he's with a different woman every night. After a rough divorce, the last thing Zoey needs is more heartbreak. But Jude's cocky, playful attitude is mighty hard to resist.
Jude knows he isn't built for long-term relationships. But he's getting sick of women pounding on his door in the middle of the night looking for a rematch. When Zoey comes back into his life, it's like fate has given him a second chance. He'll do anything to make her happy again. Is this what love looks like? He has no idea. All he knows for sure is that this time, he's playing for keeps.
BUY LINKS
Amazon B & N BAM Google Play Books IBooks Indiebound Kobo
REVIEW: SCORE (SAN FRANCISCO THUNDER) BY VICTORIA DENAULT
Score by Victoria Denault

My rating: 4 of 5 stars


A big man on and off the ice, Jude knows how to score. He knows what he wants and goes after it full speed ahead. Zoey is the girl that sent his teenage hormones into overdrive with her wild girl ways. Now an adult, Zoey's spirited image has been toned down by life's hard knocks and one broken heart too many. With a divorce in her review mirror and a "no bad boy" rule leading her forward, Zoey is finding her way again. Enter bad boy hockey star, Jude Braddock. Tempting, cocky and up to no good, Jude has one goal. Awaken the bad girl she's determined to hide and show her what she's been missing. I'm not a sports enthusiast and the bad boy shtick's been done before but Ms. Denault adds in a little extra heart and sex appeal and scores a goal with Score.



View all my reviews
GAGE (THE PLAYER) BY NANA MALONE
Release Date: May 9, 2017
SYNOPSIS
Money, power, prestige…Legacy. Gage Coulter is —The Player.

His whole life, all, basketball player, Gage Coulter, has heard is how he was meant to play basketball. Meant to be on the court. Meant to be elite. So what happens if he can't even play on the damn team? With his father in and out of the hospital and more practice time than he's used to, he's struggling to hold up the ship and his grades are showing it. With his starting position in jeopardy, he needs help from the one girl on campus who can't stand him. Too bad, she's also the one girl he can't get out of his head.

Becker Johnson has a plan for her life. And it doesn't include doing some jock's homework so he can toss a ball in the net or whatever. She's getting the Collins Scholarship and moving to New York. See, all planned out. Until her adviser drops a bombshell. While her grades are excellent, she'll need some work experience to be eligible for the scholarship. And lucky Becker, he's got just the right student for her.
BUY LINKS
Amazon B & N Google Play Books IBooks Kobo
REVIEW: GAGE (THE PLAYER) BY NANA MALONE
Gage by Nana Malone

My rating: 4 of 5 stars


Gage has the talent. He has the dream. Yet real life keeps getting in the way. His grades are slipping, his father's sick and one chance at salvaging his spot on the team, lays in the hands of his greatest distraction. Becker is on her way to making her dreams into reality, when her fast pace hits a large speed bump. The big man on campus with the ego to match needs a helping hand. Can she let go of her preconceived notions and finally see the man. What I admire most about Nana Malone is that her stories are complex. Her sensual dance of seduction consists of every emotion under the sun. From the perfect to the not so perfect, she humanizes her characters by making them fight for their happily ever after.



View all my reviews
THE BRIDAL SQUAD (ENCHANTED BRIDAL) BY SAMANTHA CHASE
Release Date: May 10, 2017
SYNOPSIS
The Friday Night Brides are back! And this time, it's their first season running the business! It was one thing to just model in a weekly fashion show, it's quite another to be the ones calling the shots and making future brides' dreams come true. Their first client has them wondering if they're really prepared for their new roles!

The Bride: Julianne is big on fitness, small on patience. And planning her wedding is grating on her every last nerve. As a Zumba instructor, she loves the freedom to create and choreograph her routines and help others achieve their goals, but having to stand back and let others choreograph her big day has her wanting to hip-hop toward eloping!

The Matron of Honor: As the only married member of the bridal party, Natalie considers herself the aficionado on all-things weddings. And even though her time in the spotlight is over, that doesn't mean she isn't full of ideas on how her best friend's wedding should look and feel and be! And it doesn't take long for her to realize that maybe it's not so much that she's wanting to help as it is that she's afraid of her own honeymoon ending.

The Bride's Sister: Nothing screams unwanted relationship advice than when your younger sister gets married before you. It's not that Harper doesn't want to get married, after three failed engagements she really does! But finding the right man to walk down the aisle with is proving harder than she thought. And it gets even harder when constantly being compared to the perfect couple!

The Reluctant Bridesmaid: There is nothing Kayla wants more than to see one of her best friend's get married…if only the whole process wasn't so exhausting! Travel and adventure and being on the go fuels her. Having to stay in one place for an extended period of time while wearing taffeta? Not so much. Her job tends to take her away on a moment's notice and this is one time she may have to pass up the trip of a lifetime in the name of friendship.

BUY LINKS
Amazon B & N Google Play Books IBooks Kobo
REVIEW: THE BRIDAL SQUAD (ENCHANTED BRIDAL) BY SAMANTHA CHASE
The Bridal Squad by Samantha Chase

My rating: 5 of 5 stars


In the best of times and the worst of times, it's always good to have friends. Samantha Chase, spotlights the beautiful bond that toes the line between crazy and amazing in The Bridal Squad. From Natalie, who always needs to be in control to Kayla the bridesmaid reluctant to even take on the role. Julianne, the Bride is slowly losing her mind as the day draws ever near, while frustrated sister Harper may be giving in to her fears. The Bridal Squad is like looking in a mirror with how relatable the scenarios are, but the area Ms. Chase never seems to miss, is the impact she makes on the heart.



View all my reviews
THE BEST IS YET TO COME (SUMMER LAKE) BY BELLA ANDRE
Release Date: May 10, 2017
SYNOPSIS
Best friends. High school sweethearts. Passionate lovers. Once upon a time, Sarah Bartow and Calvin Vaughn were everything to each other. Until big dreams—and an even bigger tragedy—tore them apart.

Ten years after good-bye, they're finally together again at Summer Lake in the Adirondacks...and the sparks between them are hotter than ever. Soon one kiss is turning into so much more. Not only breathtaking, sizzling lovemaking—but also deep, honest emotions that can't be denied.

Calvin refuses to let the ambitions and disasters that separated them a decade ago wreck them this time. Not when he knows for sure that Sarah is his one—his only—true love. He let her get away once. He won't make the same mistake again. Even if it means risking his entire heart, and every last piece of his soul, to show her they belong together. Now...and forever.

NOTE: "The Best Is Yet To Come" was previously published as "Home Sweet Home" under a pen name. This new edition has been extensively revised and rewritten.
BUY LINKS
Amazon B & N Google Play Books IBooks Kobo
REVIEW: THE BEST IS YET TO COME (SUMMER LAKE) BY BELLA ANDRE

The Best Is Yet To Come by Bella Andre

My rating: 5 of 5 stars


Sarah Barstow comes from a family of extraordinary women, but somewhere along the way she lost the strength to back it up. She left home to find herself and wound up losing more than she could have ever dreamed. Calvin Vaughn has seen his shared of tragedies. From losing his parents in the most heartbreaking of ways to finding out that sometimes love, may just not be enough. In his darkest moments, his brightest light of hope was his precious sister that gave him the will to move forward and build a secure life for her. But when love calls his name, will he heed the call of his broken heart and first love? In order to build a future, you must face your past. We live, we learn and we move on. Bella Andre writes stories that trigger many emotions all at once. The Best is Yet to Come is like taking a blind leap of faith and gaining a reward on the other side. Remarkable story.



View all my reviews


RIPTIDE (RENEGADES) BY SKYE JORDAN
Release Date: May 12, 2017
SYNOPSIS
When pro surfer Zach Ellis isn't traveling the world-wide competition circuit, he works as a Renegade stunt double for the hit TV series, Hawaiian Heat. After years of tangling with the ocean, his body has paid the price. So when he gets a shot at a star roll on the show, Zach's all in. He celebrates the career opportunity by taking a chance on a woman who's not his usual island-girl type, only to discover he can't bear to let her go.
Tessa Drake belongs mired in legislation battles in Washington DC, not standing on the sidelines of a filming set in Maui like a wannabe starlet. But even more important than her law career, Tessa needs Zach Ellis's signature on legal papers. Papers that relinquish his parental rights so Tessa can adopt the girl who already calls her mommy. When she discovers Zach has slipped out of town before she makes contact, Tessa takes solace in the sexy star of Hawaiian Heat. A man whose warmth and dazzling grin makes her Mensa-level IQ vanish into thin air.
After an electrifying night together, Tessa is horrified to discover just who rocked her world. Zach is stunned to learn he's a father. And both find themselves caught in a riptide pulling them in the opposite direction of their dreams.
BUY LINKS
Amazon B & N Google Play Books IBooks Kobo
REVIEW: RIPTIDE (RENEGADES) BY SKYE JORDAN
Riptide by Skye Jordan

My rating: 5 of 5 stars


Sensitivity is sexy. Skye Jordan takes that mantra to heart with her alphanators. The hard shells are difficult to crack, but the marshmallow center makes for a gooey, tempting and hard to walk away from brand of seduction. Riptide is the journey of how a boy learns to become a man. How a woman finally takes a stand. Why life never goes according to plan. Through self - discovery and a much needed helping hand Zach and Tessa end up finding that they need and want each other in the end. Riptide proves that brainy can be sexy and life is sometimes messy, but if something is meant to be, love can and will find a way.



View all my reviews
LIFE'S TURNED UPSIDE DOWN (SHOW ME) BY ANNE STONE
Release Date: April 30, 2017
SYNOPSIS
Gabriella Alvarez is the youngest of the Alvarez family. She's watched her best friend marry her brother and another brother find love. Deep down, she's looking for love, but she can't quite shake the college sweetheart that broke her heart.

Dr. Ashton Holder works for the famous Alvarez practice. He and Gabriella have always clashed—she continues to see him only has the rough-edged doctor with no bedside manner, but he's really made strides to put this image behind him.

When Gabriella discovers a secret from Ashton's past, though, she does her best to help him uncover something that will change his life forever, but a misunderstanding between them rocks him to the core. When he finally uncovers the secret, he must learn to put his past aside and try and move on with a future willed with hope and dreams.

Life's Turned Upside Down is the third book in Anne Stone's Show Me series.
BUY LINKS
Amazon Amazon AU Amazon CA Amazon UK B & N IBooks Kobo
REVIEW: LIFE'S TURNED UPSIDE DOWN (SHOW ME) BY ANNE STONE
Life's Turned Upside Down by Anne Stone

My rating: 4 of 5 stars


Ashton is a by the book personality. He follows the rules without listening to what he feels. Gabriella listens to her heart. But refuses to follow it's directions. Less chance of getting hurt. From the first, there is always an undercurrent of attraction between Gabriella and Ashton but a hint of fear tinges the sparks. Fate has other plans. Life's Turned Upside Down is my first Anne Stone novel, but it will not be my last. She has no qualms about putting her heart in her writing. Gabriella and Ashton were no cake walk with their hidden secrets and surface aloofness, but their drama got a reaction. As I reader, I was captivated, emotionally invested and loving every moment. That's what makes a good story.



View all my reviews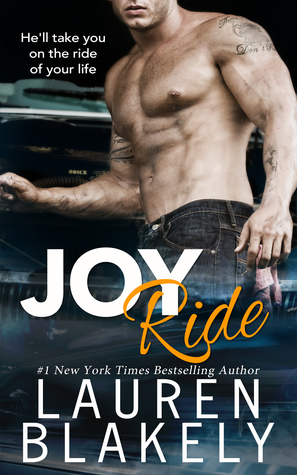 JOY RIDE BY LAUREN BLAKELY
Release Date: May 1, 2017
SYNOPSIS
From the #1 New York Times Bestselling author of FULL PACKAGE and BIG ROCK, comes a hot & hilarious new standalone romantic comedy…

Let's be honest, ladies. A good man is a lot like the perfect car. You want a hot body, an engine that purrs, and superior performance under the hood...for the best joy ride of your life.

I'm at your service. Ready to go all night long.

But then a wildly sexy brunette appears in my life and throws a wrench in all my plans. She's fiery, she's talented, she's gorgeous, and I'd really like to know what makes her engine hum.

Henley also happens to be my biggest rival, and now we're forced to work together every day on the most important custom car build of my career. The trouble is I can't quite figure out if she wants to kick me in the lug nuts or beg me to give her a good, hard fuel injection. Until one night that question is answered on the hood of a sports car when she calls out my name three times. And we can't seem to put on the brakes.

If sleeping with the enemy is a bad idea, how much more dangerous would it be to fall in love with her?
BUY LINKS
Amazon B & N Google Play Books IBooks Kobo
REVIEW: JOY RIDE BY LAUREN BLAKELY
Joy Ride by Lauren Blakely

My rating: 5 of 5 stars


The spark that is Lauren Blakely, sets the roof on fire with Joy Ride. Talk about sexy. A smart mouth firecracker that gives as good as any guy. A man with the bedroom manner of an Adonis but the ego of a JA. I love it anytime a female has a strong personality and Henly lit up the story with her sassy attitude and determined spirit. Am loving the way Ms. Blakely seduces and amuses her readers.



View all my reviews
IN SKATES TROUBLE (CHICAGO REBELS) BY KATE MEADER
Release Date: May 1, 2017
SYNOPSIS
He'll give her what she needs . . .

Addison Williams isn't looking for romance, but when she encounters an eavesdropping stranger on an adjoining hotel balcony, she figures she's due a little fun. She just hadn't reckoned on the "fun" escalating so quickly to "out of control." One minute she's flirting with a whiskey-graveled voice in the dark, the next that same voice is telling her to do things. Hot, wicked things.

Cup-winning hockey player Ford "Killer" Callaghan can't believe he let the anonymous woman who blew his mind slip away into the night. He'll track her down because once could never be enough—even if discovering her identity places her strictly out of bounds.

Stolen kisses. Secret hook-ups. Deliciously forbidden in every way. Can a passion that started in the dark find a lifetime of love in the light?

Originally published in Hot on Ice: A Hockey Romance Anthology, this sexy prequel to the Chicago Rebels hockey series features an older, curvy woman, a younger, driven hero, and a happily-ever-after you'll swoon over.
BUY LINKS
Amazon B & N Google Play Books IBooks Kobo
REVIEW: IN SKATES TROUBLE (CHICAGO REBELS) BY KATE MEADER
In Skates Trouble by Kate Meader

My rating: 5 of 5 stars


She's playing hard to get. Is he up for the challenge? Kate Meader is a no holds barred romantic. In Skates Trouble proves it. Her cat and mouse formula of bad boy seeking mystery woman was well played. Ford and Addison are wicked sexy and eerily romantic. She keeps him on his toes, while easily stealing his heart. The thrill of the chase is worth the wait.



View all my reviews
TEMPTING HER NEIGHBOR BY LAURA JARDINE
Release Date: May 1, 2017
SYNOPSIS
Tired of big city life, software developer Cole Sampson moves to a small Canadian town to get some peace and quiet. Unfortunately, his keep-the-hell-away-from-me vibes don't work on his gorgeous new neighbor.
Waitress Rachel Malone is intrigued by the hot curmudgeon living next door and his very sexy scowl. Sure, he keeps shutting down her every advance, but before long, she finally catches his interest.
A red-hot, sex-only relationship is what they want. But Cole can't get over the fact he likes cuddling, and Rachel won't let herself fall in love, not when she's finally decided to follow her dreams and move to the city. Still, it's just sex. Isn't it?
BUY LINKS
Amazon B & N Google Play Books IBooks Kobo
REVIEW: TEMPTING HER NEIGHBOR BY LAURA JARDINE
Tempting Her Neighbor by Laura Jardine

My rating: 4 of 5 stars


Right out the gate Ms. Jardine distanced herself from the pact. She took the saying "think like a man" to heart and created a woman full of contradictions. Rachel is as aggressive as can be when it comes to her sex drive, but although she dreams of forever, she settles for right now. Words and gossip are her worst enemy and love is a dream she will never see come true. Cole is her chance at a new beginning, if her rep and his aloof attitude don't doom them before they get a chance to begin. Tempting Her Neighbor will have hormones raging and hearts breaking as it seeks to blow one's mind.



View all my reviews
TEMPTING KATE (WILD WEDDING NIGHTS) BY JENNIFER SNOW
Release Date: May 1, 2017
SYNOPSIS
Everything depends on this one day

Would anyone hire a wedding planner who was left at the altar? The answer, Kate Hartley has found out, is no. It's been nearly a year since her fiance abandoned her at their destination wedding, and Kate's career is nearly toast. Unless she can pull off the wedding of the century for her new clients, a Hollywood power couple. So why is the groom's brother, sexy-as-hell resort owner Scott Dillon, trying to stop the wedding?

Scott wants to do the right thing the bride-to-be is keeping a secret and Scott's brother deserves the truth before he says "I do." But if Scott doesn't stop trying to stall the wedding, he'll ruin Kate's career, not to mention any chance he has of being with her.
BUY LINKS
Amazon B & N Google Play Books Harlequin IBooks Kobo
REVIEW: TEMPTING KATE (WILD WEDDING NIGHTS) BY JENNIFER SNOW
Tempting Kate by Jennifer Snow

My rating: 5 of 5 stars


For Kate, image is everything. Just ask her quickly tanking career and her equally broken heart. A broken engagement has her life spiraling out of control. Can a Hollywood power couple save her rep as a wedding planner or will she end up risking more than her business? Tempting Kate takes it's cues from cinematic gold and creates a highly entertaining romantic comedy. Love, laughter and hopefully happily ever after. I could not ask for more.



View all my reviews
SWEET SOUTHERN TROUBLE BY MICHELE SUMMERS
Release Date: May 2, 2017
An ambitious Southern belle
Marabelle Fairchild knows she's a gal who can get things done. Feeling unappreciated at the exclusive private school where she's a kindergarten aide and varsity tennis coach, Marabelle determines to score with the next big fundraiser. What she doesn't expect? A smokin' hot football coach to throw her off her game...
A reclusive NFL bachelor...
NFL coach Nick Frasier is Raleigh's most eligible bachelor, but he wants to focus on his career…not his playboy status. He doesn't need a smart-mouthed, pint-sized kindergarten teacher pestering him. So he cuts Marabelle a deal—in exchange for Nick sponsoring a bachelor auction starring him and his gorgeous celebrity pals, Marabelle will pose as his fiancée to ward off unwanted advances.
What could possibly go wrong?
Buy Links
Amazon | Books-A-Million | Barnes & Noble | Kobo | Chapters | iBooks | Indiebound | Google Play Books
REVIEW: SWEET SOUTHERN TROUBLE BY MICHELE SUMMERS
Sweet Southern Trouble by Michele Summers

My rating: 5 of 5 stars



Nick and Marabelle are magically delicious. She's the sugar, he's the spice. Put them together and they make for the hottest of vices. Sweet Southern Trouble is an organic blend of humor, heart and smart writing. Ms. Summers has a lock on temperature rising, incredibly entertaining down home southern charm. When it comes to romance author, characters and story delivers a one, two punch to the heart.



View all my reviews
NOTHING LIKE A DUKE (THE DUKE'S SONS) BY JANE ASHFORD
Release Date: May 2, 2017
SYNOPSIS
A Georgette Heyer-esque tale of high society in the glittering Regency

Lord Robert Gresham has given up all hope that the beautiful Flora Jennings will ever take him seriously. He heads to an exclusive country house party to forget about Flora, but his plans are thwarted when she suddenly arrives.

Their attraction flares, but their romance becomes complicated when the sinister Anthony Durand shows up and threatens Flora. Every bone in Robert's body says to save her…but he'll have to learn that some damsels in distress can save themselves if he truly wants to win her heart.
BUY LINKS
Amazon B & N Google Play Books IBooks Kobo
REVIEW: NOTHING LIKE A DUKE (THE DUKE'S SONS) BY JANE ASHFORD
Nothing Like a Duke by Jane Ashford

My rating: 3 of 5 stars


I loved the strong heroine with a mind of her own and the soul of a fighter. I loved the mysterious intrigue that lived around ever curve and drove the story in an ominous direction. What left me lukewarm was the chemistry between the two central characters. I expected more.



View all my reviews

NEVER TRUST A PIRATE (PLAYFUL BRIDES) BY VALERIE BOWMAN
Release Date: May 2, 2017
SYNOPSIS
The rules of engagement were never so scandalous. . .

A rumored pirate and the scurrilous black sheep of his well-to- do family, Cade Cavendish relishes his world of rebellion, deception, and seduction. Nothing and no one can hold him to be the duty-bound, honorable man he is expected to be. But when an unexpected run-in at his twin brother's estate with a ravishing, raven-haired maid leads her to believe he's actually a viscount, Cade's renegade life is thrown wildly off-kilter. And even though a case of mistaken identity can be quickly set to rights, matters of the heart are quite different...

Miss Danielle LaCrosse is startled to learn that the handsome gentleman who radiates sin and has the devil in his eyes is not her employer the Viscount, but rather his infamous brother. A former heiress, orphaned and left penniless, Danielle has more than a few secrets of her own. Cade may be skilled at coaxing even the most hidden desires out of Danielle but can he earn her trust--and win her heart--as they embark on an adventure to confront a dangerous enemy from both of their pasts . . . and uncover the identity of the so-called Black Fox along the way?
BUY LINKS
Amazon B & N Google Play Books IBooks Kobo
REVIEW: NEVER TRUST A PIRATE (PLAYFUL BRIDES) BY VALERIE BOWMAN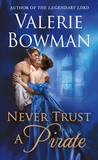 Never Trust a Pirate by Valerie Bowman

My rating: 3 of 5 stars


Despite a few bumps in the road, Never Trust a Pirate delivered a mystique that proved an intriguing match for the adventurous duo that led the journey. While Danielle and Cade make a go of seducing each other, Ms. Bowman likewise entices her readers into this web of secrets, suspense and romance. There's always a new discovery in this dangerous tale of sensuality that got a bit out of control but kept me as a reader on my toes.



View all my reviews
THE DANGEROUS BILLIONAIRE (THE TATE BROTHERS) BY JACKIE ASHENDEN
Release Date: May 2, 2017
SYNOPSIS
Money doesn't always change the man in this new standalone romance from Jackie Ashenden.

Navy SEAL Sullivan "Van" Tate has been called home to reluctantly inherit an empire and finds himself facing the most difficult mission of all: love.

"Sinfully sexy."--Opal Carew on Mine to Take

Nothing about Sullivan "Van" Tate is what it seems. A Navy SEAL raised among the New York City elite, Van prefers heart-pounding action over a Wall Street corner office. But when his adoptive father dies and his business rivals move in to overtake his empire, Van must suit up to save the company and protect the one woman most forbidden to him...and the object of Van's most dangerous desires.

Chloe Tate is as ambitious as she is gorgeous. With a newfound independence, Chloe is no longer a prisoner on her father's ranch. But everything changes when losing her father may also mean losing her life. Even with her survival on the line, Chloe can't deny the burning attraction she feels the moment she locks eyes with Van, her rich, rough and ready, foster brother and the new head of her father's company. Tall, dark, and muscled, he's the one man who she has no business being with. But how can she resist a Navy Seal Warrior when he'll do anything to protect her?
BUY LINKS
Amazon B & N Google Play Books IBooks Kobo
REVIEW: THE DANGEROUS BILLIONAIRE (THE TATE BROTHERS) BY JACKIE ASHENDEN
The Dangerous Billionaire by Jackie Ashenden

My rating: 4 of 5 stars


Jackie Ashenden can make sin look sexy. Her stories are edgy, earnest and hard to walk away from. Van is every woman's fantasy and every man's nightmare. A warrior on a mission, Van will risk everything to protect his heart's desire. Even walk away. Chloe is a force onto herself. She is She-Ra to Van's He-Man. She faces her enemies head on, with an inner fire that is as powerful as she is beautiful. What enthralls me most about hero and heroine is that Ms. Ashenden are equal partners in the direction the story takes. The Dangerous Billionaire is not one to be missed.



View all my reviews
GRACE (FARRADAY COUNTY) BY CHRIS KENISTON
Release Date: May 2, 2017
SYNOPSIS
Welcome to Grace Book 7 in Farraday Country, a modern twist on the favorite 7 Brides for 7 Brothers theme set in cattle-ranching west Texas, with all the friends, family and fun that fans have come to expect from USA TODAY Bestselling author Chris Keniston.

When free-spirited Grace Farraday leaves Dallas and returns to her hometown for her brother's wedding, it's with the firm knowledge the visit is temporary . . . no matter what. She's had more than enough of dusty West Texas, cow dung and nosy neighbors.

Successful Wall Street businessman Chase Prescott has made a career taking risks. Now, he's willing to take the biggest risk of all for a life in Tuckers Bluff, Texas. He loves the slow pace, friendly neighbors, cattle ranches . . . and a certain lady with a strong will. Unfortunately, everything Chase has dreamed of is exactly what Grace has vowed to leave behind.

More Books in the Farraday Country Series:

Adam – Book 1
Brooks – Book 2
Connor – Book 3
Declan – Book 4
Ethan – Book 5
Finn – Book 6
Grace – Book 7
Hannah – Book 8 coming 2017
Ian – Book 9 – coming 2017
Jamison – Book 10 – coming 2017
BUY LINKS
Amazon B & N Google Play Books IBooks Kobo
REVIEW: GRACE (FARRADAY COUNTY) BY CHRIS KENISTON
Grace by Chris Keniston

My rating: 5 of 5 stars


What does a matchmaking pooch, a gossiping community and a tight knit family have in common? All are just a few reasons why readers have fallen in love with Ms. Keniston and her swoonish, Farraday clan. I can't wait to solve the riddle of Gray the dog. Grace tells of new beginnings and happy endings with an open heart as the guide. Small town living with equals heartwarming, feel good stories.



View all my reviews


RANSOM (THE PLAYER) BY NANA MALONE
Release Date: May 2, 2017
SYNOPSIS
Money, power, prestige…reject. Ransom Cox is —The Player.

His whole life, hockey player, Ransom Cox, has watched the people he loves the most reject and leave him. He's learned it's better to be on his own. After the scandal of his wife walking out on him right before the championships, citing his bedroom "over" prowess as the reason, he can't seem to escape the spotlight. The last thing he wants is to be stranded in a cabin with the one girl he's always wanted. The one girl who could destroy him.
BUY LINKS
Amazon B & N Google Play Books IBooks Kobo
REVIEW: RANSOM (THE PLAYER) BY NANA MALONE
Ransom by Nana Malone

My rating: 5 of 5 stars


Ransom is used to the heartbreak of rejection, but can he handle the thrill of falling in love? It takes more courage to trust than to give up without a fight. Nana Malone is good at spicing it up while working her magic on a readers heart.



View all my reviews
LORD OF PLEASURE (ROGUES TO RICHES) BY ERICA RIDLEY
Release Date: May 2, 2017
SYNOPSIS
In the Rogues to Riches historical romance series, Cinderella stories aren't just for princesses… Sigh-worthy Regency rogues sweep strong-willed young ladies into whirlwind romance with rollicking adventure.

Nondescript "good girl" Miss Camellia Grenville only ever opens her mouth when forced to sing at her family's musicales. That is, until the night she infiltrates the ton's most scandalous masquerade ball on behalf of her sister, and finds herself in the arms—and the bed—of the one man she'd sworn to hate.

Irresistibly arrogant and unapologetically sensuous, infamous rake Lord Wainwright always gets his way. When he accepts a wager to turn his rakish image respectable in just forty days, he never anticipates falling for an anonymous masked lover...or that discovering her identity would destroy them both.
BUY LINKS
Amazon B & N Google Play Books IBooks Kobo
REVIEW: LORD OF PLEASURE (ROGUES TO RICHES) BY ERICA RIDLEY
Lord of Pleasure by Erica Ridley

My rating: 5 of 5 stars


Eat your heart out Cinderella, you've just met your match. Camellia is a late bloomer, but when she breaks free her wallflower status quickly falls by the wayside. A masquerade ball, a sexy rake, a scandalous wager and liaison take her from the shadows to the spotlight. Her heart and reputation will never be the same. Lord of Pleasure dances it way into a classic as it scandalizes and romances as it succeeds in casting an enchanting spell.



View all my reviews


YOUR ALLURING LOVE (THE BENNETT FAMILY) BY LAYLA HAGEN
Release Date: May 3, 2017
SYNOPSIS
Alice Bennett has been holding a torch for her older brother's best friend, Nate, for more than a decade. He's a hotshot TV producer who travels the world, never staying in San Francisco for too long. But now he's in town and just as tempting as ever… with a bossy streak that makes her weak in the knees and a smile that melts her defenses.

As a successful restaurant owner, Alice is happy with her life. She loves her business and her family, yet after watching her siblings find their happy ever after, she can't help feeling lonely sometimes—but that's only for her to know.

Nate has always had a soft spot for Alice. Despite considering the Bennetts his family, he never could look at her as just his friend's little sister. She's a spitfire, and Nate just can't stay away. He loves making her laugh… and blush.

Their attraction is irresistible, and between stolen kisses and wicked-hot nights, they form a deep bond that has them both yearning for more.

But when the chance of a lifetime comes knocking at his door, will Nate chase success even if it means losing Alice, or will he choose her?
BUY LINKS
Amazon B & N Google Play Books IBooks Kobo
REVIEW: YOUR ALLURING LOVE (THE BENNETT FAMILY) BY LAYLA HAGEN
Your Alluring Love by Layla Hagen

My rating: 5 of 5 stars


Big, Boisterous and Bold are the perfect adjectives to describe the captivating Bennett clan. They play hard, love hard and care deeply for each other. That's the definition of what family should be and Ms. Hagen successfully centers every story around that foundation. Your Alluring Love is Alice's turn up to bat. For her it's always been one man that held a place in her heart. Nate has been friend, crush and dream man for most of her adult life. Can he change his wandering ways enough for them to explore what's in their hearts? Each Bennett novel is better than the one before and I am excited that Ms. Hagen has more of these dynamic characters, waiting to be explored.



View all my reviews


SWEETER PLEASURES BY LYSSA COLE
Release Date: May 6, 2017
SYNOPSIS
A sweet & sexy love story about giving love a second chance even when dark secrets come into play...

I thought I had it all. The perfect man. The perfect life. The perfect everything. But then when he left me on our honeymoon for some chick he just met two days into our trip, my world changed in the blink of a moment. I went home with my tail tucked between my legs and swore men off forever.

Two years later, I finally accomplished my dream of opening my own bakery. I planned on being so successful, I wouldn't need a man. I got laid when I wanted to and had no one to answer to. What else would I ever need? A relationship would only complicate my life.
That all changed the day my new baker came strolling into the kitchen. All muscles and ink, a sexy, charming personality, and an even more deliciously handsome face and that was it- I was done for.

We began a whirlwind relationship, not being able to get enough of each other.
But we both had our secrets lurking in the past. I was still married, the asshole never agreeing to sign divorce papers, until one day he shows up begging at my doorstep to take him back, that he made a big mistake.

While, my baker had a secret of his own that showed up too. But his was worse, much worse.
Love complicates everything... but it is also the sweetest pleasure there is. Can it be worth risking all that you have worked so hard for only to be destroyed again?

What happens when Bree's world turns upside down only to be put back together again by the last thing she wants. Can Drake show her love she needs but doesn't want?

**Bringing you one of my fun stories with lots of banter, heat, love, sex, and of course some suspense. As always, no cheating and always a HEA! 18+ content with sexual relationships, some violence, and some tough situations.
BUY LINKS
Amazon B & N Google Play Books IBooks Kobo
REVIEW: SWEETER PLEASURES BY LYSSA COLE
Sweeter Pleasures by Lyssa Cole

My rating: 4 of 5 stars


In order to be strong, a person has to face circumstances that build character. In other words, find something worth fighting for. Bree is a woman rebuilding her world, after numerous earth shattering events have left her twisting in the wind. Drake shrouds himself with a bit more mystery. His secrets keep him company, while his heart motivates him to make a better life for himself. Ms. Cole serves up some delicious temptation with conniving exes, daily stresses and some sexual healing with Sweeter Pleasures. A hypnotizing jaunt of second chances and healing that gives optimism a fighting chance despite some pessimistic turn of events.



View all my reviews
WALKER ISLAND ROMANCE BOX SET 1 -3 BY LUCY KEVIN
Release Date: April 11, 2017
SYNOPSIS

Lucy Kevin is the "sweet" pen-name of New York Times and USA Today bestselling author Bella Andre (who writes the #1 bestselling series about The Sullivans). Lucy Kevin books are fun, flirty and romantic―without the steamy scenes.

BE MY LOVE (Walker Island #1)

After four years on the Seattle mainland, when Hanna Walker returns to Walker Island to make a documentary about the infamous Peterson-Walker feud from the early 1950s, she's shocked to realize that passions still run high. Especially when it comes to Joel Peterson, the one man who is totally off-limits...but that she's never been able to stop dreaming about.

The last thing Joel wants is for Hanna to dredge up the past, but when he realizes she's determined to follow through with her documentary no matter what, he knows he has no choice but to join her. But despite vowing to hold back his growing feelings for her, as Joel works with Hanna to unravel the mystery of what really happened between their two families, he soon begins to see that love is an unstoppable force...and that sometimes two people are meant to be.


NO OTHER LOVE (Walker Island #2)

Morgan Walker, makeup artist to the stars, never thought she'd leave New York City to come back to Walker Island. But when she is tapped to headline her own TV makeover show, she decides it's the perfect time to launch her organic makeup line made from flowers and plants grown on the Walker family plot of land. While she's really excited about getting to spend a few weeks with the sisters and grandmother she doesn't see nearly often enough, she's equally worried about the possibility of seeing Brian Russell again. Because even though they broke up seven years ago, she's never been able to forget him. Not for one single day...


WHEN IT'S LOVE (Walker Island #3)

Once upon a time, Rachel Walker longed for—and sought out—adventure. But after her boyfriend found out she was pregnant and left her to raise her daughter Charlotte alone six years ago, she put her wild child days behind her. For good. So when Rachel's sister needs her to step in to help film a TV show with professional surfer Nicholas Quinn on Walker Island, she isn't the least bit worried about losing her heart to him. Not until the first time she sees him smile and realizes that her heart isn't completely closed off to promises of breathless excitement after all...
BUY LINKS
Amazon B & N Google Play Books IBooks Kobo
REVIEW: WALKER ISLAND ROMANCE BOX SET 1 -3 BY LUCY KEVIN
Walker Island Romance Box Set Books 1-3 by Lucy Kevin

My rating: 5 of 5 stars


I couldn't decide. Should I catch my breath or lose my heart to the exceptional women and fantasy men of Walker Island. Ms. Kevin brings lovable characters, soap worthy drama and fairytale dreams to a heartwarming series. An age old feud breathes new life and love into two unforgettable families. Home, hope and family play second fiddle to love while weaving a spell that never let's go.


In Be My Love - Hanna rewrites history and her heart's desire. Her quest for the truth, could cost her the love of a lifetime.

No Other Love - Megan left home to pursue her dreams. When a short visit home turns into a second chance of a lifetime, will she grab hold or run away?

When It's Love - Rachel Walker had dreams. When an unplanned pregnancy and a deadbeat boyfriend changed the course of her life, she had to grow up fast and let go of childish fantasies. Six years later can a favor, reawaken her girlhood dreams and give her a chance at the hopes she thought she'd lost?




View all my reviews
BETTING ON PARADISE (SEVEN BRIDES FOR SEVEN COWBOYS) BY LIZBETH SELVIG
Release Date: March 26, 2017
SYNOPSIS
Welcome to Paradise Ranch

The Good Girl wants to spread her wings …

From birth Grace Crockett has been part of an unbroken set: one-in a million identical triplets. Twenty-six years later, however, feeling unappreciated in her role as part owner of a successful Denver restaurant, Grace longs to break away and fulfill her own dreams. But to do so she must learn to trust in her own judgment.

The Gambler wants what's owed to him …

Small-time poker player Ty Garraway is determined to break his family's legacy of abuse and abandonment, and give his young daughter a hope for the future he's never had. But that means taking on the Crocketts—one of the most powerful ranching families in Wyoming—and taking back a part of Paradise Ranch stolen from his family eighty years ago in a poker game he believes was rigged.

Can they bet it all … and defy the odds?

Grace's relentless honesty and devotion to family—not to mention the way she turns him on—has Ty thinking too much with his heart. Ty's passionate love for his daughter and his encouragement of Grace's half-baked ideas—not to mention his knee-weakening kisses—has Grace wondering if she's found her unlikely match in a rough-around-the-edges cowboy. But when Ty's plans are exposed, can Grace forgive the liar who manipulated her and her family and forgive herself for being duped?

Love has raised the stakes, requiring Ty to bet everything he has to win Grace and his future, but will it be enough?
BUY LINKS
REVIEW: BETTING ON PARADISE (SEVEN BRIDES FOR SEVEN COWBOYS) BY LIZBETH SELVIG
Betting on Paradise by Lizbeth Selvig

My rating: 5 of 5 stars


Scandal, heartache and self - doubt seem to follow two dreamers looking to bring those dreams into reality. Ms. Selvig blends the best parts of human nature: determination, fear and heart and builds a story of redemption, hope and family. Grace has more family than she knows what to do with. Personal and professional merge into one big brand of complicated for this caring, yet lost young woman. In order to find happiness, she has to first understand what makes her unique. Not easy when you're part of a group.

Ty offers her the chance to find herself, but steals her heart in the process. He has her heart, but what else does he want in return? Betting on Paradise strives for endearing and succeeds.

Copyright of Night Owl Reviews




View all my reviews
TRAVESTY SERIES BOXSET BY PIPER LAWSON
Release Date: January 3, 2016
SYNOPSIS
Two best friends. One big dream. And the hot-as-hell guys who get in the way...

Like smart, steamy romance with strong characters like the ones by Kendall Ryan, Melanie Harlow, Jana Aston or Sara Ney? You'll love TRAVESTY! The limited-time-only box set includes books 1, 2 and 2.5, each standalone with an HEA. For 18+

SCHOOLED: Lex is about to graduate from her San Diego college and start a fashion label, Travesty, with her best friend Ava. The only problem? Ava's brother's back from the East Coast...and Dylan grew up hot.

STRIPPED: Feisty designer Ava moves to NYC to start her fashion label. Everything's clicking into place...until the hottest hookup she ever had comes back to haunt her.

SEALED: Lex and Dylan are hot and heavy. Which is great...except they're on opposite sides of the country. Dylan vows to fix everything that's broken, and make Lex his for good.

700+ pages. Three stories. 100+ five-star reviews. Find out why thousands of romance readers have fallen for bestselling author Piper Lawson's sexy series.

Start reading the feel-good box set readers call "smart, sigh-worthy and toe-curling!"
BUY LINKS
REVIEW: TRAVESTY SERIES BOXSET BY PIPER LAWSON
Travesty Series Boxset 1-3 by Piper Lawson

My rating: 5 of 5 stars


Lex and Ava are as sassy, sexy and determined as they come. Big dreams, land them in the big city, but attraction may derail their big plans in a more permanent way. Piper Lawson spices up the pages as she worked her way into my heart.
Schooled -The teacher becomes the student in this May-December romance. Dylan was not what Lex was looking for, but may turn out to be just what she needs.
Stripped - Ava and Nate trigger the fire alarm with their thirst to one up each other. Who will come out on top?
Sealed - Ava and Lex have overcome so much in their relationship. Age, insecurities and the trials of falling in love. Can they make it through the latest obstacle to their romance? Long distance.



View all my reviews
CLOSING THE DEAL BY JEN A. DURAND
Release Date: September 16, 2016
SYNOPSIS
Ethan Adams works hard. He is a deal maker. A multi-millionaire lawyer with a growing practice.

His sister's upcoming wedding has triggered the scheming in his mother's voice. She'd been campaigning for years for him to settle down.

Hiring an escort seemed like the perfect solution. Daniela Monroe is smart, sexy, and charming. She has a way about her.

With the end of their arrangement drawing near, Ethan is looking to close a whole new deal.
BUY LINKS
REVIEW: CLOSING THE DEAL BY JEN A. DURAND
Closing The Deal by Jen A. Durand

My rating: 4 of 5 stars


Ms. Durand writes stories that appeal to the moral compass in her readers. Thought provoking, emotional and not always black and white in the message or choices of the characters. Closing The Deal, although a love story is not the usual boy meets girl journey. Ethan is a highly successful man that has the world at his feet. Yet, one unorthodox choice has him head over heels and running out of options on how to seal the deal. Dani has made some tough decisions in her life but she has a good heart and a determined soul, she just got a bit lost along the way. Total opposites face heartache, forbidden attraction, discrimination and tough choices all in the name of love.



View all my reviews