ROCK SOLID (BOOK BOYFRIEND) BY CARLY PHILLIPS & ERIKA WILDE
Release Date: November 14, 2017
SYNOPSIS
Connor Prescott doesn't do one night stands (yes, ladies, he's an anomaly) so when he meets a beautiful woman during a snowed in night at the airport who wants to forget her heartache, he makes an exception. Their night together is incendiary, and by morning Connor wants more . . . except his sexy stranger is gone. He's pretty sure he'll never see her again, until three and a half years later she finds him, and changes his entire world with three little words . . . You're a daddy.
BUY LINKS
Amazon B & N Google Play Books IBooks Kobo
REVIEW: ROCK SOLID (BOOK BOYFRIEND) BY CARLY PHILLIPS & ERIKA WILDE
Rock Solid by Carly Phillips

My rating: 5 of 5 stars


"Everything happens for a reason." Often heard words that are either quite profound or a bunch of hooey, but they definitely leave an impression. Rock Solid takes those words and runs with them into a tempting melting pot of sensation. A freak snowstorm leads to a cancelled flight and a chance meeting that has lasting consequences for strangers in the night. One night of lust brought them together. Daylight and doubts tore them apart. Will three years and a surprise delivery turn a one night stand into a full blown family? Phillips and Wilde are pros when it comes to seducing readers, but they are no amateurs to heartwarming stories that blend laughter and deep thought. Fantasy and reality meet to create the ideal book boyfriend.



View all my reviews
UP FOR HEIR (WESTERLY BILLIONAIRES) BY RUTH CARDELLO
Release Date: November 14, 2017
SYNOPSIS
New York Times and USA Today bestselling author Ruth Cardello puts two hearts on the line when a Boston billionaire takes a second chance on the woman of his dreams.
Spencer Westerly is his own man. He didn't need his father's money to build his wildly successful tech company—and he doesn't want to deal with the fallout from old family secrets. But as much as Spencer wants to avoid Westerly drama, his grandmother—the family matriarch—is determined to pull him back into the fold. And she's discovered the perfect lure: his college sweetheart, Hailey.
Although she broke his heart, Hailey is still the only woman he's ever loved. Now that she's back and looking as desirable as ever, Spencer is determined to get a second chance.
A lot has changed for Hailey Tiverton. The only thing that hasn't? The inexplicable pull she feels toward Spencer. When they were younger, his work was his priority. Now, he'd better be willing to prove that, this time, love comes first…
BUY LINKS
REVIEW: UP FOR HEIR (WESTERLY BILLIONAIRES) BY RUTH CARDELLO
Up for Heir by Ruth Cardello

My rating: 5 of 5 stars


Up for Heir (Westerly Billonaires) by Ruth Cardello

Life is the ultimate classroom. On a daily basis, no matter the age, gender or race we learn truths about ourselves and the world around us. Two of the most prolific lessons I've learned: (1.) Learning is an ongoing fixture in life and (2.) People can surprise in the most unexpected of ways.

Up For Heir is an uplifting tale of lost love, broken dreams and one very special little girl. Ms. Cardello created a meeting of hearts that was not only a romance, but a pathway to healing. The connection between Hailey and her brother was an unbreakable one. Not even death could sever the bond they shared. His words of encouragement were an ever present feature in the life of a woman determined to keep his memory in her heart. Another precious bond was the one forged between a scared little girl and a blustery old woman. The way Skye and the matriarch of the Westerly family took to each other was an emotional experience. Ruth Cardello set out to write a romance, but she created a love story that affected many lives and helped to rebuild a family.



View all my reviews
DEAL BREAKER (BILLIONAIRE BOSSES) BY TARA LEIGH
Release Date: November 14, 2017
SYNOPSIS
Nixie Rowland is having a bad day. Rushing home to drown her sorrows in ice cream and reality television, she decides to take a shortcut to the subway where things take a turn for the worst. But Nixie's bad luck doesn't end there—the white knight who comes to her rescue is none other than the Dark Knight of Wall Street, a cocky Manhattan mogul whose ego barely fits inside his penthouse. To her horror, Nixie discovers the sizzling attraction between them is off the charts, and rising fast. Spending the night in his bed does nothing to lower the heat… And everything to set her heart on fire.

Nash Knight doesn't have room in his life, or his heart, for anything beyond one-night stands or casual flings. And he certainly doesn't make a habit of rescuing damsels in distress. Except that this particular damsel slips beneath his armor, the vulnerability she covers with a false show of bravado hitting him somewhere deep. Nixie is everything he never wanted… And exactly what he needs.

With Nixie on the run from a controlling ex, and Nash trying to salvage a business deal at risk because his conquests in the bedroom are overshadowing his wins in the boardroom, there's one simple solution for them both: a marriage in name only. But when lust becomes love, will their untamed emotions be a deal breaker?
BUY LINKS
Amazon B & N Google Play Books IBooks Kobo
REVIEW: DEAL BREAKER (BILLIONAIRE BOSSES) BY TARA LEIGH
Deal Breaker by Tara Leigh

My rating: 4 of 5 stars


Deal Breaker (Billionaire Bosses) by Tara Leigh

There are times when the worst moments in life can lead to an unexpectedly happy ending. Deal Breaker is dangerous, intriguing, steamy and emotional, but the thrill is that the characters are not easily forgotten and the tale itself is hard to resist. Nixie is caught in the cross hairs of a chaotic life, a controlling ex and mysterious hero that needs a bit of rescuing of his own. A romance on the edge, a life on the run and attraction that is as sneaky as the danger is hot on their heels, Deal Breaker is a full on force of nature that once unleashed is hard to contain.



View all my reviews


THE SILENT DUKE (THE 1797 CLUB) BY JESS MICHAELS
Release Date: November 14, 2017
SYNOPSIS
A hot historical from 5 time USA Today bestselling author Jess Michaels

Born mute, Ewan Hoffstead, Duke of Donburrow was abused by his wicked father and wretched younger brothers until an uncle swept in to save the day. Still, he carries the scars of his past with him, including a terrible belief that perhaps a "person like him" truly doesn't deserve the title his uncle fought so hard for him to earn.

Recently widowed Charlotte may be the proper Countess of Portsmith to Society, but when she is around Ewan, she still feels like the enraptured little girl who met him decades before when her brother was best friends with him and his cousin.

A planned trip to spend Christmas with their families at Ewan's estate reunites the old friends. But when a storm keeps the others from arriving on time, Charlotte decides to stop living in fear and pursue the man she has desired and loved her entire life. Ewan cannot resist her seduction, but he fears giving in to his heart. Especially when the family that disposed of him returns and threatens not only his life, but that of the woman he loves.

Length: Full Length Novel (70,000 words)

Heat Level: Might burn your swiping finger

This can be read as a standalone book, but is the fourth book in the 1797 Club series.
BUY LINKS
Amazon B & N Google Play Books IBooks Kobo
REVIEW: THE SILENT DUKE (THE 1797 CLUB) BY JESS MICHAELS
The Silent Duke by Jess Michaels

My rating: 5 of 5 stars


Ms. Michaels had to have known she was creating something special. I knew from the moment I read the blurb this story was meant for me. The Silent Duke is so much bigger than a seductive romance. It is a story of one man's struggle to be heard, despite unspeakable heartache. Told so masterfully through the eyes of courageous and the soul of love, this tale speaks to the heart on so many levels and is as inspiring as it is gut wrenching. Ewan is the ultimate survivor because he made it through ever obstacle with his soul intact and finally made it home. His was a voice meant to be heard and together Ewan and Charlotte found a love that was unstoppable.



View all my reviews
THE BED MATE (1001 DARK NIGHTS) BY KENDALL RYAN
Release Date: November 14, 2017
SYNOPSIS
From New York Times and USA Today bestselling author Kendall Ryan comes a new story in her Room Mate series…
I might be a typical guy, but these last few years, my love life's been anything but. From crazy ex-girlfriends to one night stands who are stage-five clingers, my relationships go bad faster than the milk in your fridge. The only constant has been my best friend Maggie.
Fresh off a bad breakup of her own, I invite Maggie to my guy's skiing weekend knowing she needs an escape from reality. But then something funny starts to happen. I start noticing things about her that I never noticed before.
She's beautiful and doesn't know it, she's funny without even trying, and now she's suddenly single for the first time in forever.
Sharing a hotel room with her proves to be the tipping point in our very platonic friendship. Suddenly I want to put my hands, my mouth, and my ... other parts ... all over her gorgeous body. I want to claim her, make sure no man touches her ever again. But then her groveling ex shows up, and Maggie's torn.
Am I ready to screw up the best relationship I've ever had for a shot at something more?
**Every 1001 Dark Nights novella is a standalone story. For new readers, it's an introduction to an author's world. And for fans, it's a bonus book in the author's series. We hope you'll enjoy each one as much as we do.**
BUY LINKS
REVIEW: THE BED MATE (1001 DARK NIGHTS) BY KENDALL RYAN
The Bed Mate by Kendall Ryan

My rating: 4 of 5 stars


There's a time for classy and a time for trashy, Ms. Ryan proves she can do both. My opinion is that friends to lovers romance never gets old and The Bed Mate is proof of that. Sweet and sexy come together and create an addictive combo. You can never have enough Kendall Ryan and her saucy take on love.



View all my reviews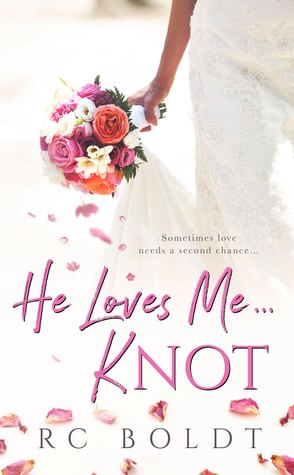 HE LOVES ME ... KNOT BY RC BOLDT
Release Date: November 14, 2017
SYNOPSIS
Sometimes love needs a second chance…

I never looked back after skipping out on my own wedding, even if it did leave me estranged from most of my family. Eight years later, I have the life I've always wanted. As an advertising account executive, my world is damn near perfect.

Until I come face-to-face with my past. With the man I once loved. The man who holds my future in his hands. The man who's hell-bent on getting even with me for leaving him at the altar.

Even with all the unfinished business between us, I still love Knox Montgomery. The only problem?

He loves me…KNOT.
BUY LINKS
REVIEW: HE LOVES ME ... KNOT BY RC BOLDT
He Loves Me...KNOT by R.C. Boldt

My rating: 5 of 5 stars


In life there are aha and uh - oh moments. My aha moment came when I discovered RC Boldt, the uh - oh moment has me pondering why I'd waited so long. He Loves Me ... Knot captures all the angst and drama of love, life and regret. All the flaws that make us human mixed with the humor and friendships that make life bearable. Emma Jane is a bit of a mess. Her past comes back to haunt her. In the flesh! What happens when personal meets professional? Fireworks and maybe, a second chance.



View all my reviews
WYATT (7 BRIDES FOR 7 SOLDIERS) BY LYNN RAYE HARRIS
Release Date: November 14, 2017
SYNOPSIS
Fall in love with seven sexy and irresistible soldiers who find their courage and heart tested like never before in the battle for love! This multi-author collaborative series of contemporary romance novels is brought to you by bestselling authors Barbara Freethy, Roxanne St. Claire, Christie Ridgway, Lynn Raye Harris, Julia London, Cristin Harber and Samantha Chase. You won't want to miss a single one!
WYATT
Navy SEAL Wyatt Chandler loves the pulse-pounding, adrenaline-spiking tempo of Special Ops. But when a teammate dies in his arms during a mission gone wrong, he decides it's time to hang up his combat boots before he becomes the next casualty. He can't let his grandmother--the woman who raised him after his parents died--go through that kind of pain ever again.
But going home isn't as easy as it sounds, and he has no idea what to do now that he's no longer HALO-jumping into enemy territory. When he gets a chance to use his skills and play bodyguard to an heiress, he takes the assignment. How hard can it be to babysit one spoiled blonde?
Reality TV star Paige Spencer never expected to find herself bundled off to her dad's fishing retreat in Nowheresville, USA, and put into the care of a hot bodyguard with a chip on his shoulder. But someone is threatening her life--and the threats are escalating. Getting away from Seattle until the police catch her stalker is the only sensible option.
Paige hates all things small-town and charming, but Eagle's Ridge has a way of growing on a person. And then there's Wyatt, the sexy, growly, utterly delicious protector who makes her heart pound and her pulse skip with every hard-eyed look. And when he finally lets down his guard and kisses her? Mercy.
Still, the road to true love has never been easy--especially when a crazed fan has plans of his own.
Don't miss any of the sexy soldiers!
Ryder (#1) - Barbara Freethy
Adam (#2) - Roxanne St. Claire
Zane (#3) - Christie Ridgway
Wyatt (#4) - Lynn Raye Harris
Jack (#5) - Julia London
Noah (#6) - Cristin Harber
Ford (#7) - Samantha Chase
BUY LINKS
Amazon B & N Google Play Books IBooks Kobo
REVIEW: WYATT (7 BRIDES FOR 7 SOLDIERS) BY LYNN RAYE HARRIS
Wyatt by Lynn Raye Harris

My rating: 4 of 5 stars


Immovable object meet bulldozer. From the moment they meet Wyatt and Paige set off sparks. Strong personalities have a way of making their presence known. Sound familiar. Like author, like characters. Ms. Harris grabs hold of the imagination and works her way into emotions little by little. There's a seduction going on. The bigger the theatrics, the bolder the characters and the more thrilling the ride. Living on the edge is a dangerously heady experience.



View all my reviews