COME AS YOU ARE BY LAUREN BLAKELY
Release Date: April 16, 2018
SYNOPSIS
I couldn't have scripted a more perfect night.

For one fantastic evening, at a masquerade party in the heart of Manhattan, I'm not the millionaire everyone wants a piece of. Fine—multimillionaire. But who's counting all those commas? Not me, and not the most intriguing woman I've ever met, who happens to like dancing, witty banter, and hot, passionate up-against-the-wall sex as much as I do.

There's no need for names or business cards. And that's why I'm eager to get to know her more, since my mystery woman seems to like me for me, rather than for my huge…bank account.

Everything's coming up aces. Until the next day when things get a little complicated. (Newsflash — a lot complicated.)
BUY LINKS
Amazon Audible B & N Google Play Books IBooks Kobo Paperback
REVIEW: COME AS YOU ARE BY LAUREN BLAKELY
Come As You Are by Lauren Blakely

My rating: 5 of 5 stars


This Prince needs a Princess, but has run out of places to look. A broken heart, a masquerade, a perfect night and he may have just found his Cinderella. Flynn knows how to get what he wants, but for Sabrina with daylight comes reason. Will she risk her future for a chance at right now? Come as You Are blends the phenom that is Lauren Blakely with the fantasy of a fairytale wish and a dash of cold hard reality. Passion unfolds with a bit of entertainment, a handful of humor and fistful of heart.



View all my reviews
FORGET YOU (THE KINGMAN BROTHERS) BY NINA CRESPO
Release Date: April 16, 2018
SYNOPSIS
Sophie Jordan dreams about hooking up with Nicolas "King" Kingman—the gorgeous CEO of her company—but as her boss, he'll always remain out of reach. King knows he isn't built for happily-ever-afters and only indulges in brief romantic encounters. But when Sophie agrees to fill in as his last-minute date to a charity gala, an unexpected discovery quickly escalates their platonic relationship to one of passion.

King is determined to ignore their attraction and, feeling betrayed, Sophie severs ties with him and the company. Everything changes, however, when he's injured in an accident, and Sophie agrees to help until he closes a major deal. Unfortunately, he's developed amnesia, and although he doesn't remember their night together, desire binds them in ways they can't resist.

Time is running out on closing the deal, as well as Sophie moving on to her new career. Will King deny love in favor of winning and lose Sophie forever?
BUY LINKS
Amazon BAM B & N Google Play Books IBooks Kobo
REVIEW: FORGET YOU (THE KINGMAN BROTHERS) BY NINA CRESPO
Forget You by Nina Crespo

My rating: 5 of 5 stars


LOVE. We've all been through it. At times we rue it. Yet when it's right we wouldn't change a thing. The perfect description of Forget You. Crespo used my own heart against me. King and Sophie are messy, dysfunctional, frustrating, emotional, yet realistically exceptional. Forget You takes a walk down memory lane with the heart as it's guide, to remind us why when it comes to love, the fight is worth the fall.



View all my reviews
LOVE AGAIN (COWBOYS AND ANGELS) BY KELLY ELLIOTT
Release Date: April 17, 2018
SYNOPSIS
Jonathon Turner is going to be the death of me.

Maybe not the death of me…but my panties for sure! They seem to disintegrate the moment he touches me. Looks at me. Smiles at me. Talks to me.

It's more than physical. He's breaking through an impenetrable wall.

There's a problem though—he's younger than me.

Six. Years. Younger.

Let's not forget he's also one of my brother's best friends.

Oh, the other problem I forgot to mention…

I never wanted to fall in love again.

But you know what they say….never say never.

Love Again is Book four in the Cowboys and Angels Series
BUY LINKS
Amazon B & N Google Play Books IBooks Kobo
REVIEW: LOVE AGAIN (COWBOYS AND ANGELS) BY KELLY ELLIOTT

Love Again by Kelly Elliott

My rating: 5 of 5 stars


When it comes to the heart, Waylynn has much to learn. Can Jonathan show her the way? Elliott makes sure to forget all the stereotypical stigmas and speak from the heart. Love Again is about taking a risk when your head is saying no, but your soul is saying yes. Success is not measured by failure, but the leap of faith it takes to get there. From sappy to sexy, Love Again explores all the facets of love.





View all my reviews
ROYAL HEIR (WESTERLY BILLIONAIRE) BY RUTH CARDELLO
Release Date: April 17, 2018
SYNOPSIS
Ruth Cardello, the New York Times and USA Today bestselling author of Up for Heir, turns a fairy-tale romance into a sizzling bedtime story.

Rachelle Westerly needs a break. After years of acting as the family peacekeeper, she's finally ready to take a step back. Her movie-star brother has offered her the perfect escape. But on the very first day of her vacation, she steps onto a red carpet and straight into the arms of a real-life prince—and the promise of just the kind of flash and fortune that tore her own family apart.

As the soon-to-be leader of Vandorra, Prince Magnus de Bartelebon always gets what he wants—and the regal bad boy wants the sweet American schoolteacher. Although he should be announcing his engagement of convenience to a neighboring princess, Rachelle is the one he desires in his bed and by his side.

While the drop-dead gorgeous Magnus might be almosteverything she craves, Rachelle can't help but think that falling for him would be a royal mistake. He may be ruling a kingdom one day, but she's in charge of her heart. And he'll have to win it with more than a lap of luxury—as inviting as it is.
BUY LINKS
Amazon Amazon AU Amazon CA Amazon UK Audible B & N Paperback
REVIEW: ROYAL HEIR (WESTERLY BILLIONAIRE) BY RUTH CARDELLO
Royal Heir by Ruth Cardello

My rating: 5 of 5 stars


Royal Heir (Westerly Billionaire, #3) by Ruth Cardello
We want the fairytale. We need the fairytale. Ruth Cardello makes sure that we get it. Royal Heir is every romantic's dream. To find a happy ending. However, Ms. Cardello switches it up as only she can. Rachelle and Magnus, have to first rescue themselves, before they get a happily ever after. For Magnus, that means letting go of his ingrained bitterness and mistrust by allowing himself to love. For Rachelle, that means releasing herself from the past and looking ahead to the future. Amazing that one little boy could set about healing a lifetime of damage, with a less than simple request. The power of hope is a wonderful thing.



View all my reviews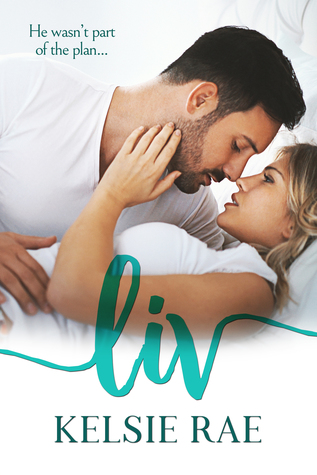 LIV BY KELSIE RAE
Release Date: April 17, 2018
SYNOPSIS
Liv had her life all figured out until it was shattered by the loss of her husband. He left her a piece of him she hadn't planned on. How can she pick up the pieces when she doesn't know how?
Liv:
I never imagined my life would end up this way. I thought I had everything figured out until I got the call my husband was killed in a car accident and that my period was late.
Dead Husband?: Check
Positive Pregnancy Test?: Check
Screwed Beyond Belief?: Double Check
Luke:
I was never supposed to see her again. That was the deal. Leave her and my ex-best friend behind to finally mend my broken heart and move on with life. And it was going smoothly, too. That is, until said ex-best friend dies and and his wife, Liv, lets a secret slip at his funeral that I can't possibly ignore.
Out of my freaking mind?: Check
Extremely Angry Girlfriend who will kill me when she finds out I have a new roommate?: Check
About to get my heart ripped in two?: Double Check
BUY LINKS
Amazon Amazon AU Amazon CA Amazon UK B & N Google Play Books IBooks Kobo
REVIEW: LIV BY KELSIE RAE

Liv by Kelsie Rae

My rating: 5 of 5 stars


What a title. What a talent. What a story. Liv is one woman's quest to pick up the pieces of her shattered life and broken heart. Tragedy brings many emotions for Liv. The love of her life is gone and more stunning surprises await. A pregnancy and second chance at happiness. If she can move beyond the past and take a chance on the future. Ms. Rae lures readers into a world of heartbreaking loss, unexpected new beginnings and forgiveness in this realistic and emotional romance.



View all my reviews
CHASER (DIVE BAR) BY KYLIE SCOTT
Release Date: April 17, 2018
SYNOPSIS
Given his well-earned bad boy reputation, Eric is having a tough time scoring.. When single Jean moves to town, she seems heaven sent by the sex gods. Only problem is, she not only wants nothing to do with him, but it turns out that she's pregnant.

Starting over in a small town, Jean is determined to turn her wild lifestyle around and be the kind of mother she always wished she'd had. Since local bar owner and all round hottie, Eric Collins, is now determined to steer clear of her pregnant self, it should be easy. When she goes into labour during a snow storm and her car slides on some ice, it's Eric who comes to the rescue.

There seems to be a bond between them now, but is it enough? And can Eric give up his manwhore ways to be the man Jean needs?
BUY LINKS
Amazon B & N Google Play Books IBooks Kobo
REVIEW: CHASER (DIVE BAR) BY KYLIE SCOTT
Chaser by Kylie Scott

My rating: 4 of 5 stars


Chaser proves that fate has a sense of humor. Why does the right thing, happen at the wrong time? That's the irony we call life. Chaser though not always funny is good for a few laughs. Ms. Scott delivers wisdom with a wry sense of humor and a hearty dose of reality. She prides herself on not being too serious, but always being right on time.





View all my reviews
FIRST IN SERIES COLLECTION BY CHRISTINA MCKNIGHT
Release Date: April 17, 2018
SYNOPSIS
Escape into the intricate, emotional Regency world of Christina McKnight with four series starters.
Shunned No More (A Lady Forsaken Series, Book One)
Lady Viola Oberbrook longed for a quiet life in the country, far from London and the society who'd shunned her during her first season. She never expected to come face-to-face with Lord Haversham, the only man who had every right to despise her.

The Thief Steals Her Earl (Craven House Series, Book One)
The Earl of Cartwright is determined to find out who stole from his family. When he finds out the thief is the woman he's fallen in love with, he must choose between duty and love.

Theodora (Lady Archer's Creed Series, Book One)
When Lady Theodora Montgomery is unmasked while competing in an archery tournament, she fears her reputation is ruined. To save face, she accepts a marriage of convenience with her friend's older brother, Alistair Price—who soon shoots arrows to her heart with perfect aim.

The Disappearance of Lady Edith (The Undaunted Debutantes Series, Book One)
One tragic night changed sensible, proper Lady Edith Pelton's life: when her best friend fell to her death, pushed down a flight of stairs by a nefarious lord. Now, Edith dedicates her time watching the man she thinks is responsible, while gathering other information to expose other scoundrels posing as gentlemen of honor about London. But when her spying is noticed by a perfect stranger, Edith finds herself with two mysteries—what happened to her friend, and how to win the heart of a brilliantly handsome lord.
BUY LINKS
Amazon B & N Google Play Books IBooks Kobo
REVIEW: FIRST IN SERIES COLLECTION BY CHRISTINA MCKNIGHT
Shunned No More by Christina McKnight

My rating: 4 of 5 stars


The toast of society, Viola is enjoying her meteoric success until all her hopes are shattered at the hands of a duel that proves deadly. It's hard to forgive yourself when the blame continues to come from others as well. Now she has to contend with a broken heart, a guilty conscience and a sexy but vengeful Earl. Shunned No More shows that even in one's darkest hour there is always hope. Learning is a task never outgrown and forgiveness can prove a balm for the soul. Ms. McKnight tackles the benefits of having an open heart and a compassionate spirit while rebuilding trust and finding hope.



View all my reviews
The Thief Steals Her Earl by Christina McKnight

My rating: 5 of 5 stars


Boundaries. Such a black and white word. The limit that is not to be crossed no matter what. Although on paper it's a reasonable word when emotion becomes involved there is a different meaning entirely. In the name of love lines get blurred and that invisible wall becomes an obstacle that needs to be demolished. Jude and Cart are not all that different. Cart's a planner, Jude's a plotter. His logical mind has been both a gift and a curse. Her active imagination and out of the box thinking are about to land her in a sticky situation. One thing's for sure these two will stop at nothing to protect the people they love. With her street savvy and his book smarts they may each succeed. As I read more and more of Ms. McKnight's romances it easy to see why so many enjoy her stories. She does not stick with the traditional love stories but like her characters creates a world center around the best of their talents and works from there. The Thief Steals Her Earl has personality and I respect any author who can make a story her own.



View all my reviews
Theodora by Christina McKnight

My rating: 5 of 5 stars


Positivity. Such a big word, with a simple meaning that means so much. I am drawn to strong heroines. So many times, women are looked at as in need of a rescuer but Ms. McKnight has spotlighted the opposite with her Lady Archer's Creed series. Strength of character breeds strong friendships, fearless women and great storytelling. I can go on all day about Theodora and her band of courageous compadres but the greatest message of all within the pages of this novel is: There is no one mold for a person to fit into. We are special for what we are and that inner light that sets our course not only makes us unique but beautiful.



View all my reviews
The Disappearance of Lady Edith by Christina McKnight

My rating: 4 of 5 stars


One tragic night has lead three women on a journey of danger, courage and love. Christina McKnight, begins her Undaunted Debutantes series with a bang. The Disappearance of Lady Edith is a story of betrayals, danger and the quest for justice. The death of a close friend has pushed Lady Edith to the edge. She wants someone to pay and she needs answers. Her determination catches the eye of a possible suitor, but also puts her in more danger than she could ever have imagined. The lure of the chase is hard to ignore.



View all my reviews
BEFORE DAYLIGHT (ONE NIGHT IN SOUTH BEACH) BY ANDIE J. CHRISTOPHER
Release Date: April 17, 2018
SYNOPSIS
Perfect Strangers
Ballerina Laura Delgado is just one solo away from a dream job with the New York City Ballet. Then a drunken pas de deux at her cousin's wedding results in the one thing she never wanted—a husband. TV producer Charlie Laughlin may be deliciously kissable, but she needs him offstage now, and out of her life.
Perfect Disaster
Charlie's ready for marriage and kids, and on the lookout for just the right woman. Laura doesn't fit the bill at all—but Charlie can't stop thinking about the sultry way they moved together. And he can't help but wonder if he can change the gorgeous dancer's mind about leaving Miami with heated kisses that promise as much as they demand . . .
Perfect Partners
Annulling their sham marriage is all Laura wants—until she gets to New York and realizes that leaving Charlie behind is easier said than done. Can a relationship that began as a hot mistake become the kind of love that will last forever?
BUY LINKS
Amazon B & N Google Play Books IBooks Kobo
REVIEW: BEFORE DAYLIGHT (ONE NIGHT IN SOUTH BEACH) BY ANDIE J. CHRISTOPHER
Before Daylight by Andie J. Christopher

My rating: 5 of 5 stars


In a world filled with ballets and call sheets, they weren't looking for romance. Until love found them. Remember that saying about the right person coming into your life at the wrong time? Christopher takes that scenario and runs with it. Before Daylight is the tale of workaholics who meet at a wedding and unknowingly find their forever. The road to happily ever after is full of prideful regret and frustrating choices, but serendipity wins out in the end. Ms. Christopher gets the soul of a romantic. It's not about bleeding hearts or exaggerated happy endings. Love is about finding the ending that's right for you.





View all my reviews
LONE STAR BLUES (WRANGLER'S CREEK) BY DELORES FOSSEN
Release Date: April 17, 2018
SYNOPSIS
Wrangler's Creek's most eligible bad boy has just become its most eligible single dad.
Dylan Granger could always count on his rebellious-cowboy charm to get his way—until the day his wife, Jordan, left him and joined the military. The realization that during a wild night he got her cousin pregnant is shocking enough. But the news that Jordan has come home to Texas to help raise the baby is the last thing he expects.
Raising a baby with Dylan in Wrangler's Creek is a life Jordan might've had years ago, but she doesn't want regrets. She wants what's best for the child—and to find out if there's something deeper between her and her ex than blazing-hot chemistry. Getting closer means letting down her guard to Dylan again, but will he be able to accept the emotional scars on her heart?
BUY LINKS
Amazon B & N Google Play Books Harlequin IBooks Kobo
REVIEW: LONE STAR BLUES (WRANGLER'S CREEK) BY DELORES FOSSEN
Lone Star Blues by Delores Fossen

My rating: 4 of 5 stars


Jordan and Dylan love each other. However, there are times in life when love may not be enough. One drunken night changed the course of three lives and ended up breaking two hearts. Now one precious bundle is bringing that heartache full circle and making way for a second chance. Lone Star Blues is the convoluted love story of Jordan and Dylan. A perfect love shatters with an act that neither saw coming and both have trouble getting past. Will the consequences of that night help them mend fences and make them whole again? Forgiveness is hard even on a good day, yet Ms. Fossen makes it look so easy despite the complicated scenario. I guess love can overcome anything. A tale of sacrifice and second chances.



View all my reviews
EMBRACING HER HEART (THE BRADENS & MONTGOMERYS, PLEASANT HILL - OAK FALLS) BY MELISSA FOSTER
Release Date: April 17, 2018
SYNOPSIS
Welcome to Oak Falls, Virginia, home to horse farms, midnight rodeos, bookstores, coffee shops, and quaint restaurants where you're greeted like family and treated like treasured guests. Buckle up for a wild ride. Like any Southern girls worth their salt, the sweet-talking, sharp-tongued Montgomery sisters can take men to their knees with one seductive glance or a single sugarcoated sentence.
In EMBRACING HER HEART…

Leaving New York City and returning to her hometown to teach a screenplay writing class seems like just the break Grace Montgomery needs. Until her sisters wake her at four thirty in the morning to watch the hottest guys in town train wild horses and she realizes that escaping her sisters' drama-filled lives was a lot easier from hundreds of miles away. To make matters worse, she spots the one man she never wanted to see again—ruggedly handsome Reed Cross.

Reed was one of Michigan's leading historical preservation experts, but on the heels of catching his girlfriend in bed with his business partner, his uncle suffers a heart attack. Reed cuts all ties and returns home to Oak Falls to run his uncle's business. A chance encounter with Grace, his first love, brings back memories he's spent years trying to escape.

Grace is bound and determined not to fall under Reed's spell again—and Reed wants more than another taste of the woman he's never forgotten. When a midnight party brings them together, passion ignites and old wounds are opened. Grace sets down the ground rules for the next three weeks. No touching, no kissing, and if she has it her way, no breathing, because every breath he takes steals her ability to think. But Reed has other ideas…

~
The Bradens & Montgomerys are part of Melissa's Love in Bloom big-family romance collection featuring alpha male heroes and sexy, empowered women. They're flawed, funny, passionate, and relatable to readers who enjoy contemporary romance and women's fiction.. All Love in Bloom novels are written to stand alone and may also be enjoyed as part of the larger series, so dive right into this fun, sexy romance.
PLEASE NOTE: Future books in the original Montgomery series are crossing over to the Bradens at Pleasant Hill, and for this reason Melissa has combined the series into THE BRADENS & MONTGOMERYS (Pleasant Hill - Oak Falls).

**CONTENT WARNING: Due to mature content, recommended for readers aged 18+**

BUY LINKS
Amazon Amazon UK B & N Google Play Books IBooks Kobo
REVIEW: EMBRACING HER HEART (THE BRADENS & MONTGOMERYS, PLEASANT HILL - OAK FALLS) BY MELISSA FOSTER
Embracing Her Heart by Melissa Foster

My rating: 5 of 5 stars


Modern meets small town with huge personality. You can take the girl out of the city, but can you take the city out of the girl? Grace is no one's country girl. Fireworks are what she needs, not country living. So why is she rethinking her stance on cowboys? Reed is a walking heartache. Been there, done that and have the bruises to prove it, are the words swimming in her head. Will she listen to her head or follow her heart? Embracing Her Heart brings a colorful canvas of heat, heart and humor to an already picturesque landscape.



View all my reviews